The 4th of July holiday is almost upon us and the Charlottesville area is the perfect destination for celebrating this momentous occasion! The region is steeped in a rich history, with three presidential homes and a multitude of other historically significant sites, making Charlottesville and Albemarle County one of the best places around to celebrate the birthday of the United States! Several fun events will be taking place around this special holiday, creating a festive atmosphere that is perfect for folks of all ages. Read more to discover 6 festive 4th of July celebrations taking place in Charlottesville & Albemarle County this year!
1.) July 4th at Monticello
For a celebration like no other, guests are invited to Monticello, home of former president Thomas Jefferson, for "the great birthday of our republic" and the 55th annual Independence Day Celebration and Naturalization Ceremony. David N. Saperstein, former U.S. ambassador-at-large for international religious freedom and prominent reform rabbi, will be the featured speaker, addressing new citizens from around the world on this most special day. Following the ceremony, there will be a Jeffersonian Open House with free walk-through tours of Monticello from 11:15 a.m. to 1:00 p.m. (walk-through tour reservations are first-come, first-served). Click here for more information about this terrific event!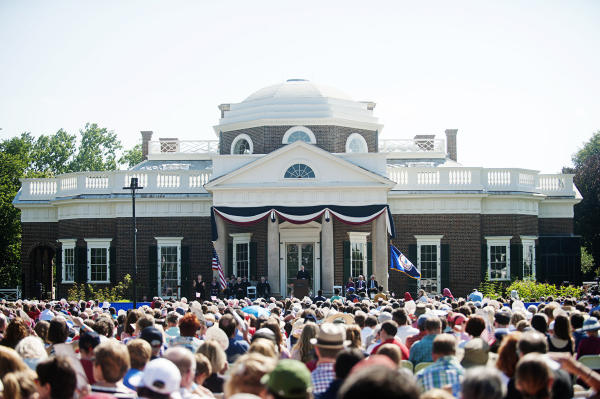 (4th of July at Monticello - Photo Credit - Jack Looney)
2.) Independence Day Celebration at James Monroe's Highland
Keeping with the presidential theme, there will also be an Independence Day celebration at James Monroe's Highland on July 4. This event will feature celebratory activities and offer free grounds access to commemorate the birth of the United States of America and observe the anniversary of James Monroe's passing on July 4, 1831. Visitors of all ages can enjoy family games and activities from 11:00 a.m. until 4:00 p.m. Patriotic tunes will be played and picnics are welcomed at this family-friendly July 4th celebration. Please click here for more information.
3.) "Happy Birthday, America" at Carter Mountain Orchard
Enjoy fireworks with a view at the "Happy Birthday, America" 4th of July celebration at Carter Mountain Orchard on July 4! This fun, family-friendly event takes place all afternoon with a variety of entertaining events such as a bike parade, hayrides, old-fashioned sack races, a water balloon toss, and even a watermelon seed spitting contest! After the fun and games, prepare to be amazed by the view of fireworks shows taking place all around the area from high atop Carter Mountain. Food, sweet cider, hard cider and wine are also available for purchase at this event. Click here for more information about this event!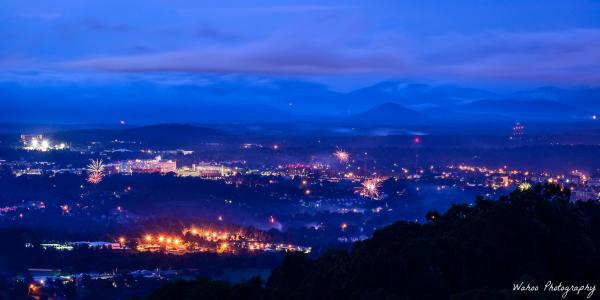 (Fireworks View at Carter Mountain Orchard - Photo Credit - Wahoo Photography)
4.) Patriotism in the Park - McIntire Park
Another 4th of July tradition in Charlottesville is the Patriotism in the Park event at McIntire Park. Gates open at 5:00 p.m. for an evening of family-friendly fun with local food, local bands, and activities for kids of all ages. The spectacular fireworks show begins one minute after dark. More details about this patriotic event can be found here.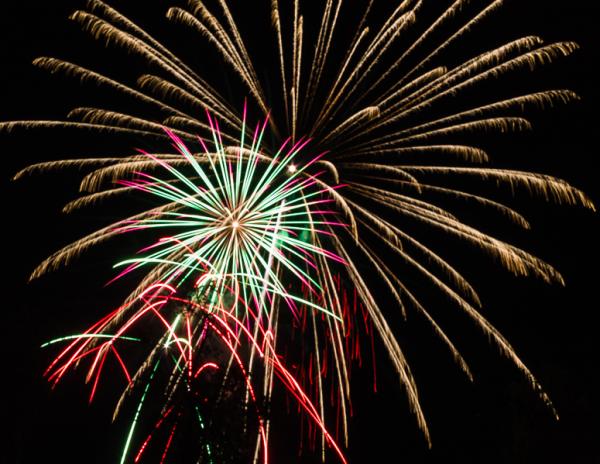 (Fireworks Display - Photo Credit - Tim McDaniel)
5.) Crozet Independence Day Parade & Celebration
Those who prefer a small town atmosphere will enjoy the seventh annual Crozet Independence Day Parade & Celebration, set to take place on Saturday, July 1. Festivities include many activities for children, including bounce houses, a slide and laser tag along with lots of good food, local beer and cider, and live music by LockJaw. The evening concludes with a spectacular fireworks show at 9:30 p.m. Additional details are available here.
6.) 4th of July Celebrations in Scottsville
Last, but certainly not least, the town of Scottsville, located in southern Albemarle County, will be host to festive July 4th celebrations. There will be a parade set to take place at 9:00 a.m. on July 4, followed by live music, bounce houses and food vendors at Dorrier Park later in the afternoon. The evening concludes with a fireworks display set to take place at dusk along the banks of the James River. It's sure to be a fun time for all!
While this list features many fun ideas for celebrating the 4th of July holiday in Charlottesville & Albemarle County, there are plenty of other things to see and do!  Be sure to browse around the website for ideas on where to stay, places to eat, attractions to see, and other events that are taking place around this important holiday. From all of us here in Charlottesville & Albemarle County, have a safe and happy 4th of July. We look forward to seeing you soon!