October is the best month for a visit. Few would argue otherwise. While the leaves are changing, Charlottesville is at its best. It's football season. It's finally cool. Spirits are high—holidays approach. The best part of the visit is the drive into town. US 29, US 250, and I-64 offer views this time of year so dynamic and arresting a picture or my own sorry attempts to describe their beauty would be poor representations of what's out there. You really do have to experience fall in Charlottesville to get a sense of it. Swing through for a day. Stay a weekend. Any road here is transformed come mid-October. Gas stations and self-storage facilities become picturesque—you'll be moved to picnic in parking lots or miss a green light you're so transfixed by the atmosphere. Granted, there are much better places to observe and enjoy this special time of year. Below are a few:
1.) Charlottesville's Downtown Mall
While the Downtown Mall is lovely any time of year, it is especially beautiful during the autumn months. The large, mature oak trees that line this pedestrian walkway explode with colors beginning in mid-October, much to the delight of all who come to this historic avenue to take a stroll, go shopping, or grab a bite to eat. Sip on some warm hot chocolate from Splendora's or grab a hot cup of coffee at Mudhouse and leisurely walk up and down this historic street, while taking in Mother Nature's fall splendor!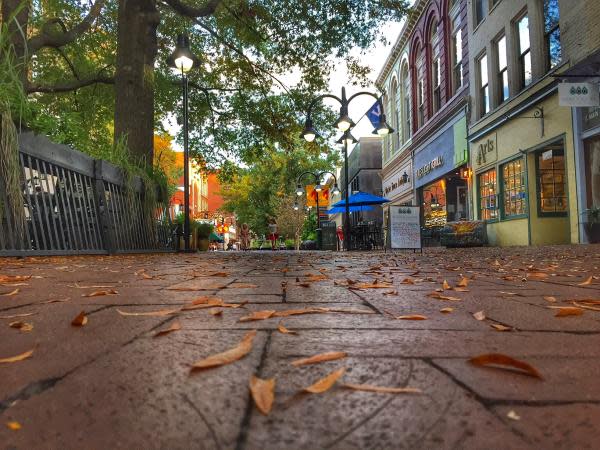 (Downtown Mall in Autumn - Photo Credit: Brantley Ussery)
2.) Shenandoah National Park, Skyline Drive & the Blue Ridge Parkway
Located a short and scenic 30-minute drive from the Downtown Mall is an entrance to Shenandoah National Park, one of the country's most splendid spots for viewing fall colors. Drive the twists and turns of Skyline Drive, while soaking up the fall colors on Central Virginia's rolling Blue Ridge Mountains. Pull off at one of the many overlooks for picture-perfect photo opportunities. Or head south along the Blue Ridge Parkway where you will also be greeted with plenty of opportunities to pull over and gawk at color, hike to the top of the highest hills, or just simply bring a picnic lunch and let yourself be mesmerized by the beauty below. Colors here change a bit faster due to the higher elevation, so be sure to plan accordingly, so you don't miss the peak colors!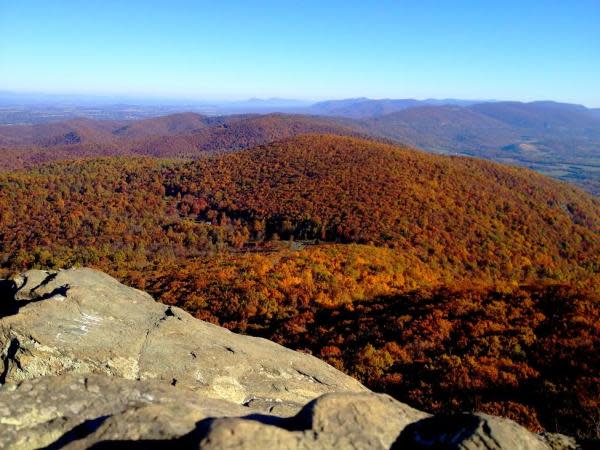 (View from Humpback Rocks on the Blue Ridge Parkway - Photo Credit: Brantley Ussery)
3.) University of Virginia
This prestigious university was founded by Thomas Jefferson nearly 200 years ago and is one of the top-ranked public universities in the country. During the fall months, get ready for tremendous pops of color all along The Lawn, the Academical Village, and everywhere else on Grounds! Really get into the fall spirit by heading to a University of Virginia home football game.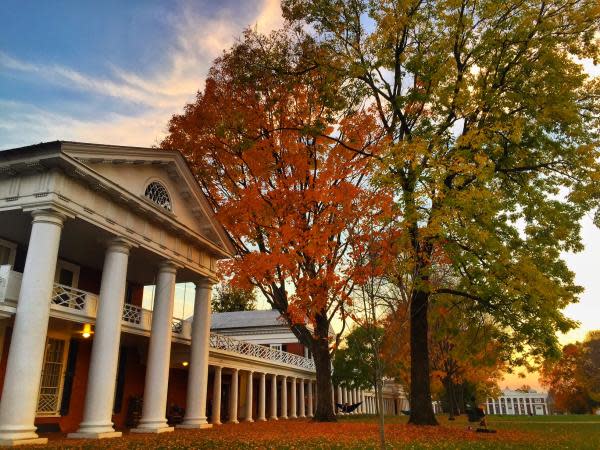 (Fall Color at the University of Virginia - Photo Credit: Brantley Ussery)
4.) Wineries & Vineyards
Did you know the Charlottesville area has more than 50 wineries? To clarify, in case you skimmed over that number, we have, in this area, one winery for every state, one winery for every week of the year, one for--you get my drift. There are too many, frankly. It is my job to be familiar with these wineries and even I struggle to keep up. I'm not even going to mention the breweries, cideries, and distilleries, of which there are also too many. Did you know that Wine Enthusiast named the Charlottesville region one of the top wine destinations in the world? Come visit one of these beautiful properties while you sip your favorite Chardonnay, Pinot Grigio, or Merlot (many of which have national and global accolades) while staring off into the distance and admiring the fantastic fall foliage in the heart of Central Virginia's wine country.
5.) Presidential Homes
Three former U.S. presidents have called the Charlottesville area home, including Thomas Jefferson, James Monroe, and James Madison. You can visit their respective homes of Monticello, Highland, and Montpelier year round, but they are especially lovely during the autumn months. Explore these three homes and their grounds for a trip back in time! Monticello and Highland are located only a mile or two apart, with Montpelier located a scenic half-hour drive to the northeast.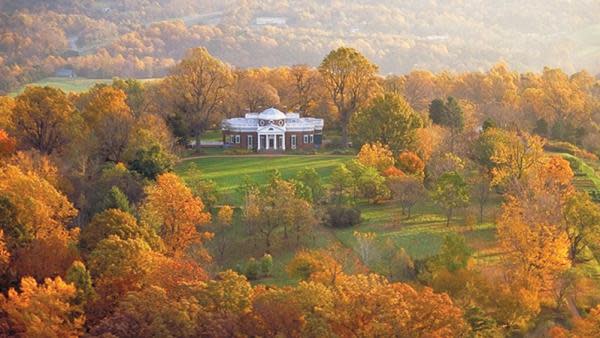 (Monticello in Fall - Photo Credit: Jack Looney)
6.) Albemarle County Country Roads
To reiterate: It is the driving you'll do this time of year that will blow you away. The further you wander, the better. I'd recommend a drive out to Crozet: beautiful country, homes you can imagine yourself in, off and on views of the mountains—arresting.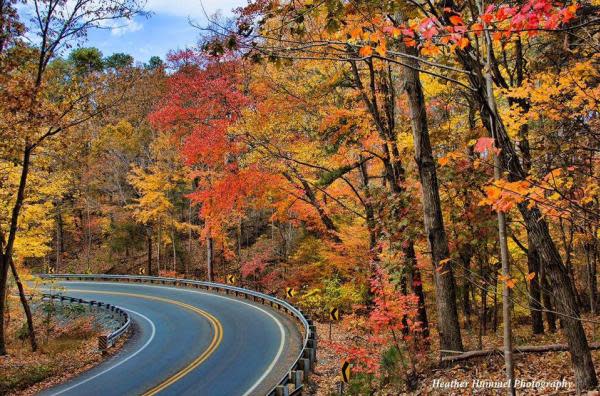 (Country Roads in the Fall - Photo Credit: Heather Hummel Photography)
7.) Hot Air Balloon Ride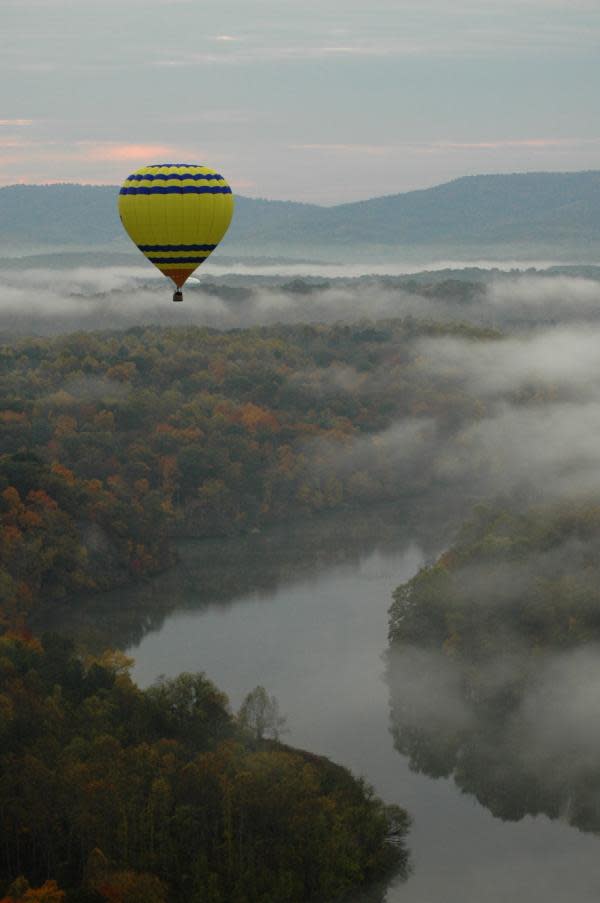 (Hot Air Balloon in the Charlottesville Area)
8.) Sugar Hollow
Located in the western part of Albemarle County, a scenic 30-40 minute drive from downtown Charlottesville, is Sugar Hollow. You can easily spend the better part of a day here, so grab your hiking shoes and get ready for some quality time with the earth. What a perfect Instagram opportunity! Or, you know, spiritual family time. A walk with the dog. Time to forget the office. An excuse to not check email. Depending on your provider, service is bad out there.
9.) Rooftop Bars & Restaurants
Over the last few years, several rooftop bars and restaurants have come bursting on to the scene in the Charlottesville area. In addition to featuring delicious food and drink, they also serve up some of the best views of the city of Charlottesville and Albemarle County. Try Heirloom, a rooftop bar and restaurant located within the Graduate Hotel near the Grounds of the University of Virginia, where you'll be treated to panoramic views of Charlottesville and the surrounding Blue Ridge Mountains. Or head out to The Rooftop in Crozet for more views of the Blue Ridge Mountains that are sure to leave you speechless!
10.) Carter Mountain Orchard
Carter Mountain Orchard is extremely popular among visitors and locals alike during the fall months – an absolute must-do if ever there was one, regardless of age, level of extroversion, name it! Not only can you pick apples straight from the tree, but you can enjoy scrumptious apple cider donuts, sip freshly-pressed cider, sample wines and hard cider, go for a hay ride, pick a pumpkin, AND enjoy some of the most awesome views of the Charlottesville area! During the fall season you'll be treated to stunning views in every direction, whether you look west toward the Blue Ridge Mountains, or east toward the gradually flattening Piedmont region. This location is a must for anybody wanting to see some truly remarkable color from a vantage point like no other!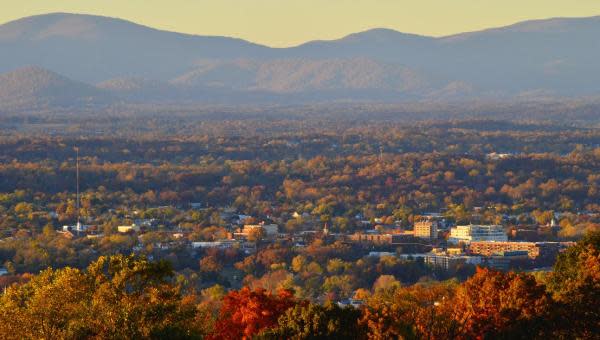 (View from Carter Mountain Orchard - Photo Credit: Brantley Ussery)
0
(Apple Cider Donut at Carter Mountain Orchard - Photo Credit: Sanjay Suchak)
We look forward to welcoming you to Charlottesville & Albemarle County this fall!