Crozet is a vibrant, welcoming community in western Albemarle County. Its growing downtown is walkable and well worth exploring with friends and family, especially when signature local events like the Crozet Arts and Crafts Festival are taking place. Cafes like Mudhouse Coffee Roasters, restaurants like Crozet Pizza, and breweries like Starr Hill and Pro Re Nata anchor the downtown community. For those most interested in visiting the wineries in Albemarle County and exploring both the Blue Ridge Parkway and Shenandoah National Park, staying at an inn or bed and breakfast near Crozet might be preferred. Crozet is about twenty minutes closer to the Blue Ridge Mountains than downtown Charlottesville. Nearby wineries include King Family Vineyards, Glass House Winery, Grace Estate Winery, Pollak Vineyards and Stinson Vineyards, but that is by no means an exhaustive list. You can also stay at bed and breakfasts located onsite at several wineries in the area. Crozet is an excellent home base from which to enjoy all that Charlottesville and Albemarle County have to offer.
Mountains and Hiking
The Blue Ridge Parkway and Shenandoah National Park meet just a few miles west of Crozet. While there is usually an entrance fee to Shenandoah National Park, there are several days a year when admission is free. Admission to the Blue Ridge Parkway is always free. Both of these parks are full of world class hikes. Naturally, they are also some of the best hikes in our area. While in Crozet proper, the mountains are never out of sight. The slopes are especially gorgeous in fall and spring, or on rare winter mornings when the strong red light angling in from the east makes the snowy ridges glow pink.
Scenic Local Parks
Crozet's proximity to some of the most popular national parks in the country should not detract from the dynamic local parks in the area, of which there are many. Beaver Creek Resevoir Park is one of the most picturesque spots in the county. Photographers love to frame up reflection of the Blue Ridge Mountains on the clear still water. At Beaver Creek Resevoir Park it is also possible to kayak, canoe, and fish. This is an extremely popular spot in the summertime. Bring a picnic blanket and enjoy a leisurely lunch with a view of the water and mountains. Nearby Patricia Ann Byrom Forest Preserve Park is an excellent place to enjoy a hike or a horseback ride. Also be sure to check out Mint Springs Valley Park, especially in the summertime. Here you can swim, fish, hike, play volleyball on a sand court, and more. In a typical year, the public beach here is open between Memorial Day and Labor Day. Over five miles of trails connect to this five hundred twenty acre park.
During picking season, no visit to Crozet is complete without first stopping by Chiles Peach Orchard, especially if you're visiting with your family. Chiles Peach Orchard is open May to December, and is one of the best ways to enjoy the natural best of Albemarle County. Peaches are the main attraction, but strawberries, apples, and pumpkins are grown here as well. The farm market at Chiles Peach Orchard, which sells gourmet jams and goods, also features an ice cream parlor.
As is mentioned above, the Crozet area is well known for its wineries. For a preview of what to expect at Glass House Winery, check out the below Nickel Tour. Our Nickel Tours, of which we've made forty, are teasers for some of the best things to see and do in Charlottesville and Albemarle County.
King Family Vineyards is a must-see during any visit to the Crozet area. Check out their Nickel Tour below:
While in the area, it's impossible not to notice the high concentration of artisan studios. The Monticello Artisan Trail is a trusted resource for those looking to appreciate local art. The Crozet Artisan Depot in downtown Crozet is one of the best places to learn about, purchase, or admire local art.
We hope you enjoy your next visit to Crozet! Click here for more top things to do in Charlottesville and Albemarle County, and here for the complete list of places to stay. Stay safe out there, and join us when you can.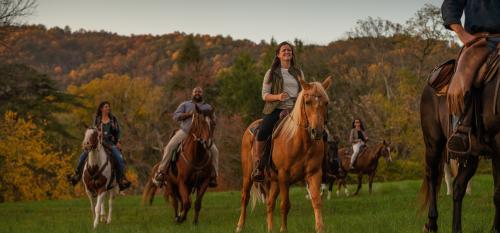 Horseback riding with Indian Summer Guide Service near Crozet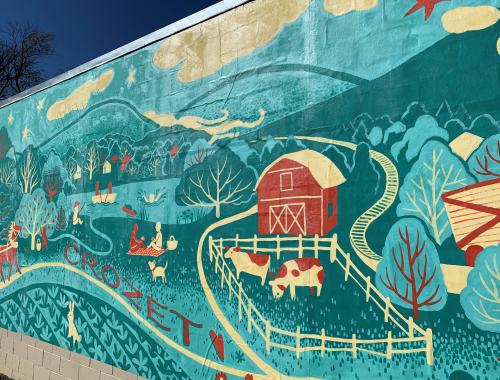 Mural in Crozet