An Insider's Guide to Scottsville, Virginia
Scottsville is a small, welcoming community in southern Albemarle County. Its main street parallels the James River, the longest river in the state. Scottsville is the only incorporated town in Albemarle County and was the original county seat. Naturally, this town is full of history. Those seeking a slow-paced, scenic getaway with ample opportunities for rafting, hiking, fishing or wildlife photography will find all that and more in Scottsville without giving up nearby conveniences like fine dining, wineries, grocery and drug stores, and cafes.
Outdoors
The James River is perhaps Scottsville's greatest natural asset. If you stay in town, you'll be an easy stroll away from the water. James River Reeling and Rafting, headquartered in town, offers a variety of river trips, including tubing, canoeing, rafting, and kayaking. James River Runners, another excellent nearby option for river trips and tours, offers tubing, canoeing, rafting and kayaking as well. Fishing on the James is one of the most popular activities here year-round. James River Outdoors, set to open later this year, will be the go-to hunting and fishing supply shop in town. Hunting and fishing licenses are sold in the town office. Smallmouth bass, catfish and panfish are plentiful.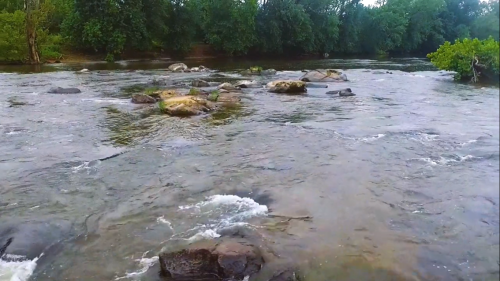 While in town, the Levee Walk should be high on your list of things to do. A relatively flat mile-long hike, the Levee Walk is one of the best ways to get your bearings and appreciate Scottsville's relationship with the James River. The nearby Van Clief Nature Area has spacious hiking trails as well. Here you'll find Scottsville Lake, another popular fishing spot. Other natural areas of note include Totier Creek Park and Walnut Creek Park.
Since Scottsville sits at the intersection of Route 20 and Route 6 -- both popular scenic drives -- it's not uncommon to see groups of cyclists or motorcyclists in town. While you're here, be sure to at least go for a short out and back cruise down one of these roads. They wind gently through hilly countryside, and are generally lightly trafficked.
Anyone interested in wildlife photography should plan to keep an eye out for eagles, otters and beavers.
History
Canal Basin Square, centrally located across the street from the Scottsville Museum (open on summer weekends), is an excellent place to start if you're looking to explore Scottsville's history. Self-guided tours start here and link to a variety of historic exhibits, as well as to the Levee Walk. Our organization, the Charlottesville Albemarle Convention & Visitors Bureau, plans to have a Mobile Visitor Center located here at Canal Basin Square once a week to help guide you toward some of the top things to do in the area. If you miss the Mobile Visitor Center while you're in town, you might reference this walking tour pamphlet to orient yourself. Many buildings in town were constructed in the early 1800s.
Restaurants & more
After crossing over the James River on Route 20, you'll coast to a stop at the main intersection in town. From here, you'll be able to see many of Scottsville's food and beverage options. For fine dining, check out The Batteau, a restaurant and wine bar right here in town. For home style breakfast each morning, you can't go wrong with Lumpkin's. Some of the best locally-sourced produce and groceries can be found at Farmstead Ferments, perhaps best known for their fermented foods. Anyone looking to stay in Scottsville for a week or more should plan to buy some locally-sourced goods here. Look to Baine's Books & Coffee for caffeine each morning. A variety of new and used books are available here for purchase.
Scottsville is also home to a brewery: James River Brewery. There you'll find a spacious outdoor beer garden and a warm, cozy tasting room where you can enjoy a variety of their award-winning craft brews.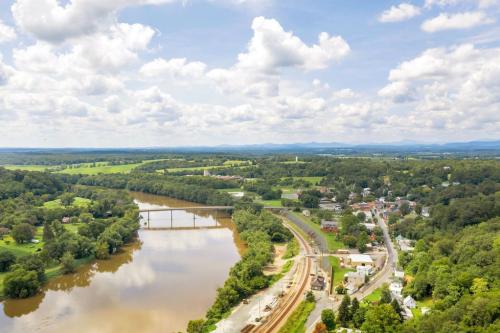 Photo Credit: Kevin Quick

Scottsville is a great home base for anyone looking to explore the wineries in Albemarle County, of which there are more than 30! Thatch Winery, Blenheim Vineyards, Wisdom Oak Winery, and Michael Shaps Wineworks are some of the closest. For a full list of wineries in Albemarle County, click here. Scottsville is close to the Blue Ridge Mountains, too. There you'll find all sorts of additional trails and natural areas to enjoy. During your stay, should you have any questions about top things to do or activities you've planned, contact us and we'll be happy to help.