15% Off Spring Vacation Cottage Sale, Hiking, Biking, Fishing and Canoeing at Montfair Resort Farm!
Redeemable: Wednesday, Apr 10, 2019 - Friday, May 31, 2019
Montfair's Spring Vacation Sale- Now through May 31, 2019! Enjoy 15% off all nightly cottage rental rates and an additional 15% off all multiple night packages. Call 434-823-5202 for reservations or book online. Comfortable, clean cottages with everything you need, overlook lake near the Shenandoah National Park, the small town of Crozet and Charlottesville, VA. WiFi in all cottages. Enjoy onsite nature trails, canoes, bikes and fishing on family owned property. Pets are welcome. Call 434-823-5202 or book online.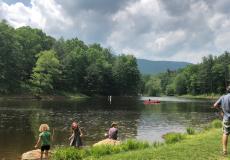 2500 Bezaleel Dr.
Crozet, VA 22932
A picturesque relaxed destination with nine lakeside vacation cottages, a main house and events lodge located in the Blue Ridge Mountains, near the Shenandoah National Park, the small town of Crozet and Charlottesville, Virginia. Wifi included. Canoes, bikes, fishing and nature trails on site. Pets welcome. Events Lodge for Weddings, Retreats,... more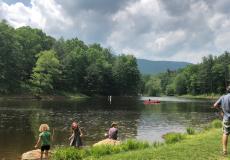 2500 Bezaleel Dr.
Crozet, VA 22932
Fully furnished cedar timber frame cabins. Available for Short- term rentals and extended stays. All Utilites, Heat and A/C included. Free WI-FI available in all Cottages and Main Office. The well-stocked cabins have fully equipped kitchenettes with modern appliances including a microwave. The living room is furnished with a locally handcrafted... more