Holiday Cottage Stay Deals at Montfair in the Mountains of Virginia!
Redeemable: Tuesday, Oct 16, 2018 - Friday, Feb 1, 2019
Holiday Cottage Stay Deals at Montfair Resort Farm - ideal for Veteran's Day, Thanksgiving and Winter Holidays! 3 and 4 Night Stay: 15% Discount 5 Night Stay: 18.5% Discount 6 Night Stay: 25% Discount 7 Night Stay- Weekly Rate: 31% Discount (Price ranges from $79.00-$240/night). These discounts can be applied to any of the nine cozy vacation cottages that overlook our lakefront or the Beauchamp House which has beautiful mountain views. The cottages and house have full service kitchens and we provide linens and towels. Enjoy walking trails, canoes and mountain bikes onsite for guests to use during their stay. Fishing for bass, bluegill and catfish. Pets welcome!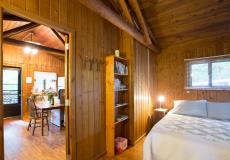 2500 Bezaleel Dr.
Crozet, VA 22932
9 Eco- friendly, vacation cottages overlook lake in the Blue Ridge Mountains of Virginia. Located near Charlottesville, Virginia and the Shenandoah National Park and 40 minutes from Jefferson's Monticello. The property now features lakefront tent sites for an additional 72 guests. Explore 129 acres of hiking trails, mountain bikes, canoe, fishing.... more