Americana Rock Group, The Gary Douglas Band Set to Shake the Stage on 2/2/19!
Dates:

February 2, 2019

Location:

Jefferson Theater

Address:

110 East Main Street, Charlottesville, VA 22902

Phone:

(434) 245-4980

Time:

8:00 PM to 11:00 PM

Price:

20
Gary Douglas has long been waging battle with the forces of greed and injustice, both as rebel rocker and as a Trial Lawyer Hall of Fame attorney who spends each and every day fighting for workers rights and the victims of corporate greed. Now, with The Gary Douglas Band's bracing new LP, DEEP IN THE WATER, he has crafted his most powerful statement thus far, a clarion call of passionate rock 'n' roll fueled by expertly crafted melodies, stadium-sized choruses, and Douglas' uncompromising lyricism. Songs like "Nothing Ever Goes As Planned" and the forceful title track find the singer-songwriter-bandleader opening up his rousing American sound to better explore the social and emotional effects of politics and power on living, breathing people. The Gary Douglas Band will be opening for Donna the Buffalo on 2/2/19 at the - Jefferson Theatre. See them perform live!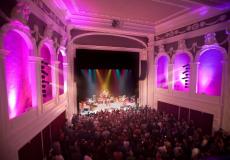 110 East Main Street
Charlottesville, VA 22902
Region: Downtown Mall Area
Located on Charlottesville's historic Downtown Mall, The Jefferson Theater was established in 1912 as a live performance theater that played host to silent movies, vaudeville acts and a historic list of live performers, ranging from Harry Houdini to The ThreeStooges. The Jefferson reopened on November 27, 2009 after a comprehensive restoration that... more