Life in a Data-Driven World – What it Means to You and UVA
Dates:

September 6, 2019

Address:

211 Emmet Street South, Charlottesville, VA 22903

Price:

Free, RSVP REQUIRED:
Data is the new oil, or data is the new soil, are well-worn phrases for a reason. They exemplify an impact on us as profound as agriculture or the internal combustion engine. Philip Bourne, Director of the Data Science Institute, will share intriguing examples of the change that is happening and the promises and threats a data-driven society brings. He will describe how UVA is responding through the recently announced School of Data Science—the 12th School in the University's history. And, oh yes, it's football weekend, and we will examine what data tells us about the new season.

Note: This event is held on a Friday evening, rather than the usual Saturday mornings.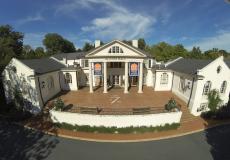 211 Emmet Street South
Charlottesville, VA 22903
With the University as your backdrop, entertain your guests at historic Alumni Hall. Cocktail Receptions • Conferences • Meetings • Dinners • Galas • Banquets • Wedding Receptions The University Alumni Association offers a variety of rooms to meet your event needs. If you would like to tour the facilities, please call us at 434-243-2665 to set up... more