Paramount Presents: Les Ballets Trockadero de Monte Carlo
Dates:

April 20, 2019

Location:

Paramount Theater

Address:

215 East Main Street, Charlottesville, VA 22902

Phone:

(434) 979-1333

Time:

8:00 PM to 10:00 PM

Price:

$24.75, $29.75, $34.75
"All of the "ballerinas" dance en pointe — but the genius touch of the Trocks is that while the ballet's stories and customs are, lovingly, played for laughs, the technique isn't… And though I've seen this Swan Lake many times, the variation for four hand-holding swans — three of whom are intently addressing the task at hand, one of whom has enough ham for several sandwiches — remains a comic masterpiece." – Seattle Times

"Ballet is a completely absurd art — and we love it to pieces: that's what Les Ballets Trockadero de Monte Carlo proclaims with every move." – The New York Times

Founded in 1974 by a group of ballet enthusiasts for the purpose of presenting a playful, entertaining view of traditional, classical ballet in parody form and en travesti, Les Ballets Trockadero de Monte Carlo first performed in the late-late shows in Off-Off Broadway lofts. The Trocks, as the dancers are affectionately known, quickly garnered a major critical essay by Arlene Croce in The New Yorker which, combined with reviews in The New York Times and The Village Voice, established the company as an artistic and popular success.

By mid-1975, the Trocks' inspired blend of a loving knowledge of dance, impeccable comic approach, and the astounding fact that men can, indeed, dance en pointe without falling flat on their faces, was being noted beyond New York. Articles and notices in publications such as Variety, Oui, The London Daily Telegraph, as well as a Richard Avedon photo essay in Vogue, made the company nationally and internationally known. The 1975-76 season was a year of growth and full professionalization. The company added management, qualified for the National Endowment for the Arts Touring Program, hired a full-time teacher and ballet mistress to oversee daily classes and rehearsals, and made its first extended tours of the United States and Canada. Packing, unpacking, and repacking tutus and drops, stocking giant-sized toe shoes by the case, and running for planes and chartered buses all became routine parts of life.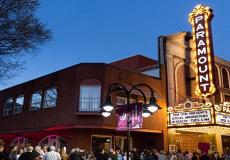 215 East Main Street
Charlottesville, VA 22902
Region: Downtown Mall Area
The historic Paramount Theater a Charlottesville landmark built in 1931 offers a wide variety of live art performances. Check their website for performance schedule. On November 25, 1931, The Paramount Theater of Charlottesville, Virginia opened its doors as one of the last grand "movie palaces" during the golden age of cinema. With its exceptional... more