Paramount Presents: Sir James Galway and Lady Jeanne Galway
Dates:

October 13, 2019

Location:

Paramount Theater

Address:

215 East Main Street, Charlottesville, VA 22902

Phone:

(434) 979-1333

Time:

7:00 PM to 9:00 PM

Price:

$34.75, $44.75, $64.75
"James Galway is more than a flute-player, he is the world's only flute personality." – Newsday

"He moulded phrases with supreme artistry, his attacks and releases were flawless, and his superb virtuosity in the solo cadenzas was show stopping." – The News Gazette

Sir James Galway is regarded as both a supreme interpreter of the classical flute repertoire and a consummate entertainer whose appeal crosses all musical boundaries. The most televised and recorded classical artist performing today, Galway is a legend, a modern musical master whose virtuosity on the flute is equaled only by his limitless ambitions and vision. Performing with her husband is accomplished flutist Lady Jeanne Galway, who has performed extensively throughout Europe and the United States as both soloist and chamber musician.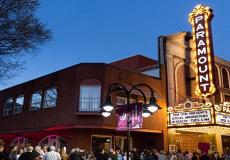 215 East Main Street
Charlottesville, VA 22902
Region: Downtown Mall Area
The historic Paramount Theater a Charlottesville landmark built in 1931 offers a wide variety of live art performances. Check their website for performance schedule. On November 25, 1931, The Paramount Theater of Charlottesville, Virginia opened its doors as one of the last grand "movie palaces" during the golden age of cinema. With its exceptional... more