The Paramount and Compass Creative Dramatics Present: Cinderella (Saves the World!)
Dates:

June 15, 2019

Location:

Paramount Theater

Address:

215 East Main Street, Charlottesville, VA 22902

Phone:

(434) 979-1333

Time:

2:00 PM

Price:

$5.50 Youth, $10.50 Adult
LOCAL YOUTH TAKE TO THE STAGE ALONGSIDE TWO PROFESSIONAL ARTISTS IN THIS FULL-SCALE MUSICAL PRODUCTION.

When the local superhero league announces it's looking for new members, Cinderella is eager to try out so she can make the world a better place. The only problem is (unlike her lazy stepsisters) she wasn't born with a superpower! But a group of friendly scientists has a few tricks up their sleeves, and with their assistance (plus the help of some curious kittens and a very mysterious group of elderly folk), Cinderella just might find a way to save the world!

Compass Creative Dramatics (CCD) is a Chicago based touring company that partners with community organizations to offer creative, engaging theater programming designed to provide arts enrichment and cultivate personal growth and character.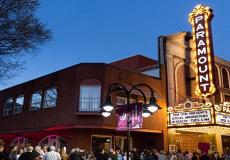 215 East Main Street
Charlottesville, VA 22902
Region: Downtown Mall Area
The historic Paramount Theater a Charlottesville landmark built in 1931 offers a wide variety of live art performances. Check their website for performance schedule. On November 25, 1931, The Paramount Theater of Charlottesville, Virginia opened its doors as one of the last grand "movie palaces" during the golden age of cinema. With its exceptional... more