What do the Cavalier Inn, Brandon Avenue, and UHall have in common?
Dates:

November 9, 2019

Address:

211 Emmet Street South, Charlottesville, VA 22903

Phone:

(434) 982-4491

Time:

10:00 AM to 11:00 AM

Price:

Free with RSVP: https://www.eventbrite.com/e/more-than-the-score-what-do-the-cavalier-inn-brandon-avenue-and-uhall-have-in-common-registration-65670739951
Have you asked: "Where is the Cavalier Inn?", "What's happening on Brandon Avenue?", or "Uhall is gone, say what?" If you have been pondering these or other questions about changes you may have noticed on Grounds, then this More Than the Score talk is for you. The Architect for the University, Alice Raucher, will share updates on current and future planning projects on UVA's Grounds. Join us for answers to your most probing questions.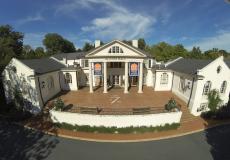 211 Emmet Street South
Charlottesville, VA 22903
With the University as your backdrop, entertain your guests at historic Alumni Hall. Cocktail Receptions • Conferences • Meetings • Dinners • Galas • Banquets • Wedding Receptions The University Alumni Association offers a variety of rooms to meet your event needs. If you would like to tour the facilities, please call us at 434-243-2665 to set up... more