Images & Photos
Please click on our logo below to access our online image library. Please request images through our website here. Once your request is submitted, you will receive an email with a link to download the photos you have selected should it be approved.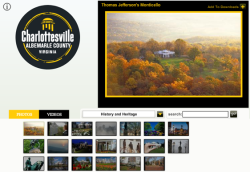 The Charlottesville Albemarle Convention & Visitors Bureau (CACVB) maintains a comprehensive library of images which are available upon request.
These photos may be used to accompany any Charlottesville or Albemarle County travel-related or tourism promotions only. Requests for all other purposes will be denied.
We also have videos available upon request. Visit our YouTube Channel to view.
Terms of use are:
Client agrees to furnish one tear page or copy of publication in which the photographs appear free of charge to the CACVB.
The CACVB must specifically authorize any alteration, manipulation or derivation from the photographs in writing. The photographs may not be placed in any electronic cataloging or electronic delivery service.
Credit line must accompany editorial use. Client agrees to identify each subject published and to credit the "Charlottesville Albemarle Convention & Visitors Bureau" or www.visitcharlottesville.org.
If images are used on a website, the website address credit line is required with a link to our site www.visitcharlottesville.org.  
If credit line is not given the CACVB will bill the client a $200.00 usage fee per image used.
Use of photos for commercial purpose is strictly prohibited.
Please allow a minimum of seven business days to fulfill your request.
Video Photo Tour
Browse all our photo tours and watch our online videos. Add photos to your gallery and then request hi-res versions for download.
Virginia Wine

Experience varietals distinct to Virginia - Petit Verdot, Viognier and more. Each winery has its own unique tasting room.