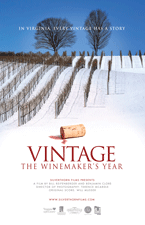 With more than 200 years of tradition, Thomas Jefferson would be mighty proud of the international prestige earned by Albemarle County Wines, and the consistently great taste produced by our area's wineries.
But don't just take our word for it! Tune into your local PBS station to see Vintage: The Winemaker's Year, a documentary that examines the factors that make Virginia unique amongst the top wine producing regions of the United States. When it comes to quality and value, California may have met its match.
Scope out film trailers, see images or order DVD through Silverthorn Films.
Ready to plan your wine getaway? Explore over 20 tasting rooms in central Virginia, use our trip builder to plan your route or leave the driving and planning to one of our wine tour operators.