Visitor Centers
Our Visitor Centers are mobile and operate Wednesday-Sunday at set locations throughout Charlottesville and Albemarle County. Please note that our brick-and-mortar visitor centers in Charlottesville and Crozet have closed permanently.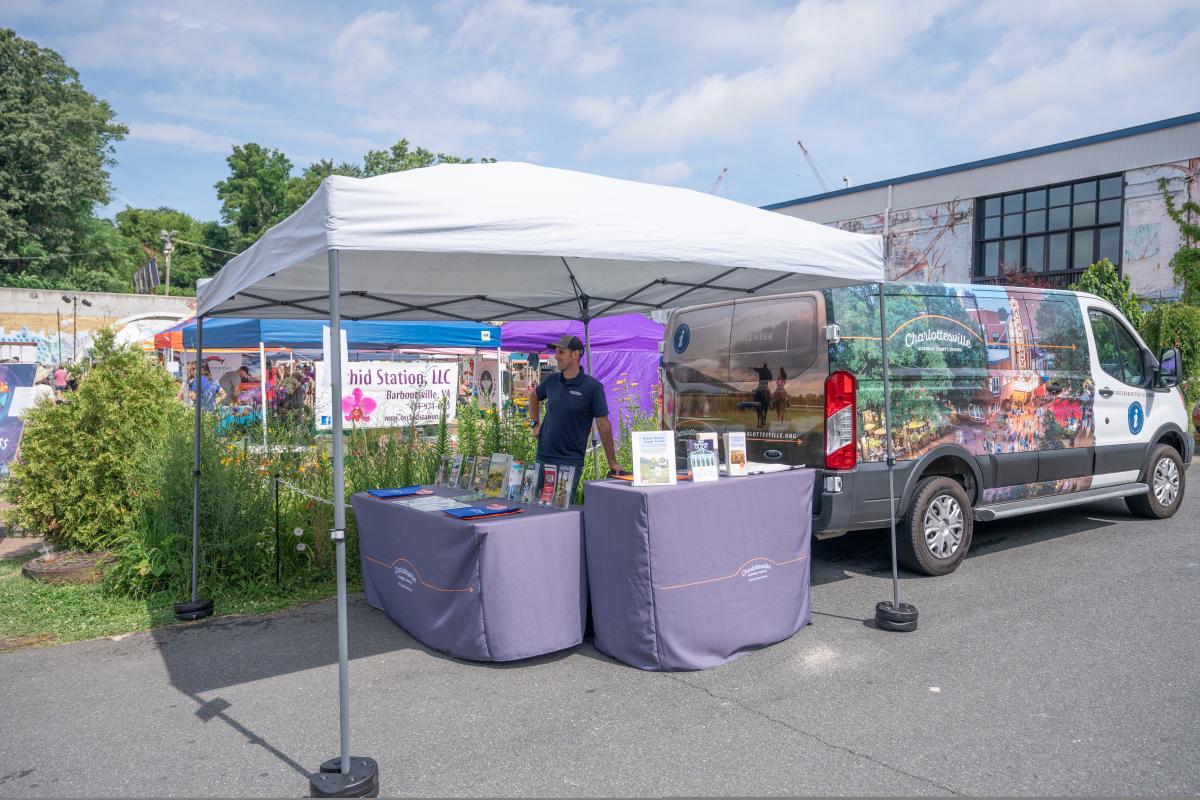 Please see below for the full visitor center schedule. Our Visitor Centers are closed August 2-17, but our team is available for questions and information requests. 
Please give us a call at 434-293-6789 or send an email to info@visitcharlottesville.org and we'll get back to you promptly. We look forward to welcoming you to Charlottesville and Albemarle County!
 

Wed 

Thurs 

Fri 

Sat 

Sun 

Location 1
Downtown Mall
Michie Tavern
Shops at Stonefield
IX Art Park
Rivanna River Company
Time
10 am – 2 pm
10 am – 2 pm
11 am – 3 pm 
8 am – 12pm
10 am – 2 pm
Description

Near 4th Street crossing

316 East Main Street, Charlottesville, VA  22902

Near entrance to The Ordinary

683 Thomas Jefferson Parkway, Charlottesville, VA  22902

Next to Matchbox Restaurant

2055 Bond Street, Charlottesville, VA  22901

In the Farmers Market

522 2nd Street SE, Charlottesville, VA  22902

Behind The Pie Chest

1518 East High Street, Charlottesville, VA  22902

Location 2
Wool Factory

Dairy Market

The Jefferson School African American Heritage Center
Scottsville's Canal Basin Square
King Family Vineyards 
Time
11 am – 3 pm 
11am – 3pm
11am – 3pm 
11 am – 3 pm 
11 am – 3 pm 
Description

Near Broadcloth Restaurant

1837 Broadway Street, Charlottesville, VA  22902

Near Starr Hill Brewery

946 Grady Avenue, Charlottesville, VA  22903

233 4th St NW, Charlottesville, VA 22903

249 Main Street, Scottsville, VA  24590

6550 Roseland Farm, Crozet, VA  22932
Contact Us
Charlottesville Albemarle Convention & Visitors Bureau

Mailing Address: P.O. Box 178, Charlottesville, VA 22902
Phone: 434.293.6789 | Toll-free: 877.386.1103
For Visitor Questions:
info@visitcharlottesville.org