While every season is a great season in Charlottesville & Albemarle County, there's something especially delightful about spring. Ah, yes, the season when flowers and trees come bursting back to life after lying dormant throughout the winter months. But this season means so much more than just warmer weather. Spring is an absolutely bustling time in the Charlottesville area! Jam-packed with unique festivals, outdoor events, and plenty of concerts, it's the perfect time to plan a trip. So let's get into the top ten reasons to visit the Charlottesville area this spring!
1.) Tom Tom Founders Festival – April 10 – 16, 2017
Entering its sixth year, the Tom Tom Founders Festival is THE gathering of the year for innovators, inventors, and entrepreneurs in the Mid-Atlantic region. For one week centered around Founder's Day (April 13 – Thomas Jefferson's birthday), the city of Charlottesville is re-imagined as a creative canvas for innovators, visionaries, and artists. This festival features more than 60 bands, 200 speakers, and 400 community organizations, which occur in outdoor spaces, galleries, theaters, concert halls and more! For the first time ever this year, Tom Tom will be featuring a "Hometown Summit," which is a one-of-a-kind convention and celebration of leaders in small and mid-sized cities who have spearheaded some of the nation's most creative and successful campaigns for community change. This week-long festival also includes numerous free performances, workshops, and seminars that are sure to draw innovators from around the country to the Charlottesville area. Are you intrigued? Click here to learn more about the Tom Tom Founders Festival!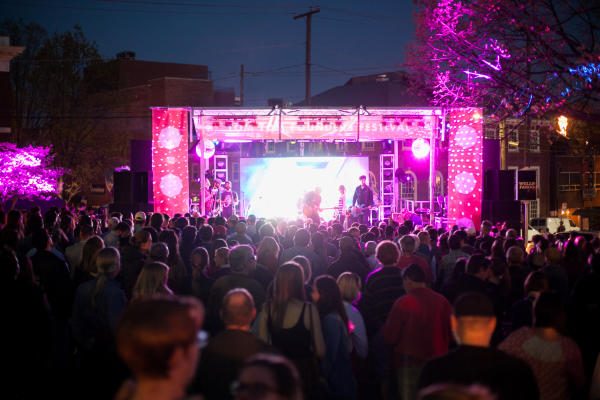 (Tom Tom Founders Festival - Photo Credit - Tom Daly Photography)
2.) Taste of Monticello Wine Trail Festival – April 13 – 15, 2017

In case you haven't heard, the Charlottesville region has been taking the world of wine by storm these past few years and was very recently named one of the top wine destinations in the WORLD. Yes...the world! The Charlottesville area has had a love affair with wine going back to the days of Thomas Jefferson himself and the Taste of Monticello Wine Trail Festival is an event that our local Founding Father would surely enjoy. This 3-day festival features various wine-focused events including the Monticello Cup Awards at the Jefferson Theater, winery visits with wine brunches, lunches, and dinners, all culminating with a massive tasting event at the Sprint Pavilion on April 15. Here, wine lovers will feel like they've gone to heaven as they can sample a variety of wines from more than 25 of central Virginia's finest wineries. Special VIP packages are also available. For more information about the Taste of Monticello Wine Trail Festival, click here.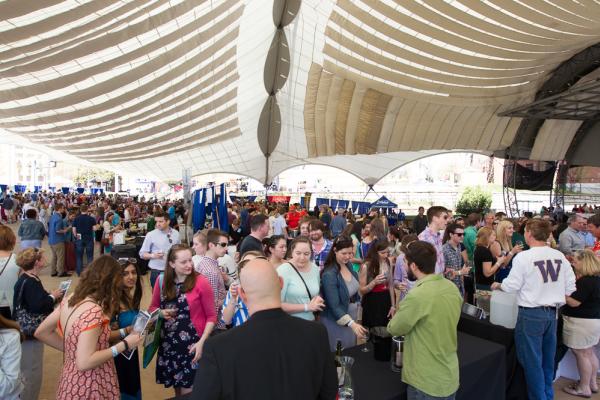 (Taste of Monticello Wine Trail Festival - Photo Credit - Jack Looney)
3.) The Dogwood Festival – April 6 – 23, 2017

You know it's springtime in Charlottesville when the Dogwood Festival comes to town! This staple event, which celebrates the official flower and tree of the state of Virginia, is celebrating its 68th anniversary this year and has a lot of fun activities and attractions to offer! Children of all ages will love the family-friendly carnival or the famous Dogwood Festival parade, featuring plenty of creative and festive floats. There is also music, a pageant, and even a fireworks show at this fan-favorite Charlottesville festival. Click here for more information about the Dogwood Festival!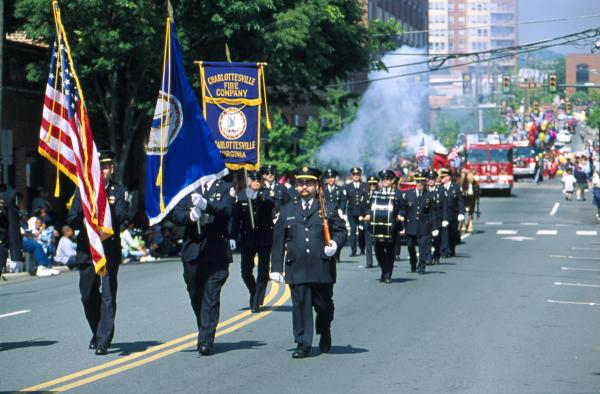 (Dogwood Parade)
4.) Historic Garden Week – April 22 – 29, 2017
Attention to all those with green thumbs – this year marks the 84th occurrence of Historic Garden Week! With roots going back to 1927, this festival is operated by the Garden Club of Virginia, which is comprised of 47 member clubs and more than 3,000 volunteers! Garden lovers are invited to take part in the many activities scheduled during the week, with all proceeds from the event going toward the restoration and preservation of Virginia's historic public garden. Come on out to learn more about gardening, all for a good cause! Click here for more information!
5.) Foxfield Spring Races – April 29, 2017
Be sure to break out your floppy hat and brightly-colored clothing because the 40th annual Foxfield Spring Races are just around the corner! A Charlottesville tradition that is not to be missed, the races will take place on Saturday, April 29th. For years, the Foxfield Racing Association has provided us with a beautiful venue to watch the proud sport of equestrian steeple chasing. The alluring, yet challenging, Foxfield course was designed to attract thoroughbred owners and trainers while providing the jockey and his horse with a beautiful ride over lush green turf. To learn more about a day of horse racing and sun, click here.
6.) Festival of Cultures – May 13, 2017
If you're looking for a family-friendly day of fun, look no further! The Festival of Cultures celebrates cultural and linguistic diversity in our community with loads of all-day entertainment options. There will be music, dancing, songs, and storytelling. There will also be hands-on cultural crafts, exhibits, food, artisan vendors, and much more. If that isn't enough to get you there, the festival is free! This event is organized by the Charlottesville City Schools Adult Learning Center with the support of many other individuals and organizations. It truly is a community effort. Come travel the world for free with the Festival of Cultures. To learn more, click here.
7.) Crozet Arts & Crafts Festival - May 13 - 14, 2017
The ever-popular Crozet Arts & Crafts Festival will return to Claudius Crozet Park on May 13 & 14 for another season of celebrating the Charlottesville area's fine artisans! Dozens of juried fine art and craft exhibitors will show and sell their handcrafted works in the soaring high-peaked tents and park pavilions at this family-friendly event. Live music can be enjoyed throughout the weekend, as well as great food from a variety of on-site vendors and beverages including Virginia wine, plus draft beer available by the glass. Click here to find more information about this year's Crozet Arts & Crafts Festival!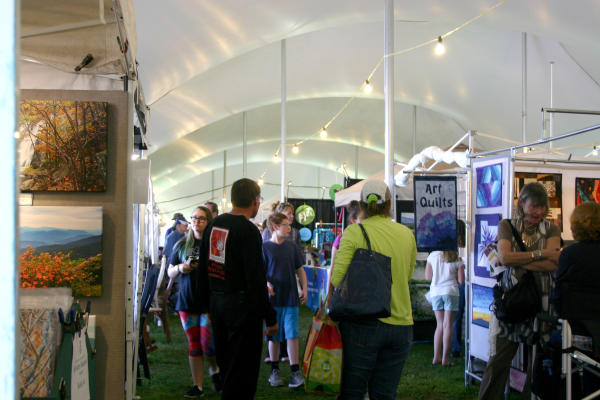 (Crozet Arts & Crafts Festival)
8.) First Fridays – First Friday of Every Month
Nothing demonstrates what a fun and creative community Charlottesville is quite like the area's First Fridays events! As the name suggests, First Fridays take place on the first Friday of every month and feature exhibit openings at many downtown art galleries and other venues. There's art for everybody! Folk art, fine art, contemporary, classical, imports, local: whatever your interest, you can find it at the Downtown Mall on First Fridays. And if that's not enough to get you there—although I can't see why it wouldn't be—many galleries serve light refreshments. Just picture it, a lovely spring evening on Charlottesville's Downtown mall, beautiful art, drinks, and maybe stopping for a bite to eat at one of the many fantastic restaurants along the mall. What could be better?
9.) Charlottesville City Market – Saturday Mornings
On Saturday mornings from April to December, the parking lot between Water Street and South Street is bustling with activity at the Charlottesville City Market! It is on these Saturday mornings that a producer-only market of farmers, food vendors, crafts, and artisans is held. The market features more than one hundred vendors who offer fresh produce, herbs, meats, plants, crafts, and baked goods. This is one of the best and most enjoyable ways to support your local businesses and farmers! The Charlottesville City Market has been selling the freshest local produce since 1973 and it won't be stopping anytime soon. Why would it? There's nothing more relaxing or refreshing than spending a Saturday morning enjoying the sun, while selecting from a superb sampling of fresh produce, meats, and baked goods in a region that leads the pack in the farm-to-table movement! To learn more about the Charlottesville City Market, click here.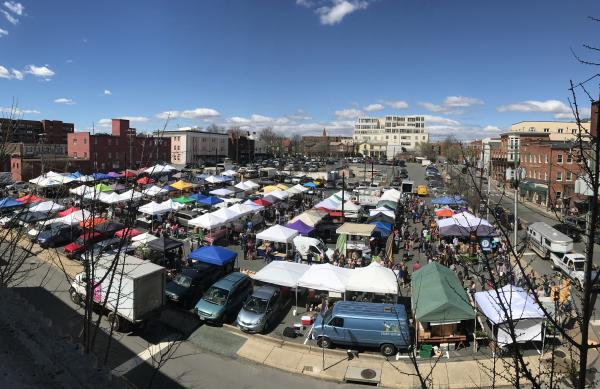 (Charlottesville City Market - Photo Credit - Tess McGough)
10.) Fridays After Five - Friday Afternoons
You know spring has truly arrived when Fridays After Five kicks off at the Sprint Pavilion on the east end of the Downtown Mall! This free, family-friendly concert series cranks up for its 30th season on April 14 and takes place each and every Friday through the spring and summer months. Offering up a variety of some of the best local musical acts, this concert series attracts hundreds each and every week, all looking to enjoy some great tunes, a local craft beverage, and the fresh Virginia air at this outdoor music venue. If you get there early enough and bring your blanket, you might even be able to claim a little spot of grassy green on the lawn area outside the pavilion as you enjoy your Friday evening. To learn more about Fridays After Five and to discover which bands are playing this year, click here!

(Fridays After Five - Photo Credit - Jeff McCallister)
Are you excited for spring yet? Not only will the weather be warm and the flowers bursting with color, but the Charlottesville area has a lot to offer up to folks of all ages! From music to wine, festivals to horse races, there's something for everyone. Be sure to browse our website for even more ideas as your plan your upcoming spring trip to the Charlottesville area and don't forget to check out our lodging page for more information about all of the region's hotels, inns, B&Bs, and resorts! Now it's time to get out there and smell the flowers, while exploring all that Charlottesville & Albemarle County has to offer this spring!