As we enter the infamous "dog days" of summer, the temperatures are sizzling and everybody is looking for ways to stay cool. If you're looking for ideas to beat the heat, look no further! Enjoying a sweet, frozen treat is one of the best ways to cool off, and the Charlottesville area is teeming with places dedicated to providing you with the perfect, ice-cold dessert. After all, July is National Ice Cream Month, which gives us the perfect excuse to indulge in a sweet treat! Here are 11 perfect places in the Charlottesville area to cool down and enjoy some cold and creamy goodness!
1.) Chaps Ice Cream
What other Charlottesville hot spot would we kick off National Ice Cream Month with besides Chaps? Located on the historic pedestrian Downtown Mall, Chaps serves breakfast, lunch, and a good cup of java in addition to their delicious ice cream. They've used family recipes to make their ice cream for more than 75 years so you can be sure that what they serve you is freshly made. Walking into Chaps is like walking into the 50s, and the old-fashioned décor offers a sense of nostalgia you can't find anywhere else. Enjoy your cone in one of their comfortable, retro booths or walk around on the Downtown Mall and people watch. Click here for more information about Chaps!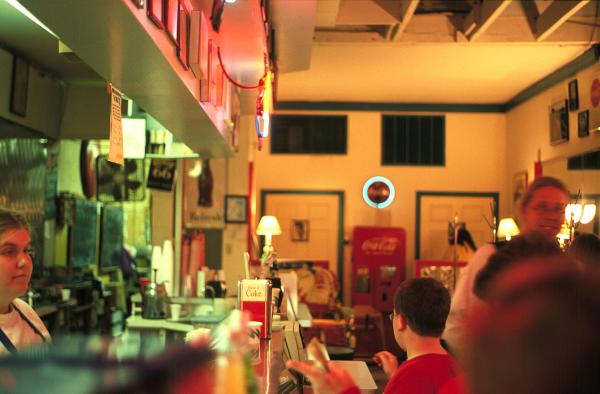 (Chaps Ice Cream)
2.) Chandler's Ice Cream
Chandler's Ice Cream is a Charlottesville classic and a particular favorite of soccer players on the way home after a game at Darden Towe Park. Located on River Road near U.S. Route 250, Chandler's serves ice cream out of a retro-style trailer in the Tractor Supply parking lot, complete with picnic tables and umbrellas. Its classic soft-serve and gooey sundaes are perfect for enjoying a hot summer day! For more information about Chandler's, click here!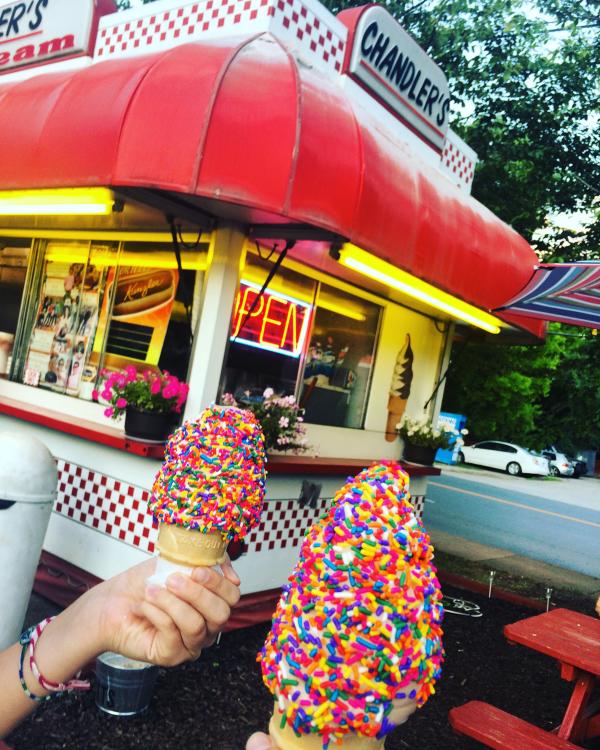 (Chandler's Ice Cream)
3.) Crozet Creamery
New to the scene, Crozet Creamery is located in Piedmont Place in Crozet. All of their ice cream is made from scratch using fresh ingredients! They have two special, yummy sundaes, the 434, named after Charlottesville's area code, and the 22932, named after Crozet's zip code. People all over Crozet have been raving about Crozet Creamery for good reason, so make sure to check it out. Click here for more information about Crozet Creamery!
4.) La Flor Michoacana
La Flor Michoacana was opened in July 2015 by Colombia native Birzavith Polania. Located on Cherry Avenue across from the Salvation Army, La Flor Michoacana has come to be known for their yummy popsicles and ice cream. Everything is freshly made, and the unique flavor combinations make them a must visit. The "Mangoneada," one of La Flor Michoacana's most popular popsicles, is a mix of mango sorbet, fresh mango, and chamoy sauce. Make sure to stop by and check out the classic Mexican flavors! Visit their website to learn more!
5.) Wonderment Bakeshop & Creamery
Wonderment Bakeshop & Creamery was started in 2013 by Stephanie Connock Taylor, a University of Virginia alum. Known for their artisanal ice cream made from scratch and tarts made from shortbread dough, this bakeshop and creamery has become quite popular in the Charlottesville area over the past four years. The ice cream is made in the French custard style, and we'd recommend the unique strawberry basil combination! Wonderment Bakeshop & Creamery sells ice cream sandwiches at the Violet Crown Cinema and Live Arts Theatre. They also have a food truck and are available at four of the local farmer's markets! If you're interested in learning more about these cool, creamy treats, click here!
6.) Kirt's Homemade Ice Cream
Locally owned, Kirt's Homemade Ice Cream serves yummy frozen treats with a smile! Using cream from Lancaster, Pennsylvania and fruit grown in the Charlottesville area, Kirt's creates fresh ice cream daily. They are located in Albemarle Square on U.S. Route 29, but are more than happy to cater an event! Kirt's also sells ice cream cakes, so if you're celebrating a birthday look no further! Click here for more information or to place an order!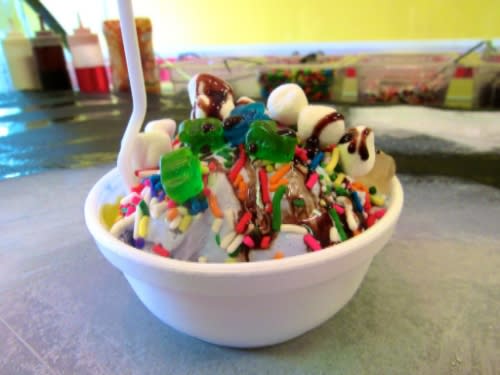 (Kirt's Homemade Ice Cream)
7.) Carter Mountain Orchard
Carter Mountain Orchard is a local favorite for peach and apple picking fun, as well as their spectacular views of the Blue Ridge Mountains. Their apple cider donuts are famous, and they also have peach crisps and pies that pair well with the locally made hard cider and wine sold at the orchard. In the summer, their soft-serve ice cream is one of the most popular yummy treats! It comes in two flavors, peach and vanilla, and is perfect when paired with a peach crisp or apple cider donut! Every Thursday in the summer, Carter Mountain Orchard hosts a sunset concert series where anyone can watch the sunset and enjoy free live music. Make sure to take advantage of the stunning view of the sunset from Carter Mountain Orchard and enjoy some ice cream to complete the night! Click here for more information about Carter Mountain Orchard!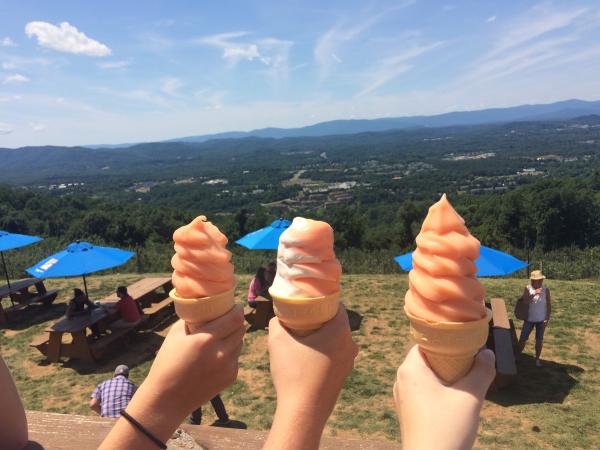 (Carter Mountain Orchard)
8.) Mobilee Delicious
Mobilee Delicious combines the joy of a food truck and an ice cream truck with its family-owned restaurant on wheels! They have hot dogs, chicken fingers, fries, and more comfort food along with ice cream, milkshakes, and their famous Italian ice. Mobilee Delicious has been making children and adults alike smile with its frozen goodness since 2013. Visit their website to learn more or to request they come to your neighborhood!
9.) Splendora's Gelato Cafe
Another Charlottesville favorite, Splendora's has been providing the Downtown Mall with fresh, authentic Italian gelato for years. Using local ingredients, they specialize in the smooth, frozen treat that was the first style of ice cream. Gelato contains less fat than American ice cream, but is just as thick and satisfying! Splendora's is locally owned and operated and serves new flavors based on the season. Click here for more details about Splendora's and their yummy gelato!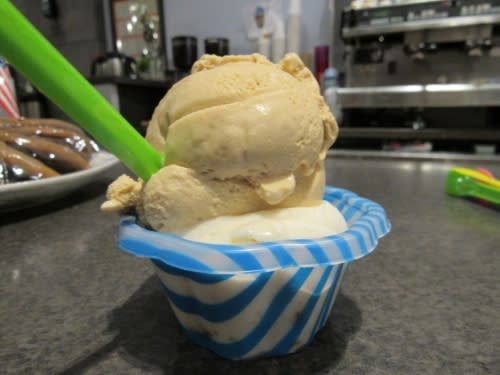 (Splendora's Gelato)
10.) Kilwins
If you aren't in the mood for gelato, just head right next door to Kilwins and grab yourself a cone. Along with their crazy ice cream flavors like the colorful "Superman" and the delicious toasted coconut, Kilwins also offers a wide selection of other desserts like caramel candy covered apples and handmade fudge (they literally make it in front of you). So stop in, cool down, and enjoy a sweet treat or take it to go for a stroll along the historic Downtown Mall. Click here for more info about Kilwins!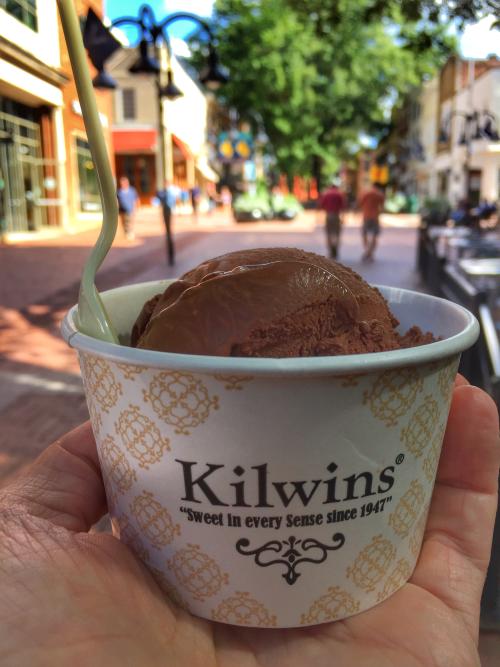 (Kilwins Ice Cream)
11.) Bodo's Bagels
And just when you thought Bodo's couldn't get any better! While there are three Bodo's Bagels shops in Charlottesville, the location on Preston Avenue carries a special sweet treat. Their delicious frozen yogurt perfectly accompanies your warm bagel sandwich! While they currently only have vanilla, the side of the store hosts a toppings bar so you can custom make the perfect treat! Make sure to check out the lesser known item at Charlottesville's classic bagel shop. More details about Bodo's Bagels can be found here!
No matter what kind of ice cream or cold sweet treat you like, Charlottesville has the perfect place for you! We hope you get out and enjoy the fresh (though hot) summer air with a scoop of a yummy frozen treat! Remember, it's a national occasion, plus you deserve it, so make sure to celebrate National Ice Cream Month in the Charlottesville area accordingly. Happy eating and stay cool!