Spring is finally here and it's the perfect time to visit Charlottesville & Albemarle County! With mild temperatures and blooming flowers, there are plenty of outdoor activities that will allow you to explore the beauty of the Charlottesville area. Take in gorgeous views of the Blue Ridge Mountains while hiking or sipping on wine, expand your knowledge at one of the region's many renowned historical sites, and visit one of the longest pedestrian malls in the entire country, all over the course of a few days! With a plethora of options for exploring the Charlottesville area in the spring, you'll want to make sure to stay for several days or make it a long weekend! To help take away the stress of figuring out what to do, we have a full three-day itinerary planned out to make sure you experience the best Charlottesville and Albemarle County has to offer!
Day 1 - Friday
Up and at 'em! Rise early on your first day in the Charlottesville area for a spectacular sunrise hike at Humpback Rocks Trail, located along the ever-popular Blue Ridge Parkway. Race the sun on your way up the mountain to ensure you catch the gorgeous sunrise over the valley, while also enjoying panoramic views of the Blue Ridge Mountains, as you sit perched high atop the massive rocks. The short but steep mile-long hike offers breathtaking vistas of the Rockfish and Shenandoah Valleys. Surely all this hiking will work up an appetite, so enjoy a pre-packed breakfast once you have reached the summit - after all, you've earned it!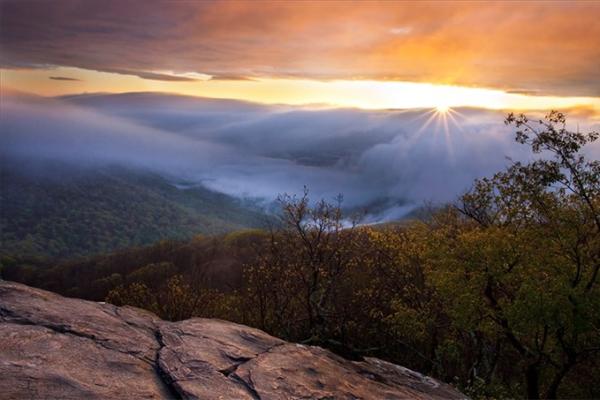 (View from Humpback Rocks)
After making your way down the mountain, take scenic US-250 eastbound to the Charlottesville area to immerse yourself in the beauty and history of the University of Virginia grounds. As the green leaves come out and the flowers are blooming, the University comes to life, after its winter slumber. Founded by Thomas Jefferson and a UNESCO World Heritage site, the University of Virginia is constantly ranked as one of the top universities in the country, and the architecture is top notch too! Located at the center of the University is the iconic and newly-renovated Rotunda. This academic and architectural heart of the University was modeled by Jefferson after the Pantheon in Rome. Adjacent to the Rotunda lies The Lawn, a popular hangout spot for students during the warmer months, full of inspiring architecture. Surrounding The Lawn is the "Academical Village," which is based on the Jeffersonian principle that learning is a lifelong process, and that interaction between faculty and students is vital to the pursuit of knowledge. While heading to the east or west range right off The Lawn, you will see Jefferson's Pavilion Gardens, which are blooming with an abundance of flowers during the springtime. Be sure to note the serpentine walls beside the gardens, a design created by Jefferson himself! While on Grounds, you can visit the room where Edgar Allan Poe studied while he was a student and then head across the street to view several panels of the Berlin Wall on display. Nearby, you'll find the Small Collections Library, where you can view some of our nation's most historical documents. Then, head over to "The Corner," the seven-block collection of shops, restaurants, bookstores, and night spots on University Avenue, for a quick lunch at the historic restaurant, The Virginian. Opening its doors in 1923, this establishment is the oldest restaurant in all of Charlottesville!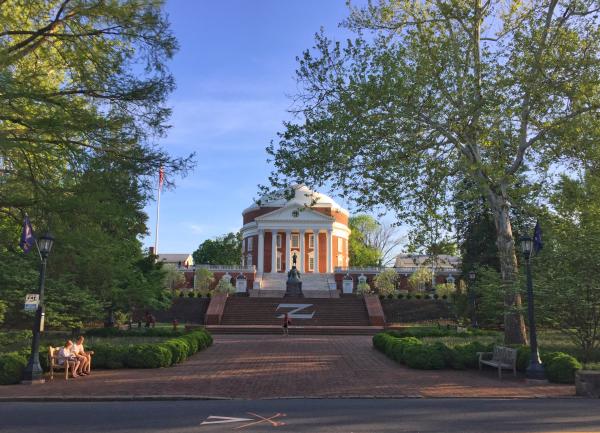 (Rotunda at the University of Virginia)
After you've finished up your lunch, it's time to visit the historic pedestrian Downtown Mall, which is located one mile away down West Main Street. This eight-block avenue paved with brick and lined with mature oak trees is one of the longest pedestrian malls in the entire country! Browse through more than 120 shops, stores, and art galleries, all of which feature an abundance of locally-produced and crafted items for purchase. Once you're ready for dinner, you will have your pick of dining options, with plenty of restaurants to choose from, many of which offer outdoor patio seating for dining al fresco! These outdoor patios are perfect spots to enjoy some shade from the trees above and listen to street musicians who can often be found serenading people here with their lovely tunes. After you finish your dinner, head to the Sprint Pavilion located at the end of the Downtown mall. Every Friday evening beginning in April, the Sprint Pavilion offers "Fridays After Five," a free, family-friendly concert series that allows you to enjoy some great local musicians with a nice craft beer, at this popular outdoor amphitheater.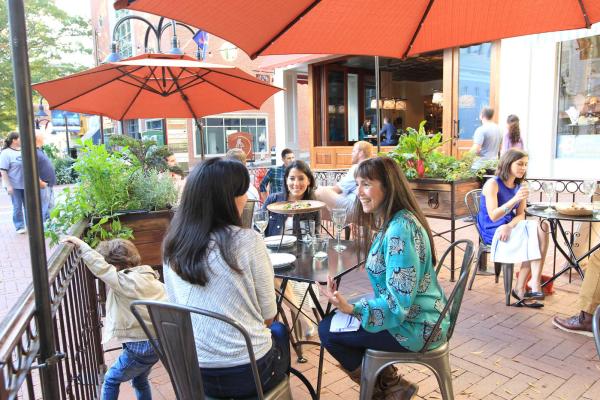 (Patio Dining on Charlottesville's Downtown Mall)
Day 2 - Saturday
Start your second morning in Charlottesville off right by getting some fresh food at the Charlottesville City Market. On Saturday mornings starting in April from 7 a.m. to noon, the parking lot between Water Street and South Street transforms into a producers-only market of farmers, food vendors, and artisans. Meander through more than 100 local vendors selling fresh produce, herbs, plants, grass-fed meats, crafts, and baked goods. With rows of unique options to explore, the Charlottesville City Market is the perfect spot to relax, take in the sun, and sample some of the best goods that the Charlottesville area has to offer. It's no surprise Charlottesville has such an abundance of vendors at this market - after all, the region was named the locavore capital of the world by Forbes and has been at the forefront of the farm-to-table movement!
After filling up on fresh food, spend some time exploring the Charlottesville area's wine country! The region features more than 30 wineries, most of which have several prestigious awards and accolades under their belts. The area was even named one of the top wine destinations in the world by Wine Enthusiast magazine! Several transportation companies offer wine tours so you can travel from vineyard to vineyard and ensure you are sipping safely. Each winery is located on beautiful land with views of rolling hills and the picturesque Blue Ridge Mountains. If you're not into wine, no worries! The area also boasts a variety of artisanal cideries, craft breweries, and distilleries with fantastic views and atmospheres. Many of these venues also provide great food options to enjoy with your choice of drink.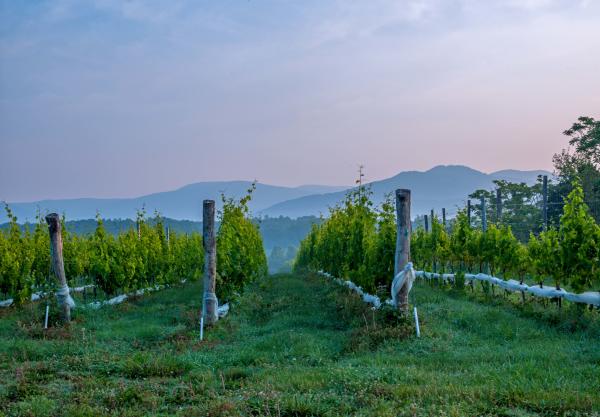 (Albemarle County Vineyard)
Keep the merriment going by grabbing a cocktail at one of the many unique downtown bars before catching a show at one of the performance venues on the Downtown Mall. The historic Paramount Theater, the Jefferson Theater, or the Sprint Pavilion offer a wide variety of entertainment options for everyone to enjoy!

(Fridays After Five - Photo Credit: Jeff McCallister)
Day 3 - Sunday
Any visit to Charlottesville would not be complete without a trip to its iconic historic attractions. Home to three former presidents (Thomas Jefferson, James Monroe, and James Madison), the region has a rich history dating back to our nation's formative years. Start your day off with a leisurely hike along the Saunders-Monticello trail. This two-mile trail will take you from the intersection of routes 53 and 20 all the way to the visitor center at Thomas Jefferson's Monticello. Once you get to the top, you can tour Thomas Jefferson's home, a designated UNESCO World Heritage site, and view the gardens of which Jefferson was so proud. Located just down the road, you can visit James Monroe's Highland, where you'll see history come to life with the first ever augmented reality tour of a historical site. If you're looking to continue your history adventure, James Madison's Montpelier is only a short 30-minute drive from Charlottesville.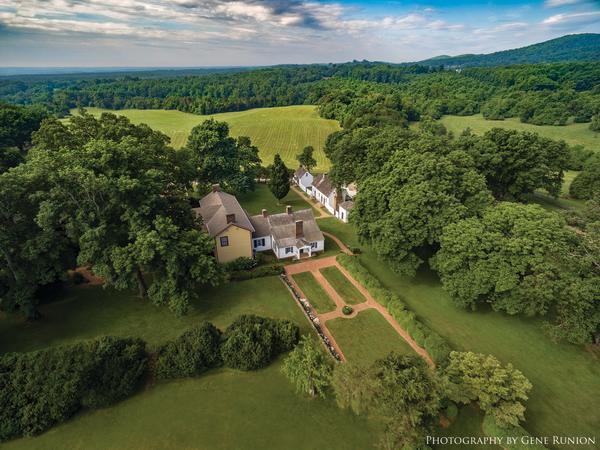 (James Monroe's Highland - Photo Credit: Gene Runion)
Complete your visit to the Charlottesville area by visiting one of the many local orchards where you can soak in the views or even pick your own berries, depending on the time of year! Carter Mountain Orchard, located literally at the top of a mountain, features some of the best panoramic views of Charlottesville and the surrounding mountains, plus you'll want to be sure to get a dozen of their to-die-for apple cider donuts!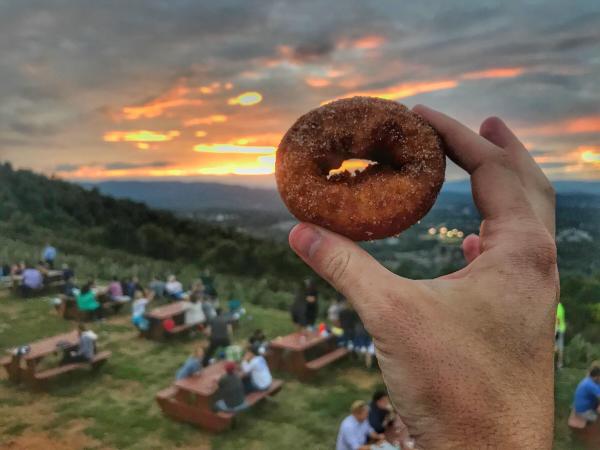 (Apple Cider Donuts at Carter Mountain Orchard)
With a plethora of lodging options to choose from in Charlottesville & Albemarle County, there is something for every family (and budget). You can find everything from charming inns and B&Bs, to boutique hotels, chain hotels, and even high-end resorts with luxurious amenities all within reach!
This list only begins to scratch the surface of everything Charlottesville & Albemarle County has to offer for a spring getaway. We encourage you to explore our website to find a more comprehensive sampling of lodging options and activities, or to find out more details about the attractions and activities listed in this itinerary. Once you arrive, be sure to check out one of our visitor centers for even more information from our knowledgeable travel specialists. So go ahead and start planning that perfect spring trip to Charlottesville & Albemarle County. We look forward to seeing you soon!