October in Charlottesville is here! Just the thought of colorful scenery, warm ciders, and the beginning of scarf season puts a smile on my face. With October's arrival comes the beginning of Halloween celebrations: scary movies, costumes, and my personal favorite - picking a pumpkin! Choosing the right jack-o-lantern isn't just a chore for the people of Charlottesville, it's an adventure! The Charlottesville area has such a wide variety of gardens, farms, and orchards that not only have loads of pumpkins to choose from, but also have stunning fall views, mouth-watering food and drink, and activities for folks of all ages. So let's get started on our journey to pick out the perfect pumpkin!
Carter Mountain Orchard
First on the list is Charlottesville's ever-popular Carter Mountain Orchard. The orchard is located along Route 53, a quick 5-10 minutes south of the historic Downtown Mall and just minutes from Thomas Jefferson's Monticello. Visitors and locals alike come together on the mountain to pick apples, experience stunning views, and to eat apple cider donuts..err.. I mean pick a pumpkin (but seriously, try the donuts). No matter where you stand on the mountain, you will have incredible views including the Blue Ridge Mountains, the city of Charlottesville, fruit trees, and grapevines. Sip on a glass of wine from Prince Michel Wine Shop or drink a cider in the Bold Rock Hard Cider Cellar, have some BBQ from the Mountain Grill, take the kids for a hayride, pick some apples, and of course, get busy selecting that perfect pumpkin!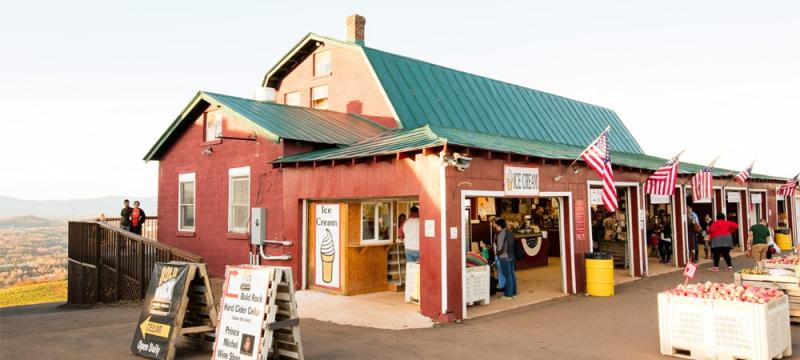 (Photo Credit: www.chilesfamilyorchards.com)
Chiles Peach Orchard
Peach season might be over, but pumpkin season has just begun! The short drive out to the charming town of Crozet is well worth it to soak up the stunning views at Chiles Peach Orchard, Carter Mountain's sister orchard. You're welcomed by seemingly endless acres of pumpkins and trees overflowing with apples that are just waiting for you to pick them. Those apples aren't just for you to pick, though. Bold Rock Hard Cider uses local apples to produce their wide variety of ciders, and many of the apples are from Chiles! You can have a cider or glass of wine on the deck, but the kid in you will definitely want to visit their ice cream parlor! The staff at Chiles will advise you on which pumpkins are best for carving, cooking, and decoration, so you can pick your perfect jack-o-lantern!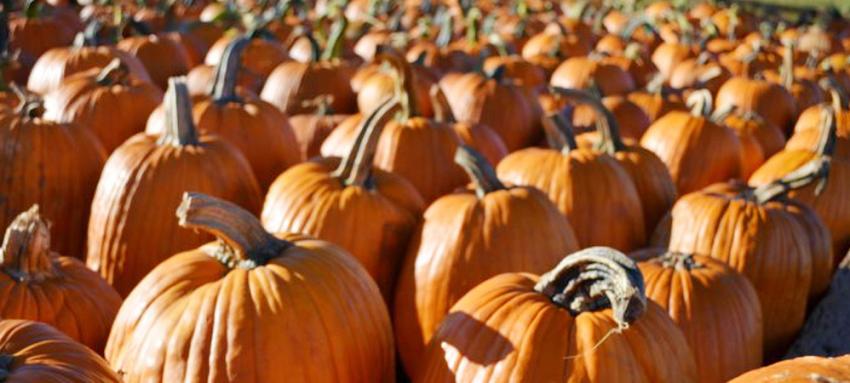 (Photo Credit: www.chilesfamilyorchards.com)
Liberty Mills Farm
Liberty Mills Farm isn't just known for Virginia's Largest Corn Maze; it's also known for the pumpkins! A quick and scenic 30-minute drive to the northeast of Charlottesville will bring you to this farm with beautiful views of the Blue Ridge and surrounding countryside. This is definitely not just a 10-minute pit stop, because if you are feeling adventurous and enter the most difficult level of the 25-acre maze of maize, it might take you 2-3 hours to find your way out! But your prize? An 8-acre patch full of vividly orange pumpkins! Be sure to check out their website to see some of their pumpkin recipes - I know I'll be trying the Pumpkin and Butternut Cream Soup!
(Photo Credit: www.libertymillsfarm.com)
The Corner Store Garden Center
Located along Route 29, just about a 20-25 minute drive north of the Downtown Mall, The Corner Store Garden Center sits on the right side of the highway with a stunning look out to the Blue Ridge Mountains. This family-owned business has been around for more than 44 years and was passed down from father to son. Visiting the Corner Store has always been a great experience for me because of the welcoming and friendly atmosphere and the unmistakable, earthy smell of a thriving garden. But when October approaches, there is an added reason I love this cute local shop - the widest variety of pumpkins I've ever seen! Whether you want a pumpkin that is orange, green, white, or red, or maybe you want one shaped as an apple, swan, or a perfect oval, they have it all. I recently went to get my first look at their pumpkins and couldn't go home without two of them - the "swan" and the "cinderella" pumpkin. The Corner Store Garden Center is definitely the place to go if you want one of the most unique Halloween displays on the block!