April is here and there are plenty of things to be excited about, from the fresh spring air to outdoor activities, and of course, the 7th annual Tom Tom Founders Festival! This unique, week-long experience brings communities together to celebrate leadership, music, arts, food, and culture - and discuss the vitally important topics of our nation today, on politics, health, science, and business. In honor of Thomas Jefferson's birthday on April 13, Charlottesville will transform from April 9 - 15 into a lively space full of bands, speakers, community organizations and attendees, filling up outdoor venues, theaters, galleries, and concert halls. Interested yet? We have plenty of reasons you won't want to miss this year's Tom Tom Founders Festival!
1.) The Speakers and Summits
Over 4 days, Tom Tom Summits offer a unique experience to explore the future with innovators, visionaries, trailblazers and trendsetters in 100 different sessions. Worried there won't be a speaker for you? There are 400 speakers participating in the sessions! Listen to the man behind Monty Python, John Cleese, in conjunction with the University of Virginia's Division of Perceptual Studies during a two-night series. Or hear one of the world's most well-known journalists, Dan Rather, speak about his new book "What Unites Us," which discusses reporting on race and 'being American.'
Streamline your Tom Tom experience by participating in the Summits, where big-thinkers drive dozens of cross-cutting sections or topical deep dives into the most pressing problems facing industry and civic life. Tom Tom offers two major summits, the Hometown Summit and the Founders Summit, which each have their own inclusive, hands-on experiences; unique talks to participate in and individual speakers and events that distinguish them. The Hometown Summit focuses on the strengths of smaller communities and networking events while the Founders Summit brings together leading businesses and organizations across the nation in think tanks and workshops. Interested in both? No worries – get an All Access Badge to explore all that the Tom Tom Founders Festival has to offer!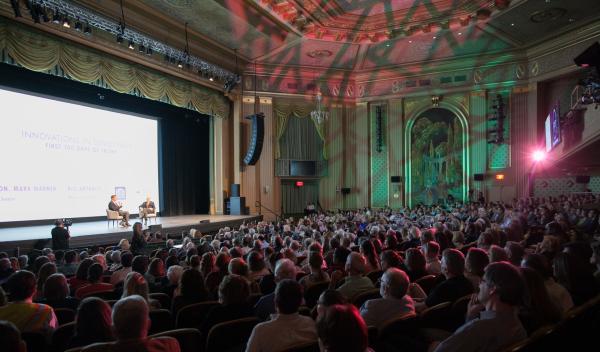 (Photo Credit - Tom Tom Founders Festival)
2.) The Music
What could be better than an entire weekend full of awesome free concerts in the fresh April air? With a lineup of more than 70 bands, there are plenty of music options to choose from during the Tom Tom Founders Festival. From April 13-15, the historic pedestrian Downtown Mall transforms into open air block parties showcasing the best in music, art, tech, and local food, while Emancipation Park is packed with thousands of people for a nonstop concert series spanning the entire weekend. The 2018 spring lineup is bringing in an array of artists, including The Stone Foxes, Mates of State, and many more!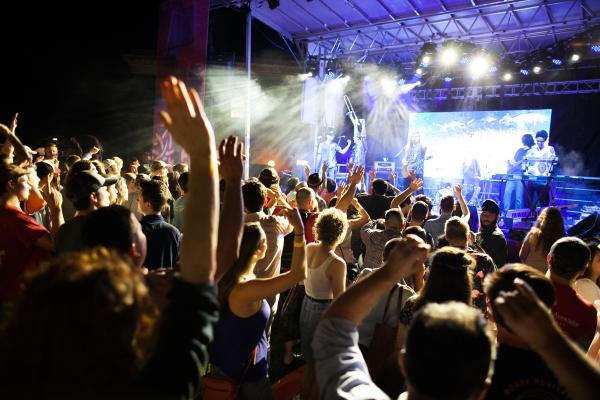 (Photo Credit - Tom Tom Founders Festival)
3.) The Food
During the Tom Tom Founders Festival, Charlottesville's vibrant local food movement of restaurateurs, artisans, mixologists, farmers, and committed activists is showcased in a major way! Food trucks galore and plenty of craft beers are available for enjoyment during music performances and art exhibits, and this is only the beginning! Start the week off right by enjoying a community potluck with Charlottesville neighbors to help kick off Tom Tom at a special all-local showcase. Find more tasty food options at one of the many local hot-spots participating in farm-to-table restaurant week, where Charlottesville's top chefs highlight local farms and artisans through exclusive menus taking place over the entire week.
But there is much more than just eating! Watch things get heated with some great food and drink competitions! Charlottesville's top mixologist will participate in the Craft Cocktail Competition throughout the week to create "Tom Tom Cocktails," highlighting locally-sourced aromatics, liquors, and artisanal products. On Saturday, watch six contestants go head-to-head in the Iron Chef Competition, where chefs have just one hour to buy ingredients at the City Market and create a special brunch dish for judges!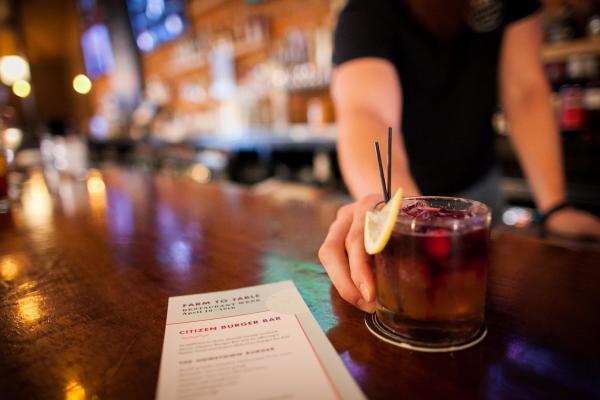 (Photo Credit - Tom Tom Founders Festival)
4.) The Art
Through a variety of art programs, Charlottesville is used as a canvas to ignite imagination and spark creative conversations that leave lasting legacies. Over the weekend, explore the open air market featuring local and regional vendors during the block parties. Or, attend a screening of a curated documentary series featuring short films and trailers accompanied by panels with the filmmakers. If you prefer to combine the outdoors, exercise, and art, the family-friendly public art bike ride presents the perfect Sunday activity. On the ride, you will get to tour Charlottesville's public art, including new 2018 additions to the Tom Tom Mural Project.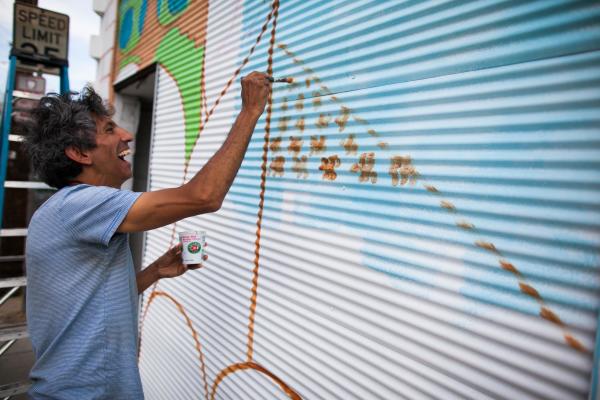 (Photo Credit - Tom Tom Founders Festival)
5.) The Competitions
Are you a visionary yourself? If so, the entrepreneurial competitions will give you the perfect venue to share your ideas with the community and compete for cash prizes! Not ready to share your vision yet? No worries, the competitions are tons of fun to watch!
Kicking off the week, there will be two exciting competitions on Monday. During the C'ville Gives Grant Night, six semi-finalists will compete for a grant from C'ville Gives, a philanthropic networking club made up of locals pooling their resources to have a greater impact on the community. Or, if you're looking to support innovators, attend the Crowdfunded Pitch Night, where ten local entrepreneurs give 3-minute pitches to an audience willing to pledge funds to their favorite contestant! On Thursday, the American Evolution Innovators Cup will be sure to boast innovative ideas from future leaders. During the event, hear from the best and brightest entrepreneurial teams from Virginia universities pitching their business concepts to compete for $20,000 in prizes!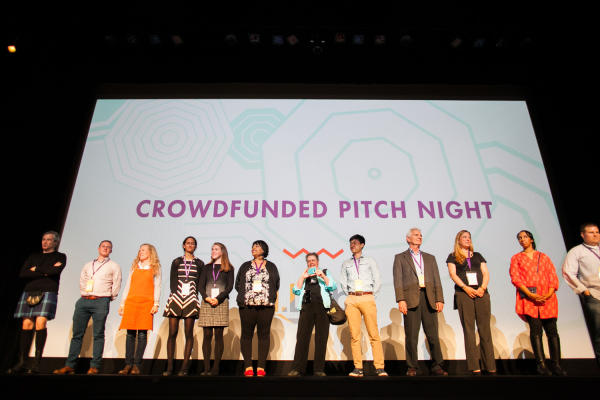 (Photo Credit - Tom Tom Founders Festival)
From summits, to music, to food, to competitions, there is something for everyone to enjoy at this year's Tom Tom Founders Festival! You won't want to miss out on this unique experience to interact with visionaries and entrepreneurs from all over the world, so be sure to buy your tickets today or check out the Tom Tom Founders Festival website for more information. While Tom Tom gives some great options for enjoying Charlottesville, there are plenty of other places to visit on your trip. We invite you to click here to check out more activities and click here for a variety of lodging options in Charlottesville & Albemarle County. We hope to see you soon!