One of the many great things about Charlottesville is its sheer abundance of vineyards. As an out-of-towner, I am always amazed by the fact that beautiful landscapes and amazing wine are just a quick drive down the road. There is a long list of unique, gorgeous vineyards to visit and each has its own distinct atmosphere. Clearly, there is only one course of action. Visit all of them!
With Valentine's Day drawing nearer, everyone should be taking advantage of Charlottesville's rolling hills and flowing wine by flocking to the countryside. These 6 vineyards will definitely provide the perfect romantic backdrop to any Valentine's Day activities!
1. Pippin Hill Farm & Vineyards
What better place to spend Valentine's Day than at a winery that celebrates its own love story? Husband and wife team Lynn Easton and Dean Andrews describe Pippin Hill as their "lovechild" and "a vineyard ripe with people who love people and love what they do." Through hard work and patience, Pippin Hill became the perfect marriage of their individual tastes and talents. As a result, this stunning winery offers a warm and welcoming atmosphere that is only compounded by the gorgeous views of rolling hills and the open skies of Virginia wine country. So why not join the Pippin Hill family and spend your Valentine's Day there? Pippin Hill also hosts a Thursday night dinner series and Sunday night s'mores event! From 1-4 p.m. on Sundays, you can enjoy a cozy winter afternoon with s'mores, hot chocolate, and wine! What could be better than that?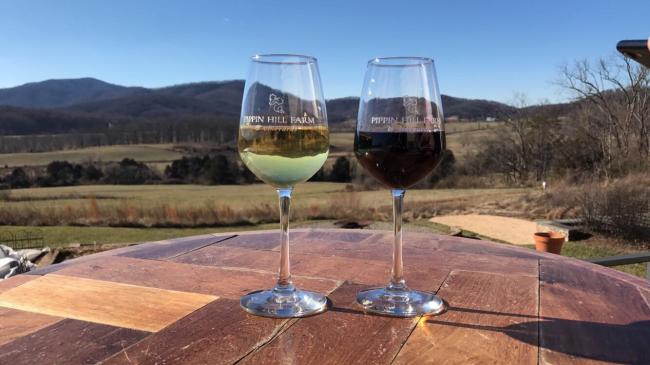 (Pippin Hill Farm & Vineyards - Photo Credit: Hannah-Marie Spehar)
2. Glass House Winery
Ever want to go on a romantic Caribbean vacation but prices got you down? Luckily there's a winery in Charlottesville that offers the beauty of the South with the convenience of staycation prices. The owners of Glass House Winery moved from the tropics and just couldn't seem to let them go - and trust us, that's a good thing! As a result, a visit to Glass House Winery includes a visit to a tropical conservatory where you can sip wine in warmth and enjoy exotic flora. Celebrate this Valentine's Day the weekend before, on February 10th, with the four-course Valentine Dinner and Wine Pairing. While enjoying a lovely meal, guests will be treated to romantic music from local talent Greg Brown, playing classical guitar. If that isn't enough to entice you, the final course will be an exquisite dessert created by Glass House's very own chocolatier, Michelle Sanders! Check out the event and full menu here.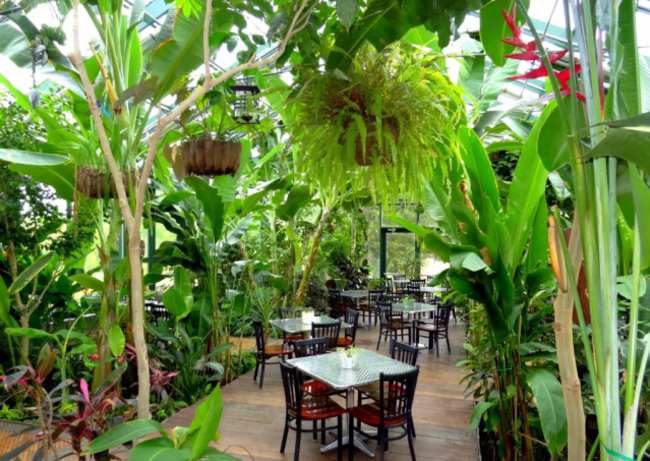 (Glass House Winery - Photo Credit: Glass House Winery)
3. Pollak Vineyards
David and Margo Pollak started Pollak Vineyards in 2003. The couple shared a passion for wine and loved the idea of spending evenings sipping wine and enjoying the beautiful Virginia countryside—and Pollak Vineyards is definitely the place to do so. The Pollak tasting room offers an amazing view of the first vines grown on the land, a small pond that adds to the property's charm, and the ever-majestic Blue Ridge Mountains. This Valentine's Day is definitely the perfect time to stop by this tranquil setting and enjoy the wine described as having the "finesse and balance of the traditional French varietals." If anyone knows romance, it's the French, right?
4. King Family Vineyards
The beautiful King Family Vineyards is located right at the foothills of the Blue Ridge Mountains—something any Virginian knows means majestic views and dazzling sunsets. King Family Vineyards specializes in old world inspired wines that are "uniquely expressive of Virginia." This old world aesthetic coupled with the desire to remain loyal to Virginian roots makes King Family Vineyards a must-see throughout the entire year. However, Valentine's Day is the perfect time to visit, as King Family will be releasing their 2017 vintage Crosé Rosé wine on February 14th. Head to the tasting room from 5-8 p.m. to pair a bottle of the new Crosé Rosé with hearty and delicious soup, catered from L'etoile for the ultimate romantic experience.

(King Family Vineyards - Photo Credit: King Family Vineyards)
5. Keswick Vineyards
Keswick Vineyards is undeniably gorgeous and steeped in history. The property was part of two historical events—one during the Revolutionary War, and the other during the Civil War. So if there are any history buffs out there, this may the place to spend your Valentine's Day. Luckily for you, Keswick Vineyards will be hosting a Valentine's Day event on February 10th called "Be Mine with Wine." Spoiler alert, there will be wine, a roaring fire, dazzling views, and chocolate. Yum! If you can't make the 10th, well just about any time is a good time to visit.  Enjoy an afternoon relaxing on their covered porch or bring a picnic and settle in at one of the vineyard's outdoor tables in the courtyard. There's always a fun and romantic atmosphere at Keswick Vineyards!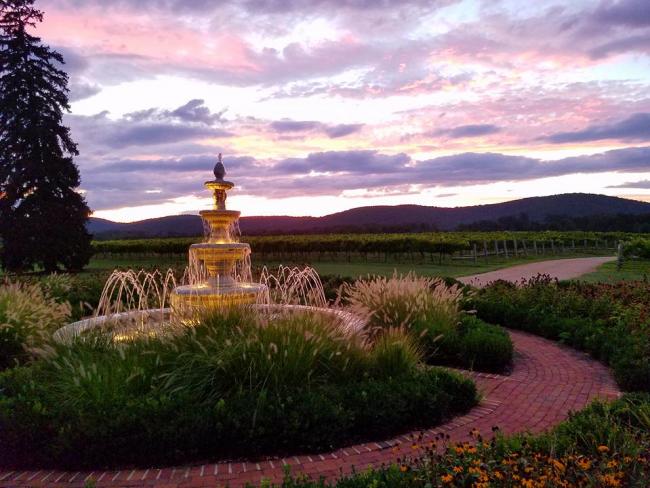 (Keswick Vineyards - Photo Credit: Keswick Vineyards)
6. Barboursville Vineyards
Having recently celebrated its 40th anniversary, Barboursville Vineyards is ready to show off its wine and history. This 18th century estate is breathtaking from every direction and the perfect destination after a scenic country drive. And, there is definitely no shortage of things to do and see at this thriving winery! You can enjoy a wine tasting in Barboursville Vineyard's Tuscan Tasting Room, visit the iconic Library 1821, or relax and have a picnic surrounded by the Blue Ridge Mountains. But Barboursville offers more than just great wine and gorgeous views for their Valentine's Day Celebration. On February 14th, bring that special someone for a delicious five course feast paired with the perfect Barboursville wines, prepared by Chef Spencer Crawford. You'll be sure to leave Barboursville with a full stomach and a full smile!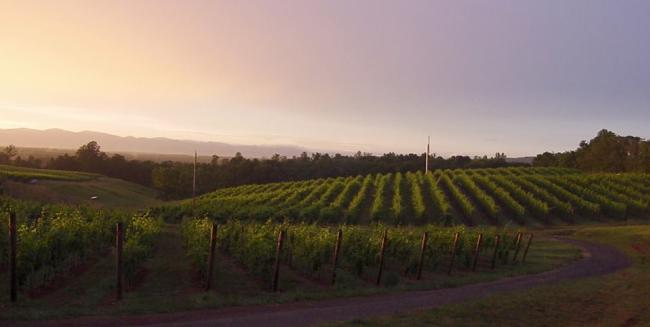 (Barboursville Vineyards - Photo Credit: Barboursville Vineyards)
While this list features plenty of wonderfully romantic vineyards to visit this year around Valentine's Day (or ANY day!), there are many, many more where you can sip and sample in the Charlottesville area! Be sure to click here for a complete list of all of the wineries and vineyards in Charlottesville & Albemarle County! We hope to see you soon!