Winters in Charlottesville and Albemarle County are quieter and lower key than any other season. For those seeking to avoid crowds and enjoy a little rest and relaxation after the holidays, it's a preferred time to visit. Many of the most unique things to do here in our part of Virginia, including tours of Thomas Jefferson's Monticello and James Monroe's Highland, are still available to enjoy. Throughout the winter, we expect a fair bit of sunshine and the occasional warm weekend. Though it can get pretty chilly from time to time, daytime temperatures are generally in the forties and fifties. Snow is rare, though we typically see a little over a foot of total accumulation each year. Be sure to add the following ideas to your winter bucket list!
Many of the wineries, distilleries, and breweries in Charlottesville and Albemarle County remain open in the winter months, albeit with altered hours. For those seeking a calmer wine tasting experience, this is the time to visit. There are more than thirty wineries in Albemarle County, all of with are part of the Monticello American Viticulture Area. Whichever winery, distillery, or brewery you choose to visit this winter, be sure to check for the most up to date business hours ahead of time.

With as many locally-owned coffee shops and restaurants as there are in Charlottesville and Albemarle County, it should come as no surprise that when the holidays come around so do a wide array of seasonal beverages: holiday roasts, lattes, cocktails, and more. Learn more a few favorites we've seen generating local buzz.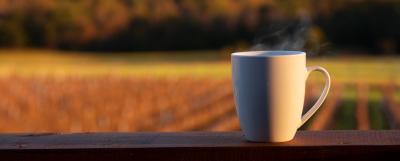 We often hear from visitors that they prefer to hike our mountain trails in the winter months. There aren't any bugs this time of year, and the trails are far less trafficked. Follow the link above to learn more about the Best Hikes in our part of Virginia.
Museums and Galleries
Many find it easier to appreciate art when peripheral distractions are minimized. Winter generally increases the chances not only that your museum or gallery of choice is less full, but also that there will be less traffic on your way there and back. One of the most unique museums in America, Kluge-Ruhe Aboriginal Art Collection, is high on our list of recommended places to visit. Kluge-Ruhe is the only museum outside of Australia solely dedicated to the study and exhibition of Indigenous Australian art.
McGuffey Art Center, just one block north of the downtown mall, displays the work of some of our most talented local artists. Nearby Second Street Gallery, the oldest nonprofit contemporary art space in central Virginia, is open by appointment starting January 7th.
This winter, many restaurants, breweries, and wineries in Charlottesville and Albemarle County are providing their guests with heated outdoor seating in order to make the outdoor dining experience cozy and comfortable throughout the chillier months. If you didn't get your fill of outdoor dining in 2020, you don't need to wait for the weather to warm up. The local spots linked above have gotten creative with outdoor heated lamps, enclosed tents, and even igloo lounges. Even when dining outdoors, please remember to follow all local COVID-19 guidelines to ensure everyone's safety. It's important to remember that not all outdoor dining spaces are created equally--the more plastic siding a dining space has, the more it becomes like dining inside.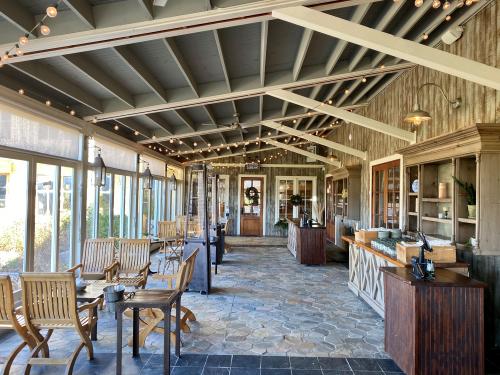 A long walk through the city
...perhaps with a few to-go Bodo's bagels first to give you some energy. Start at the Rotunda on the grounds of the University of Virginia, observe the Memorial to Enslaved Laborers, then cross the street and take a right down University Avenue, which becomes Main Street.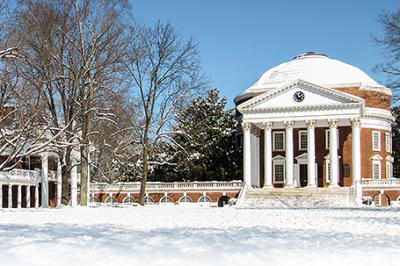 Head east on Main Street for another mile or so and you'll reach the Downtown Mall. You might also enjoy this walk in reverse. The Downtown Mall, Main Street, and the grounds of the University of Virginia are some of the most identifiable sections of the city.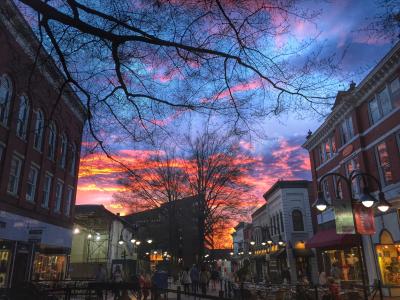 Tour a presidential home
During the winter months, several unique holiday tours are offered at Monticello. Tours of both Thomas Jefferson's Monticello and James Monroe's Highland are necessary to get a deeper understanding of our part of Virginia. Both organizations do a very thorough job of presenting the history which took place on those properties in a comprehensive way.
Relax and enjoy a view of the mountains
On a clear winter day, the visibility in Charlottesville and Albemarle County is better than at any other time of year. Enjoy a drink on the rooftop of Quirk Hotel or a casual brunch at Tip Top Restaurant in Albemarle County for a sweeping view of our hills, mountains, and downtown. Should you find yourself driving east into Albemarle County on I-64, be on the lookout for a overlook on your right. Here you can park and enjoy a sweeping, layered view of the Blue Ridge Mountains.
In order to cross more than a couple of these items off your bucket list, you will undoubtedly need a place to stay. For more trip ideas and inspiration, be sure to check out the social media accounts linked at the bottom of this page!