Downtown Charlottesville, the University of Virginia, the Blue Ridge Mountains, Crozet, Scottsville, the Rivanna River…
It takes at least a long weekend to fully appreciate what makes our area so dynamic. Two activities with a break for lunch in between, however, is just enough time to enjoy the unique experiences to be had thanks to the city and university's close proximity to mountains, wineries and wide blue rivers. It is possible, for instance, to drive from the middle of the city to Carter Mountain Orchard, a mountaintop orchard popular for its sweeping views, in ten or fifteen minutes. Keep in mind, however, that with two UNESCO World Heritage Sites here (Monticello and UVA's Academical Village), 35+ wineries, a high density of excellent restaurants and a wide network of beautiful mountain roads, it's important to know what you're most excited about and what you feel you need to see in order to make the most of your trip.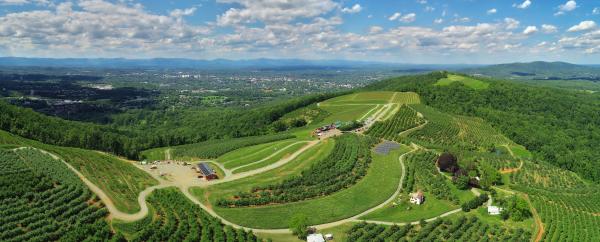 A must-see in the city is the historic downtown mall, one of the longest pedestrian malls in the country. It's the perfect place to enjoy a morning cup of coffee or a leisurely afternoon stroll. Dozens of restaurants and cafes offer patio dining. There is plenty of room between tables, and the patio dining areas are sectioned off from the main walkways. Here you'll also find the Paramount Theater. The marquee looks spectacular at dusk.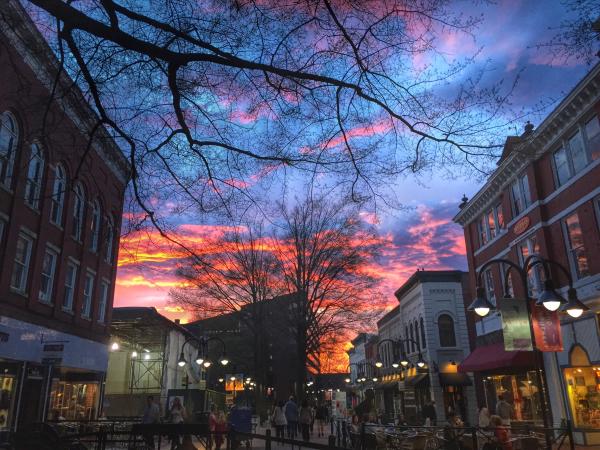 Though the highest concentration of bookstores, boutique shops, restaurants and cafes can be found on or near the mall, there are several other iconic places worth exploring within the city limits.
The Corner, favored by students and faculty at the University of Virginia for its proximity to grounds, is the place to find well-known eateries like Roots Kitchen and Bodo's Bagels. Just across the street from the Corner is the historic entrance to the University of Virginia, where visitors and locals alike would veer off Three Notch'd Road for the Lawn and Academical Village. The grounds of the University of Virginia are beautiful and constantly evolving. On your way up to the Lawn from the Corner you'll pass a new addition to grounds: the Memorial to Enslaved Laborers, a memorial in honor of the enslaved laborers who helped build the University. For those wishing to appreciate the full historical context of the University's grounds and architecture, a consideration of this memorial is a must.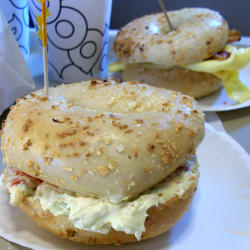 After a morning spent in the city, be sure to visit a winery, take a hike, or treat yourself to a one-of-a-kind experience at one of our area's historic attractions. For a list of the best hikes in our part of Virginia, click here. Thomas Jefferson's Monticello and James Monroe's Highland can be found just past Michie Tavern ca. 1784, and all are within several miles of one another.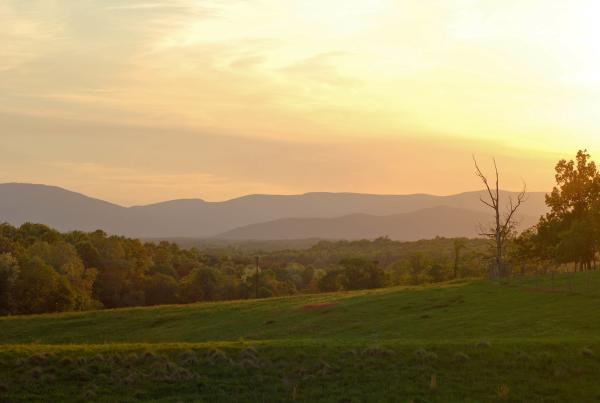 Should a more leisurely afternoon prove to be your preference, consider a stop at any one of the over 35 wineries in our area. There is plenty of room to spread out at each of these luscious, rural locations. Several wineries put on their own concert series in the warmer months. The environment at these events is perfect for those wishing to bring a blanket or a few chairs and enjoy an evening outside. Many of these wineries have unique features, such as the greenhouse at Glass House Winery.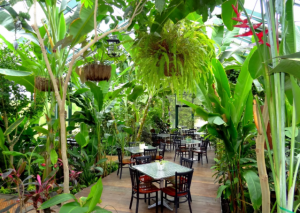 With so much to do here, be sure you take the time to appreciate both the city and surrounding countryside. It is the dynamic relationship between the two that makes this place so unique. Should you find that you can't accomplish all you wanted to in a single day, check out our list of hotels for a place to stay. For previews of things to do in our area (think of them like movie trailers) check out our bank of Nickel Tours. See you soon!