Nestled in the heart of the Blue Ridge Mountains, Charlottesville, VA in Albemarle County is a perfect getaway for families seeking a nature retreat from the hustle and bustle of daily life.
FRESH AIR + WIDE OPEN SPACES IN NATURE
Charlottesville has a vast variety of places to enjoy the fresh mountain air and wide-open spaces.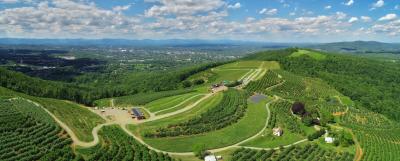 Kids and adults will equally enjoy a visit to Carter Mountain Orchard, where apples, pumpkins, and gourds are perfect for picking during the fall season. Choose from a selection of tasty treats including warm apple cider donuts and fresh-pressed ciders. Bold Rock Hard Cider is available for adults to enjoy atop stunning views of Charlottesville and the Blue Ridge Mountains.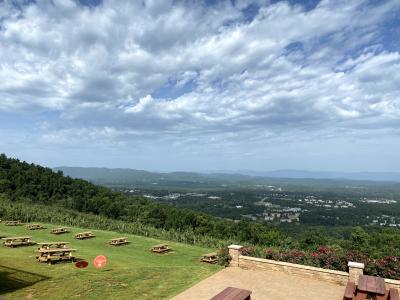 WildRock, an outdoor discovery center, offers self-guided themed tours for families to explore the hidden gems of nature. This scenic space is packed with adventure, education, beautiful mountain views, streams, and meadows. Also a nonprofit, Wildrock was created to promote the health and happiness of children and families; they have been able to design therapeutic nature play activities through the support of community members who have felt the benefits of their engaging experiences.
The Rivanna Trail is a 20+ mile loop that circles the City of Charlottesville. There are six different hiking trails recommended for young children and families to uncover rich vegetation, rocky cliffs, streams, and land and sea animals along the scenic trails. The most accessible parking can be found at Fontaine Research Park, Quarry Park, and Riverview Park trail markers.
The Saunders / Monticello Trail is another family-friendly way to explore the natural beauty of Charlottesville. This four-mile trail leads up to Monticello amidst views of the Blue Ridge Mountains, ravines, and seasonal foliage. This trail is accessible to walkers, cyclists, and wheelchairs.
WINERIES, CIDERIES, and BREWERIES
Wineries, cideries, and breweries in the Charlottesville area provide ample opportunity to enjoy the fresh outdoors as a family, learn about history, and to sip on a beverage of choice. Many of these places offer socially distanced, family-friendly events where kids can have fun and adults can enjoy a beverage.
The Blenheim Farm has a rich history that dates back to the 1700s with John Carter, Secretary of the Colony of Virginia. As a present-day vineyard, the tasting room designed by Dave Matthews and William Johnson, was crafted to leave a minimal impact on the environment.
Chisholm Vineyards at Adventure Farm is another refreshing outdoor experience for families. The views of the Blue Ridge Mountains, outdoor dining and tasting experiences offer a space to "wine down" and soak ample fresh air.
There are more than 30 wineries that fit a variety of preferences and palettes which are located within a short distance of Charlottesville. Visit the Monticello Wine Trail to plan your visit and to receive current event information. 
Three Notch'd Brewing Company offers a family-friendly atmosphere through outdoor seating options and a Kids Zone. Starr Hill Brewery and Tap Room has been a staple in the Charlottesville area for over 20 years. The laid-back atmosphere and outdoor patio space are designed for adults to relax and children to explore their surroundings.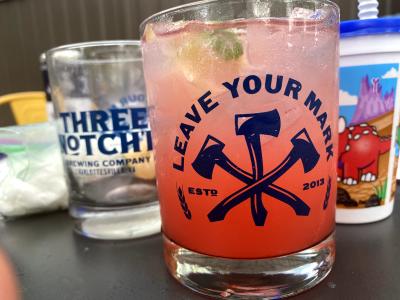 Try a different brewing experience with North American Sake Brewery, located next to IX Art Park. This brewery offers a unique selection of fresh sake flights, flavor infusions, and delectable Asian inspired bowls that complement your beverage of choice.
EDUCATIONAL EXPLORATIONS
Creative and traditional opportunities to learn about history, art, and culture are widely available throughout Charlottesville.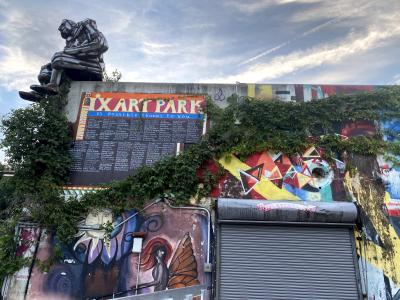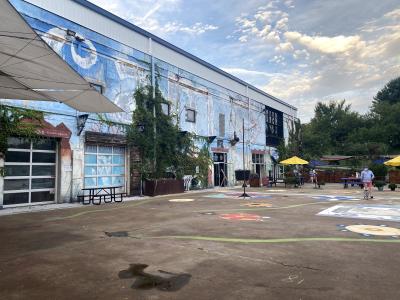 IX Art Park offers an interactive and sensory experience for people of all ages, abilities, and backgrounds that should not be missed. Families can spend hours checking out intricate murals on the walls, viewing art under their feet, and looking at sculptures against the sky. Sandboxes, an outdoor library, and a mini sauna are other fun features included in this park. Other activities to check out at IX include outdoor concerts and a special exhibit called the Looking Glass, Virginia's first immersive art experience.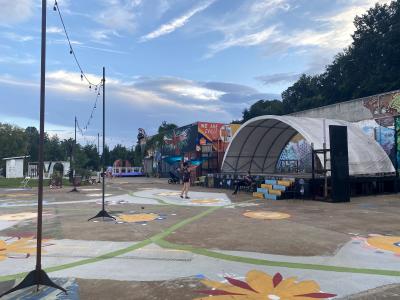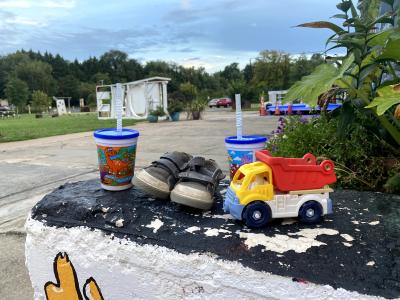 Monticello, the home of Thomas Jefferson, a Founding Father of the United States, is a place to learn about the complex history of the United States. Visit the museum to learn about ongoing research that uncovers how people lived and were treated in Monticello. Guided and self-guided tours of the home, Mulberry Row, and vegetable and flower gardens offer rich insight into the origination and operations of this Mountaintop estate. Families can choose from three outdoor stations where they can learn about Monticello in addition to a scavenger hunt designed to cultivate curious minds.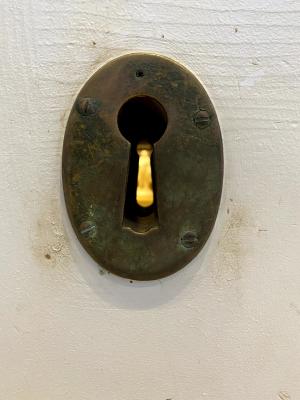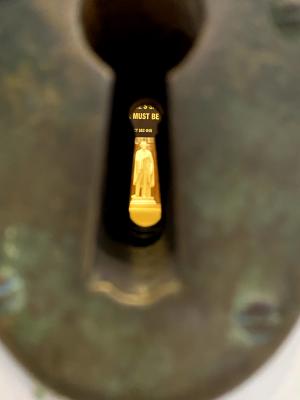 Highland, the home of James Monroe, the fifth president of the United States, is a historic property that offers interactive learning experiences currently in an outdoor setting. Families have the option of holding self-guided tours to learn about the grounds, the Monroe family, and enslaved men, women, and children. Spend time exploring a variety of scenic landscapes on the Highland Rustic Trails and find a perfect spot for a family picnic along the way. Test your knowledge and learning through a scavenger hunt developed by Highland Estate operators.
The grounds of the University of Virginia provide plentiful space for children to play, learn, and to have a family picnic. Visit The Rotunda, the center of Jefferson's Academical Village. The newly renovated building includes a museum to learn about the history of the design, construction, and operations of the University. After hours, peek through the keyhole of The Rotunda to view a statue of Thomas Jefferson.  
Walk through the beautifully landscaped pavilion gardens, observe the architecture of the Pavilions and learn about Edgar Allan Poe's time at the University by viewing his room on the lawn. The University Guide Service is available for tours of the University.
The newly constructed Memorial to Enslaved Laborers is a short walk from The Rotunda and is dedicated to honoring the 4,000 – 5,000 enslaved individuals who built and operated the University. A timeline of how the University was built, provides families with an opportunity to discuss past and present issues of inequalities in the United States.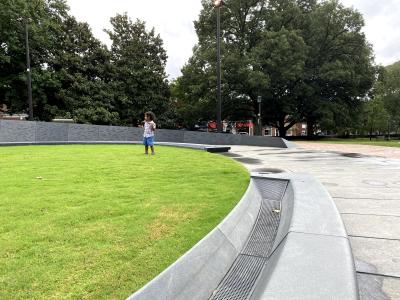 The Historic Downtown Mall includes a variety of fun-filled family activities ranging from small restaurants, bookstores, ice cream shops, theaters, and seasonal farmers markets. On 605 East Main Street, across from City Hall, a 54ft long x 7.5 high, Freedom of Speech Wall made from slate has been placed for people to express their perspectives. Families can express their thoughts and learn about other viewpoints written on this dynamic installation.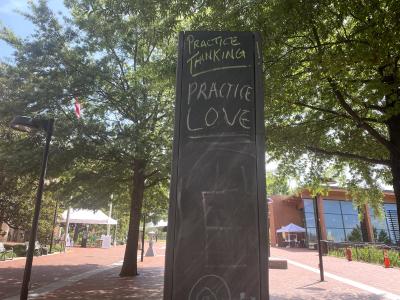 REMOTE WORKING + DISTANCE LEARNING 'SCHOOLCATIONS'
Charlottesville is truly welcoming to families who work and learn remotely during the week. A variety of lodging options are equipped with wifi and work stations to promote an atmosphere that sparks creativity and focus. Boar's Head Resort offers a well-rounded education vacation package for kids and parents to learn, experience the outdoors, exercise, and savor fresh and seasonally inspired menus. The Graduate Hotel has created two separate spaces that offer many electrical outlets, natural lighting, and privacy to concentrate on audio or video calls. 
Charlottesville is a very family-friendly destination and Albemarle County has taken serious measures to ensure the safety of residents and visitors. Plan your trip by visiting the website of each establishment for COVID-19 updates. For a seamless experience, it is highly recommended to make reservations in advance of your visit.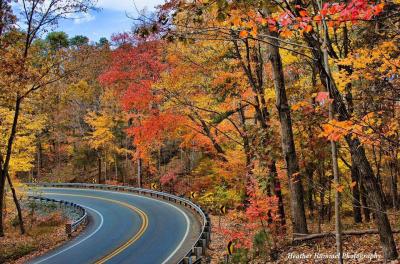 No matter what you choose to experience in Charlottesville, have fun with your journey. A multitude of really cool options for families are available at your fingertips. Bon Voyage!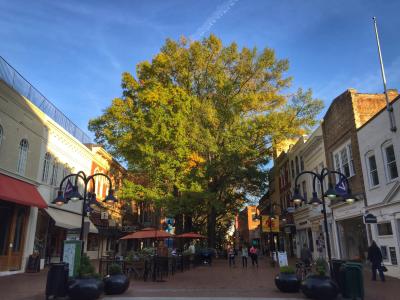 ---
Sophia Hyder Hock is the owner of Papilia, a company that works with organizations in the travel industry on diversity and social inclusion efforts. Her love for travel started at the age of 10 when she moved from California to Sri Lanka. Since then, Sophia has been to 35+ countries, and plans to inspire her toddler to be a citizen of the world through travel and learning about his Bengali-American heritage.