This winter, many restaurants, breweries, and wineries in Charlottesville and Albemarle County are providing their guests with heated outdoor seating in order to make the outdoor dining experience cozy and comfortable throughout the chillier months. If you didn't get your fill of outdoor dining this spring, you don't need to wait for the weather to warm up. The following local spots have gotten creative with outdoor heated lamps, enclosed tents, and even igloo lounges. Even when dining outdoors, please remember to follow all local COVID-19 guidelines to ensure everyone's safety. It's important to remember that not all outdoor dining spaces are created equally--the more plastic siding a dining space has, the more it becomes like dining inside.
Located in the heart of the Downtown Mall, Hamiltons' is offering their guests with heated lamps between tables on its spacious patio. With a menu full of contemporary American comfort food, stay warm and enjoy an excellent Sunday brunch, or a cozy, evening dinner with friends and family outside on the patio.
The rooftop at Quirk Charlottesville
New to our city, Quirk Hotel Charlottesville features a rooftop bar with a menu inspired by the rustic cooking of Italy and seasonal fresh produce. The rooftop at Quirk Charlottesville has recently installed igloo lounges to keep you warm and cozy during the colder months. With couches and chairs inside, snuggle up and enjoy a delicious cocktail and Italian inspired meal.
Located in Old Trail Village in Crozet, VA, Restoration offers a beautiful, 360-degree view of the Blue Ridge Mountains. With comforting American food, craft brews, and unbeatable mountain views, enjoy Restoration's outdoor patio dining experience featuring heated lamps to keep you pleasantly snug. 
Three Notch'd Craft Kitchen & Brewery
Three Notch'd specializes in creating locally sourced, beer-infused dishes designed to complement the season as well as what's on tap. On their covered, but still airy, outdoor patio enclosed by a tent, enjoy a Southern classic meal and award-winning beer brewed on site under installed heat lamps.
The Mill Room at Boar's Head Resort
Boar's Head Resort, a sprawling 600-acre resort near the University of Virginia and downtown Charlottesville, offers several excellent, socially-distanced dining options. The Mill Room is open for dinner Wednesday through Sunday by reservation only. Outdoor and indoor tables are available. For breakfast, lunch or an early dinner, try Birdwood Bar & Grill! From Birdwood, you'll be able to take in views of the mountains and golf course. Each outdoor table is, of course, located near a heater (pictured below) to keep you extra comfortable while you enjoy your meal.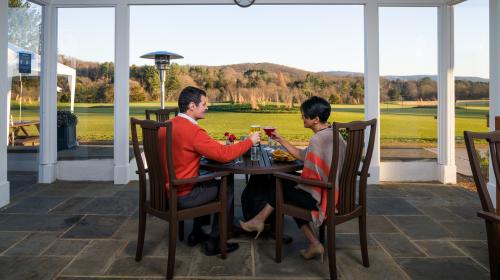 This Beer Hall & Garden offers a massive tap selection along with an Alpine-inspired menu that takes on Modern American twists. Located in the historic art-deco Coca-Cola building, this restaurant offers a uniquely large space with outdoor patio seating, heated by gas lamps between every table.
Pippin Hill is, of course, well known for its excellent wines and views. Theirs is a culinary vineyard--many of the ingredients used in their salads, sliders and cakes are grown on-site, just like the vines for their wines. Here you'll find comfortable, heated outdoor seating and serene views of Albemarle County's rolling mountains.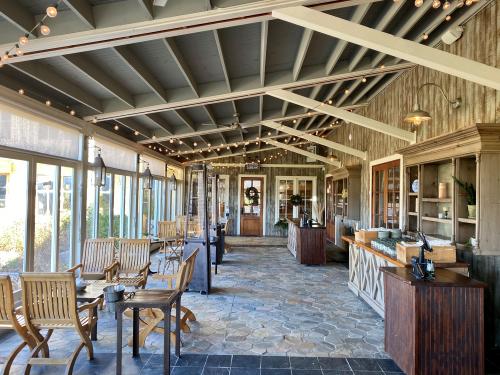 Located up US-29 from downtown Charlottesville and the University of Virginia, Timberwood Grill is a great place to stop for lunch or dinner on your way to or from a winter hike. Their heated outdoor seating is available on a first come, first served basis.
Maya's outdoor seating will remain tentatively open throughout the winter, but may not be available on a given day depending on what the temperature and weather are like. Give Maya a quick call before you head over to see if it's available! Seven days a week, from 3:00pm to 8:00pm, curb side pick up and delivery options are available as well. Maya's menu is heavily inspired by traditional southern and French cuisines. 
Casual and welcoming, Matchbox is best known for its artisanal pizzas. Find their outdoor dining space at the Shops at Stonefield! This is a great place to enjoy a tasty, laid-back meal with your family or familiar group.
There are many more heated outdoor dining spaces besides! The above is but a sampling. We expect to have many pleasant weekends throughout the winter, though heaters will undoubtedly be an added bonus while enjoying a dinner out. Again, please be sure to check the latest COVID-19 guidelines before you visit. Your safety is, of course, our first priority! Should you find that you'd like to stay and enjoy the area for more than a day, we invite you to check out our hotels page. Stay safe out there, and join us when you're ready to do so.