It's hard to believe that the first day of spring is less than a month away. Soon enough, bright green leaves will return to the slopes of the Blue Ridge Mountains in Albemarle County. Flowers will bloom across the City of Charlottesville. We're looking forward to spending long afternoons at spacious wineries, dining outdoors, and otherwise reveling in warmer weather. Take some time this spring to venture to the Charlottesville area and enjoy some of the top things to do.
Scenic Hikes
Many of the best hikes in our area offer gorgeous views of the Blue Ridge Mountains. Consider the wide, gently-sloping Saunders-Monticello Trails (pictured above) if you're looking for a place to hike right next to the city. It takes no more than five or ten minutes to drive from the Downtown Mall to this trail system which, as the name suggests, connects to the parking lots for Thomas Jefferson's Monticello. Ragged Mountain Natural Area is another excellent nearby place to hike with friends or family. The main trail loops around a lake, which means reflective views in all directions. Also of note is the Rivanna River Trail (pictured below), which stretches for miles on either side of the river. The Rivanna is adjacent to the city, and just down the hill from the Downtown Mall.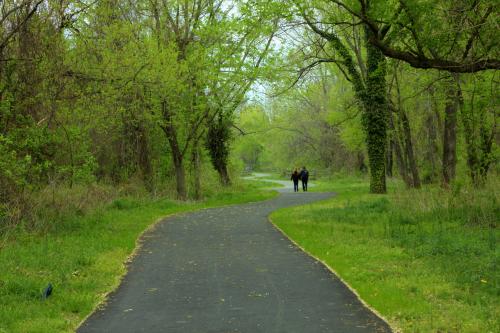 Patio Dining
For now, many preferred places to eat offer heated outdoor seating to be sure your dining experience is a great one. Once spring is under way, however, we'll be able to comfortably enjoy all of the many spacious patios in Charlottesville and Albemarle County! The Downtown Mall (pictured below) has long been known for its choice restaurants and outdoor tables. Many restaurants on the Corner near the University of Virginia have extensive outdoor seating as well. For our full list of restaurants, click here.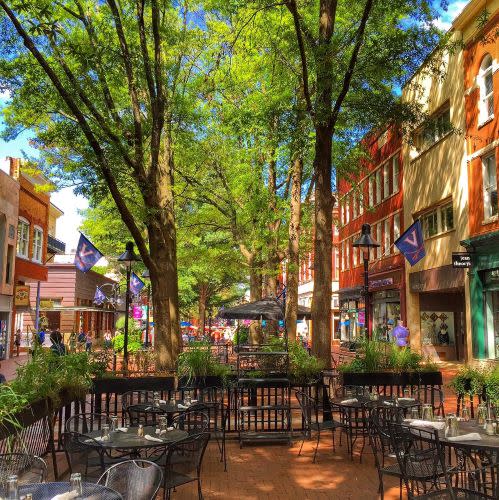 Tastings at Local Wineries
Enjoy the best wine on the east coast right where it's made. There are dozens of scenic wineries in Albemarle County. Many of them boast incredible views of the Blue Ridge Mountains. Others have bed and breakfasts on-site. Should you find yourself ready to enjoy our wine country on a chilly day, these wineries have heated outdoor seating. Soon, however, the weather here will be generally mild and sunny.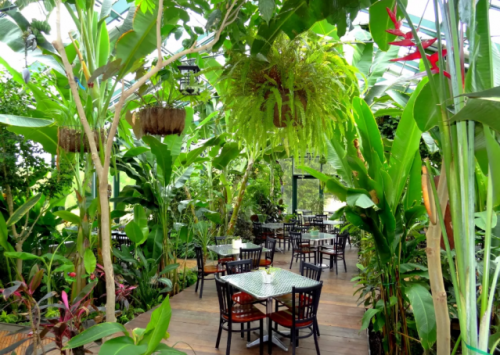 Presidential Home Tours
Tours of Thomas Jefferson's Monticello and James Monroe's Highland are lovely in the spring months. Be sure to check out the gardens at each estate, especially once the flowers have bloomed. A tour of either property will tell a complete, inclusive story. Many people, free and enslaved, lived on these historic sites, not just Monroe and Jefferson. More details about their lives are being uncovered with each passing year. Private, behind-the-scenes tour options are also available.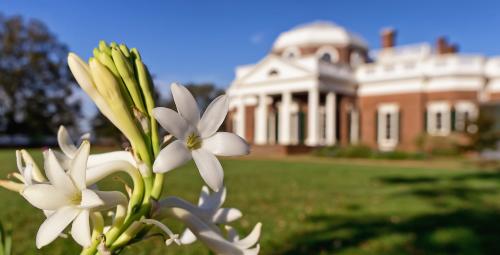 The winter farmers market at IX Art Park has been going strong through the cold months of the year, and it won't stop when spring starts! There will be a farmers market here throughout the year. As the weather continues to warm up, enjoy craft sake at North American Sake Brewery or delectable tacos at Brazos Tacos, both local favorites. The outdoor park features several LOVEworks and lots of space for children of all ages to play. The Looking Glass, an immersive art experience at IX Art Park, is a must-see installation. If you have an hour to spare while you're here, it's more than worth the time.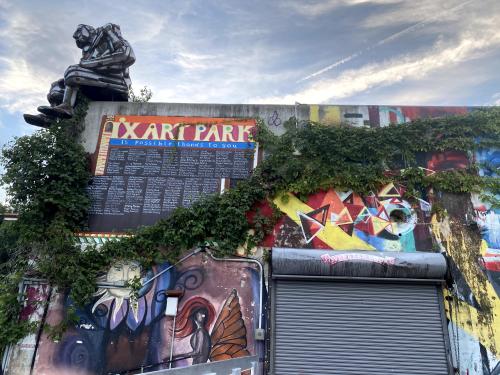 Shenandoah National Park & the Blue Ridge Parkway
A short 25-minute drive from downtown Charlottesville will bring you to the northern terminus of the Blue Ridge Parkway and the southern terminus of Skyline Drive in Shenandoah National Park. Opportunities for adventure abound. Some of the best hikes in the eastern United States can be found in these parks. For hiking recommendations, be sure to check out our list of best hikes in the area. There are also opportunities for rock climbing and bouldering. Be on the lookout for wildlife as well!
Virtual Events
This year's Festival of the Book will be held virtually, and is free to attend! Check out the many events they've announced so far. The Festival of the Book will take place March 13th - 26th.
The Tom Tom Foundation will be putting on a virtual series called From Classroom to Boardroom: Race and Equity in the Workplace. Click here to register! These virtual discussions and hiring fairs will explore how more equitable communities can be built by focusing on making workforces more inclusive.
These are, of course, but a few highlights of what there is to do this spring. For places to stay during your visit, check out our main hotels page. Your safety is our number one priority while you're here. Before you visit, please read our COVID-19 page, which will be updated in real time with the latest safety protocols in our area. We look forward to welcoming you to Charlottesville and Albemarle County when you're ready to travel again!