Let's face it. Technology has turned us all into photographers. These days, nearly all of the latest gizmos and gadgets also double up as surprisingly effective and convenient cameras. These devices are capable of capturing anything and everything our hearts desire, from those pictures of our adorable four-legged friends, to selfies galore. Today, we aren't even going to think about putting that camera in selfie mode - well, maybe just one or two when nobody is looking. Today, we are going to turn our attention to the natural beauty that surrounds us. More specifically, we are going to focus on the natural beauty that surrounds us at a very magical time of the day. We all know that it's tough to top a gorgeous sunset in central Virginia. It can also be quite difficult to capture in pixel form. So let's head out, grab our camera - whether it's a smartphone, a tablet, an actual camera, or even a Polaroid. - and find the most sensational C'ville sunset around. Let's grab a JPEG that would make Jefferson jump for joy! Here are some tips and tricks to get us started!
Obviously, the day's weather conditions will dictate just how sensational our C'ville sunset will be. Clear days are fine for capturing the brilliant orange orb's descent below the horizon, but days with at least some clouds are ideal. Evenings after a gentle shower or storm can sometimes provide the most dazzling displays of color and light. Of course, if it's an all-day washout, your sunset-seeking excursion is going to be a rather dim affair. If the weather is looking cooperative, then it becomes all about location. In the list that follows, we will describe some of the most picture-perfect spots around to capture that sensational C'ville sunset!
1. Humpback Rocks - Blue Ridge Parkway

Located a short drive from Charlottesville, off of the Blue Ridge Parkway, Humpback Rocks boasts some of the best views around. A short, but somewhat strenuous, 45-minute hike will take you to the summit, which sits at 3,080 feet above sea level. Although the view is lovely all day long, it's especially breathtaking and mystical around sunset. Arrive at the summit roughly 30 minutes prior to sunset and watch as the sun slowly slips away behind the mountains, illuminating everything in a gorgeous golden light. There is one caveat. Once the sun sets, you'll have just enough time to get back down to the parking lot before the light completely disappears. Don't dilly-dally on your descent down the mountain, or you may find yourself in the precarious predicament of scrambling downhill in the dark!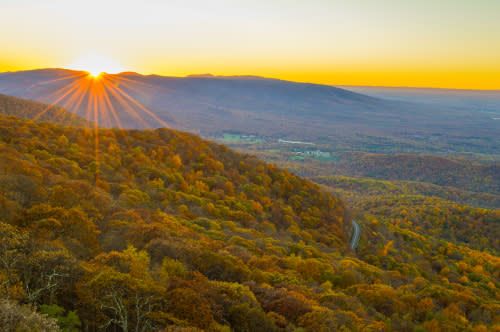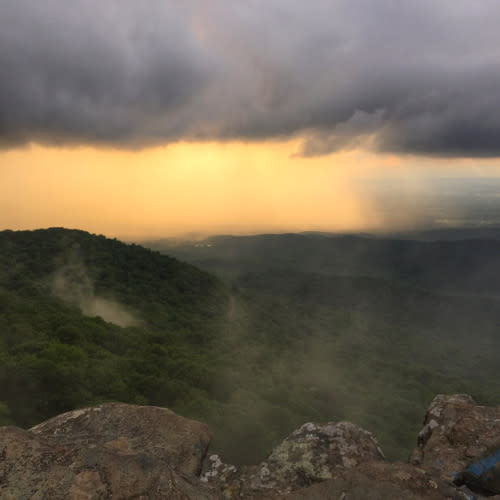 2. Ravens Roost Overlook - Blue Ridge Parkway

If you love the Blue Ridge Parkway, but aren't necessarily looking to hike a mountain to get your sensational C'ville sunset, don't worry. There's another nearby option that provides simply stunning sunsets that can be witnessed with little, if any physical effort. A short drive southbound on the Blue Ridge Parkway from Humpback Rocks will take you to Ravens Roost Overlook. With an iconic tree that is the subject of many photographs, you'll immediately notice the awe-inspiring views from this overlook, which sits at a lofty elevation of 3,200 feet above sea level. Arrive to this destination a solid 30 minutes before sunset to enjoy the changing colors as the sun quietly disappears from view.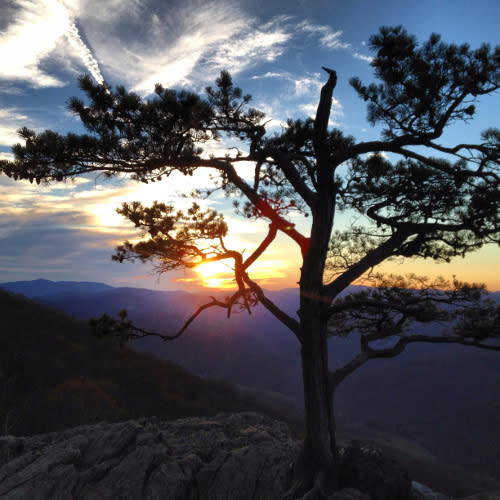 3. Downtown Mall - Charlottesville, Virginia
While sunsets are astounding in the mountains that surround Albemarle County and Charlottesville, the sunsets can be equally as extraordinary at a place like the Downtown Mall! When viewing the sunset from this locale, head to the western end of the Downtown Mall and just wait for the sun to perform its vibrant display. A multitude of people and passersby will be strolling the pedestrian mall, so let them add to the scenery in your sensational C'ville sunset!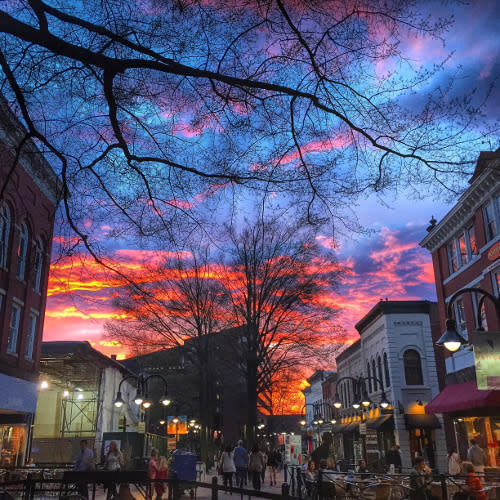 4. Parking Garages - Charlottesville, Virginia

While gorgeous sunsets can be captured on the Downtown Mall, adding a bit of height to the equation can yield some rewarding results. Never underestimate the power of a parking garage to get this added height. You'll find that these structures can give you the perfect bird's-eye view of the city, as the golden light begins to filter down from the sky. With multiple parking garages situated across the city, it's pretty easy to get sunset pictures like these!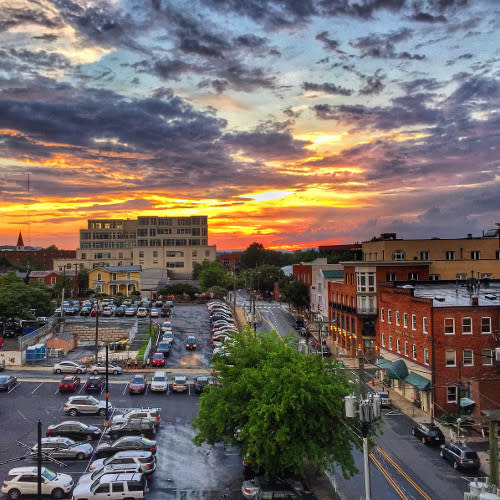 5. Wineries & Vineyards - Charlottesville & Albemarle County, Virginia

Wineries and vineyards can be idyllic sunset-viewing locations, so it's a good thing we have dozens of them in Albemarle County and Charlottesville! Why not have a Chardonnay sunset, as you watch the sun dip below the vineyards? Do keep in mind that many wineries in this area close well before sunset, especially during the summer months, so you will have to plan accordingly. There are some exceptions to this rule. Vertias Vineyard & Winery hosts a concert series called "Starry Nights" during the summer months, where you can relax with friends, listen to music, and sip some local wine, all while snapping your sensational C'ville sunset.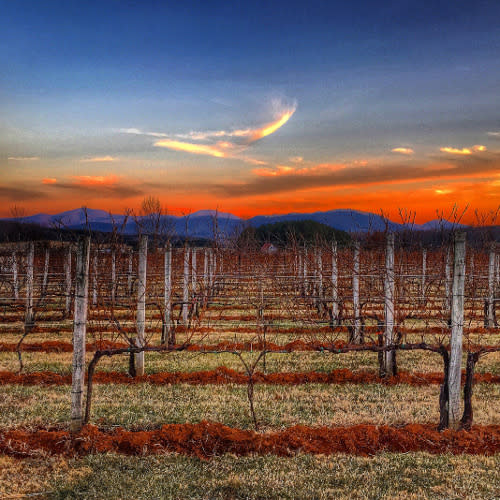 6. The University of Virginia - Charlottesville, Virginia

Founded by Thomas Jefferson in 1819, the University of Virginia is steeped in centuries of history and tradition. Most evenings, the Grounds are also steeped in something else - golden light from the setting sun! To witness the best sunsets at the University of Virginia, there are a few places to check out. On The Lawn, the lowering sun will cast a cornucopia of colors on the buildings that comprise the "Academical Village." The University Chapel also provides a stunning backdrop for the colorful show that is sure to take place up in the sky. Last, but certainly not least, try soaking in the rays from the stairs overlooking the McIntire Amphitheatre. If you're lucky, you might just be treated to a very fitting orange and blue sunset over Thomas Jefferson's university!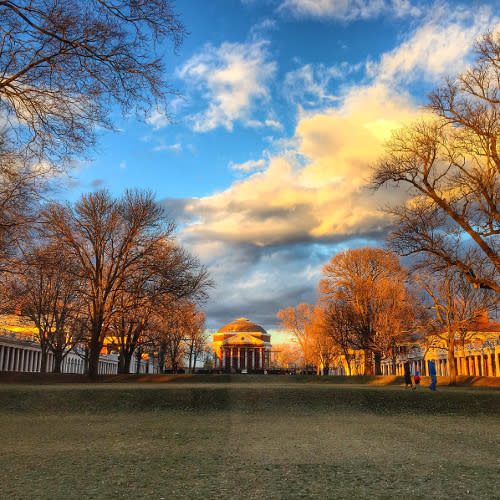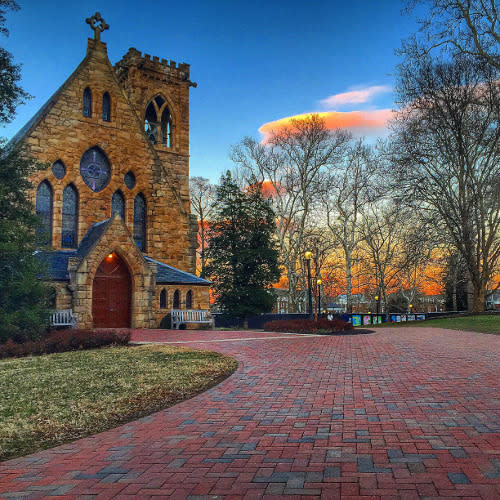 7. The Belmont Bridge - Charlottesville, Virginia

The Belmont Bridge serves as a connector between the Belmont neighborhood of Charlottesville and the downtown area. This bridge also provides another fantastic vantage point for photographing a sensational C'ville sunset! While standing on the bridge, look west over the train tracks and you'll certainly see how this spot is a top contender for getting that perfect shot of the sunset over Charlottesville!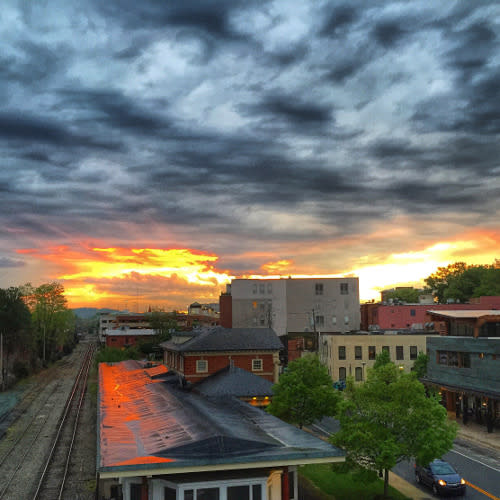 8. Carter Mountain Orchard - Charlottesville, Virginia

Known for their apples, peaches, and their famous cider donuts (yum!), Carter Mountain Orchard is also home to some of the best sunset viewing around! During the summer months, the orchard hosts the "Thursday Evening Sunset Series," where you can enjoy music, food, wine, and of course, a sunset like no other! During times of the year with an earlier sunset, you can get to the orchard shortly before their closing time to grab a brief, but beautiful, sensational C'ville sunset!    
Although this post only mentions eight different sunset-viewing locations around the region, there are countless other spots just begging for a colorful evening excursion. This list is meant to give you a starting point, some ideas, and a little bit of inspiration.

As with many things in life, sometimes the best sunsets come completely by surprise. Sometimes, these sunsets take place in the most unlikely of places. Even a parking lot, like this one at the Barracks Road Shopping Center, can serve as the perfect viewing spot for that sensational C'ville sunset.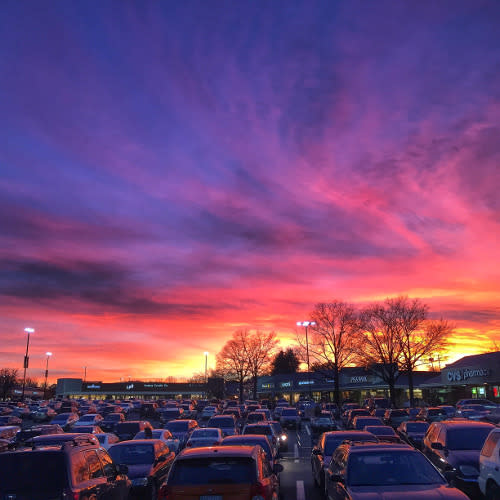 Clearly, sometimes it's all about being in the right place, at the right time. So with your trusty camera of choice, a desire to see and photograph beauty, and just a little bit of luck, you're well on your way to capturing the most sensational C'ville sunset ever! Don't forget to share your best shots of Albemarle County & Charlottesville (sunsets certainly included!) on social media this summer using the hashtag #staylocalcville. You'll be entered to win an incredible Charlottesville "staycation!" Get more details at www.visitcharlottesville.org/staylocalcville. Until then, happy snapping as you pursue your own sensational C'ville sunset!