The Charlottesville area is the perfect destination for your bachelorette party, with a wide variety of outdoor and indoor attractions for you and your gal pals to enjoy. From foodie paradise and live entertainment on the Downtown Mall to a picturesque views and tasty beverages at wineries, Charlottesville is the place to be for pre-wedding celebrations!
1. The Downtown Mall
Looking for a bachelorette spot that offers walkability, charm, and plenty to do? Look no further, the historic Downtown Mall is the place for you! One of the longest pedestrian malls in the country, the Downtown Mall is perfect for brunches, dinners, bar hopping, live entertainment, and so much more! The eight-block avenue made of brick is lined with restaurants, many of which offer outdoor patio spaces, perfect for grabbing a meal and a cocktail underneath the shade of mature oak trees. The cuisine in the Charlottesville area is heavenly, in a region that was named locavore capital of the world by Forbes. The Downtown Mall also has several music venues, including the Sprint Pavilion, an outdoor amphitheater where music lovers can jam out to a variety of performances in the warmer months, the historic Paramount Theater, and the Jefferson Theater. After catching some great tunes, hit one of the many hip and trendy bars on the Downtown Mall to grab a cocktail!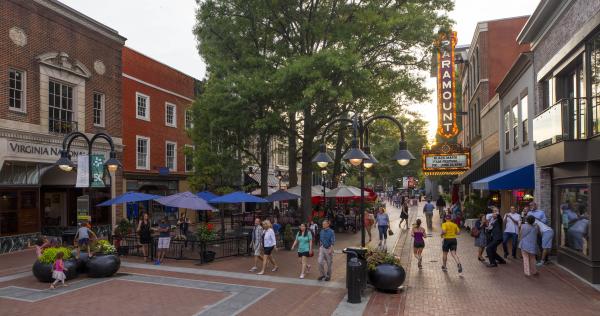 (The Downtown Mall - eight blocks of restaurants, bars, boutique shopping and more!)
2. Wineries, Breweries, Artisanal Cideries, and Distilleries
Wineries, breweries, cideries, and distilleries are a great option for a bachelorette party full of great views and great fun! And there is no better place than the Charlottesville-area, which was recently named one of the top wine destinations in the world! In addition to great beverages, these wineries all offer gorgeous views, perfect for pictures, and plenty of outdoor space for picnic lunches paired with a glass of award-winning Chardonnay.  No need to choose just one, with 30+ wineries, breweries, cideries, and distilleries in the Charlottesville-area, there are plenty of spots to hit and plenty of transportation companies to help you get there! Planning a multiple day excursion? Many of the wineries offer lodging on-site in charming Bed & Breakfasts or Inns that are perfect for your crew!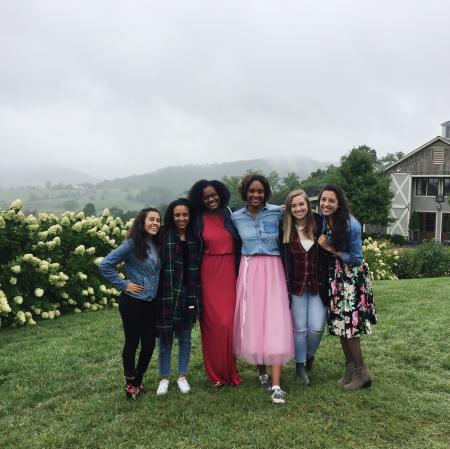 (A bachelorette group enjoying Pippin Hill Farm & Vineyards as part of a winery tour. Photo credit: Norm's Transportation) 
3. Carter Mountain Orchard
Another great outdoorsy option is Carter Mountain Orchard, located a few minutes south of downtown Charlottesville. Spend your day picking apples and peaches in the acres of fruit trees while sipping on some Prince Michel wine or Bold Rock hard cider, while taking in the spectacular views of the city below.  Top your day off with homemade apple cider donuts, a runaway hit year after year. If you're coming in the fall, you can enjoy pumpkin picking and hay rides around the orchard as well!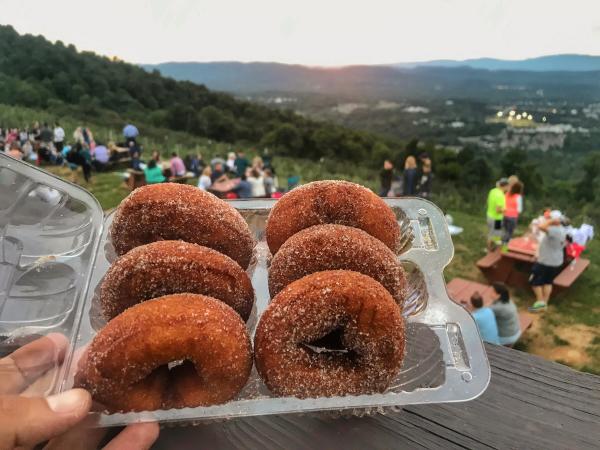 (Fresh apple cider donuts and killer views at Carter Mountain Orchard. Don't forget the wine and cider too!) 
4. The Townsman Hotel
After a great night out on the town or a day packed-full of wineries, settle in at The Townsman Hotel, a boutique hotel located on the Downtown Mall. This new concept "unhotel" offers four individually themed rooms for a one-of a kind-experience with no hassle of check in! Rent out the entire hotel so you and your girlfriends can have a great space all to yourselves!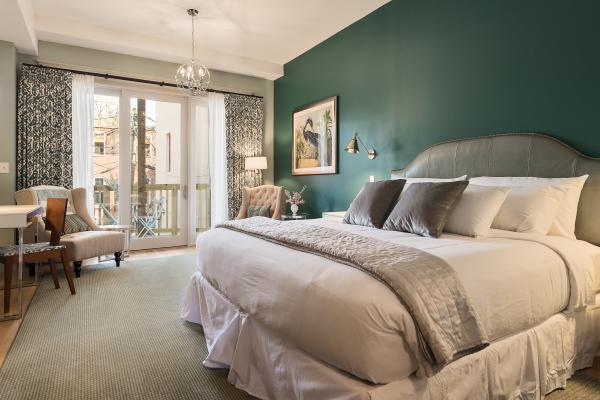 (Uniquely beautiful accommodations at The Townsman Hotel) 
5. Spas
For the ultimate in pampering, check out one of the area's unique spas. Relax for your big day with halotherapy at Halo Salt Spa, where they use Himalayan salt and halogenerator technology to help you breathe better, look better, and feel better. Chose anything from the salt room to halo yoga to facials to unwind and let go. Or, head over to the Boar's Head Spa for mani pedis, mountain scrubs, and massages. Stay for a full weekend at the Boar's Head resort to hit the tennis courts with the girls or enjoy some afternoon tea and pastries. Another option is Neroli Spa & Beauty Lounge. This gorgeous and relaxing space comes highly recommended by several bloggers who have recently visited our area. There are plenty of spas in Charlottesville and Albemarle County to choose from that are sure to give you a rejuvenating and refreshing experience!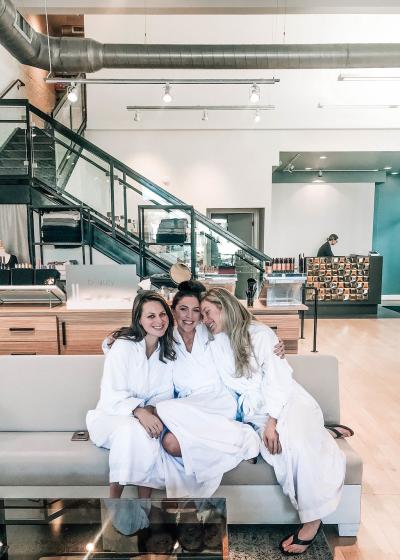 (Girlfriends enjoying Neroli Spa. Photo credit: Pretty in the Pines) 
6. Rooftop Bars
After a delicious dinner on the Downtown Mall, party the night away with your girlfriends at Commonwealth Skybar, where you can enjoy craft cocktails and take in the awesome downtown views from up above. If you are already in the Crozet area visiting wineries and breweries, stop in at The Rooftop for top-notch food, unique yummy drinks, and mountain views that can't be beat at this new hot spot in downtown Crozet.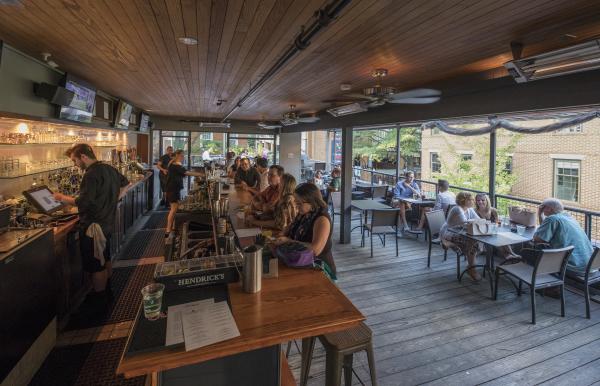 (Commonwealth Skybar - enjoy your cocktails from above the Downtown Mall!) 
With plenty of indoor and outdoor attractions for a wide range of tastes, you can't go wrong with a bachelorette party in Charlottesville. Hit the Downtown Mall for a fun night out, take a scenic wine tour, pick some apples, rejuvenate before your wedding or do a combination of all! All that is left to do is round up your girlfriends and get ready for a great time! And these spots are just a start; visit our website www.visitcharlottesville.org for plenty of other great places that could be perfect for your bachelorette party!