31st Annual Cardiologists Conference
The meeting has been accredited with 15.10 CME Credits by the Spanish Society of Cardiology Accreditation Committee (CASEC) for the meeting participants.
Our Organizing Committee Members include:
• Sergey Suchkov, Sechenov University, Russia
• Marco Picichè, San Bortolo Hospital, Italy
• Fabiola B Sozzi, Ospedale Maggiore Policlinico Cà Granda, Italy
• Višnja Nesek Adam, Clinical Hospital Sveti Duh & Josip Juraj Strossmayer University of Osijek, Croatia
• Arash Gharehbaghi, Mälardalen University, Sweden
• Camelia Nicolae, Carol Davila University of Medicine and Pharmacy, Romania
• AM Thirugnanam, Virinchi Hospitals, India
• Manuela Stoicescu, University of Oradea, Romania
This meeting will be a great opportunity for you to visit the country Italy and most importantly the city of monuments, Rome. At the same time, you can attend and participate in the meeting availing the CME credits. For further details, please follow: https://cardiologists.insightconferences.com/
We look forward to meet you at Rome!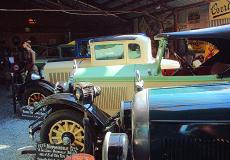 1445 Wolftown-Hood Road
Hood, VA 22723
Region: Regional - Madison County
Virginia's largest family collection of cars from the 1920s and 1930s. The museum features 32 vintage cars on display. Examples of Carter, Star, Stephen, Cleveland, Paige, Hupmobile, Nash, Essex and Cadillac are among the unique cars displayed. Also featured are Hudson, Reo, Oakland, Peerless, Whippet, Studebaker and Willys. The oldest car is a... more