Jefferson on Display: Attire, Etiquette, and the Art of Presentation
Dates:

March 24, 2019

Location:

Monticello

Address:

931 Thomas Jefferson Pkwy, Charlottesville, VA 22902

Time:

11:00 AM to 12:00 PM

Price:

Registration required. Free.
In Jefferson on Display, Monticello's Shannon Historian Gaye Wilson shows how Thomas Jefferson fashioned his public image to promote his political agenda. During his long career, Jefferson even used the setting for elegant dinners to fabricate a careful form of political branding - shifting his public persona from cosmopolitan intellectual to man of the people. Jefferson on Display offers a new approach to this controversial Early-American leader.

Offered as part of the 2019 Virginia Festival of the Book.

Gaye Wilson, PhD., is Shannon Senior Historian at Monticello's Robert H. Smith International Center for Jefferson Studies. Author of numerous essays, papers and articles, she has presented many public lectures on a wide variety of Jeffersonian topics. Wilson's ongoing research focusses on the public image created by the political Jefferson, and what it tells us about this controversial early American leader.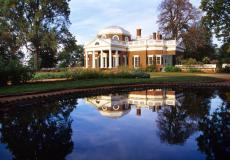 931 Thomas Jefferson Pkwy
Charlottesville, VA 22902
No other home in the United States more accurately reflects the personality of its owner than Monticello, Thomas Jefferson's architectural masterpiece and beloved mountaintop home. Monticello is the only home in America recognized by the United Nations as a World Heritage Site. Guided tours of the house are offered daily throughout the year;... more