Red & The Romantics
Dates:

May 28, 2018 - December 17, 2018

Recurrence:

Recurring weekly on Monday

Location:

The Whiskey Jar

Address:

227 West Main Street, Charlottesville, VA 22902

Time:

6:30 PM to 9:30 PM

Price:

Free!
Red & the Romantics bring an original blend of vintage folk and Americana music to The Whiskey Jar every Monday.

All Ages // Free!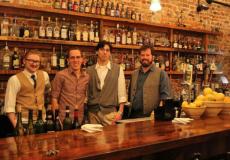 227 West Main Street
Charlottesville, VA 22902
Region: Downtown Mall Area
Traditional cuisine from Virginia's Piedmont region. Focusing on sourcing and preparing food that our great grandmothers would be familiar with. Features southern cuisine, live music and, of course, whiskey. Located on the historic Downtown Mall. Breakfast served Saturday and Sunday, lunch served everyday, dinner available Monday thru Saturday... more