WMRA Books & Brews September 11 2019
Dates:

September 11, 2019

Location:

Pro Re Nata Brewery

Address:

983 Reservoir St, Harrisonburg, VA 22801

Phone:

(540) 568-4045

Time:

7:00 PM to 8:00 PM
WMRA Books & Brews series is back! This year's series begins with Heath Hardage Lee's book, The League of Wives: The true story of the fierce band of women who battled Washington-and Hanoi- to bring their husbands home from the jungles of Vietnam.

With astonishing verve, The League of Wives persisted to speak truth to power to bring their POW/MIA husbands home from Vietnam. Heath Hardage Lee has chronicled their little-known story — a profile of courage that spotlights 1960s-era military wives who forge secret codes with bravery, chutzpah and style.

Tuesday, September 10, 2019 at Pale Fire Brewing Company in Harrisonburg at 7pm.

Wednesday, September 11, 2019 in Crozet at the Pro Re Nata Farm Brewery at 7pm.

When you present your WMRA Member Card at either event, you'll receive a certificate for a complimentary beer.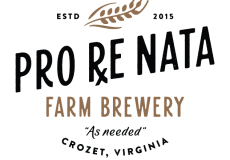 6135 Rockfish Gap Tpke.
Crozet, VA 22932
Pro Re Nata (Latin, "as needed") is doctors' orders for treating what is ailing us. Enjoy PRN Farm Brewery's hand-crafted ales and lagers, one of the world's oldest elixers - "as needed." Doctors' orders! Now offering 6 PRN beers. more