Kayaking: Family Friendly Experience
A day full of fast paddling, and all kinds of opportunities for winding down. Kayaking, paddleboarding or tubing in Albemarle County is made more convenient by the proximity of our rivers to downtown Charlottesville.
Where to wander

Rent kayaks and get paddling. The Rivanna River Company is the perhaps the best place to rent equipment in the City of Charlottesville. Enjoy some time on the Rivanna River at the eastern edge of the city limits.
The James River is a must-see for water sport enthusiasts. An excellent home base for an afternoon, day or weekend is Scottsville, which borders the James.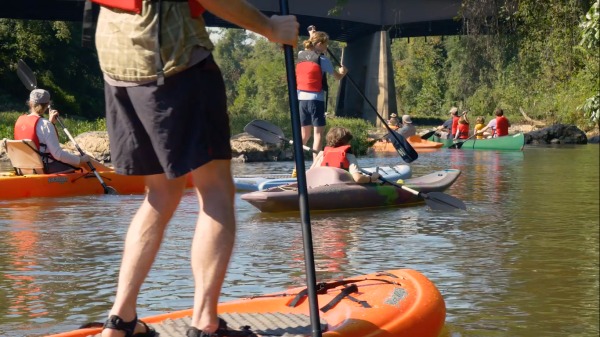 Spots to eat

Have a bagel from Bodo's. There are three locations in town. The bagels are incredible. Even if you're from New York you'll think they're incredible. You'll get your food quickly without compromising on options or quality. Perfect for a family re-fuel after a paddle down on the river.
Grab a bite at Mel's Cafe. It's centrally located, equidistant from the Downtown Mall and UVA. Try the barbecue or fried chicken. Consider taking your food to go and enjoying it down by the Rivanna River.
There are few better pairings than an engaging outdoor activity, like kayaking, followed by a nice large ice cream. Try Chaps Ice Cream on the downtown mall!

Place to stay:

​We recommend finding a hotel near a section of downtown you're interested in exploring with the family. The Draftsman Hotel is a fitting option for those who plan to walk to both the Corner and Charlottesville's Downtown Mall. Try Stay Charlottesville if you're looking to rent a unique downtown property. If you're looking for a convenient place to crash, and aren't particular about what's walk-able, there are many hotels along business 29 between downtown and the airport. Be sure to check out other resources we've put together, such as Things to Do and our list of Hotels. You'll find no shortage of trails, scenic drives and natural landmarks here in our part of Virginia, but there's plenty else to do besides. Reference some of our other itineraries if you'd like to learn more about what Charlottesville proper has to offer.