Batesville Market
The Batesville Market is a historic country store, deli, grocery, and community gathering spot located at the corner of Plank Road and Craig's Store Road in the Batesville Historic District. We sell freshly prepared deli foods and sandwiches, basic groceries, beer and wine (on and off-premises), local, organic, and sustainable foods, and local artisan products and gift items. Come taste award-winner wines from Lovingston Winery at their Batesville tasting bar, Sat/Sun from 11am-5pm. We also host excellent local live music every Saturday night and many Sunday afternoons!
The Batesville Market's hours are:
Mon-Th: 11am - 7pm
Fri: 11am - 8 pm (Happy Hour: 5-8pm)
Sat: 11am - 9pm
Sun: 11am - 5pm
Please see our events page for a list of scheduled events, and check back regularly as we add new special events. You can also follow us on Facebook!
Constructed around 1900, the Market has had several incarnations, originally as the Charles Joseph Store, then for three generations as the Page's Store. More recently it has been known as the Batesville Store and the Plank Road Exchange, and is now is the Batesville Market. Batesville, Virginia, is located on the beautiful old Plank Road that historically connected the Shenandoah Valley to the James River, used for transporting goods to Richmond. We are about 20 minutes from Crozet, Charlottesville or Waynesboro, and conveniently located between Monticello and Wintergreen, near the Pippin Hill Farm and Vineyards, Veritas Vineyards, Pollak Vineyards, King Family Vineyards, Cardinal Point and half a dozen other local wineries.
Amenities
Casual Dress:

Child Friendly:

Dinner:

Free Parking:

Live Music:

Lunch:

Outdoor Dining:

Restaurant:

Smoke Free Environment:

Wine and Cheese:
General
Free Admission: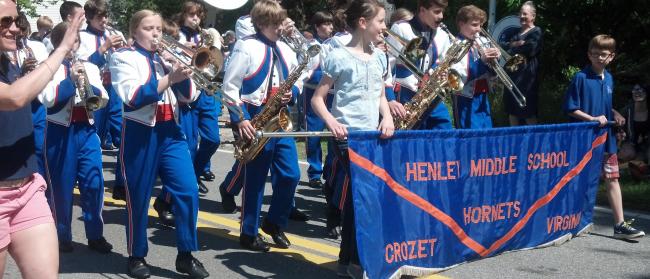 Categories: Live Music/Concert, Family, Festivals
Make plans to come to the 44th annual celebration of this vibrant community in the glorious foothills of the Blue Ridge – the famous 10K race; the biggest little parade around featuring the Henley Middle School Marching Band, the Albemarle Morris Men, the Crozet Lion's Club Broom Brigade, kids and bikes and pets; a village fair with a cake... more