(Cover Photo - Carter Mountain Apple Cider Donuts - Photo Credit: www.irresistiblepets.com)
I have a major sweet tooth, and when fall rolls around and the holidays start approaching, indulging in all of the seasonal desserts around Charlottesville and Albemarle County is the first thing on my mind. I like to think that during the holiday season the calories don't count, especially when the desserts are made with pumpkins, apples, and pears. While there are so many different treats, there are 5 in the Charlottesville area that I just can't go a season without.
1.) Apple Cider Donuts - Carter Mountain Orchard
These donuts…oh my. I start thinking about these donuts in July and I can easily finish a pack of 12 all by myself. When I leave Carter Mountain Orchard, my hands are overflowing with cookies, pies, but mostly the apple cider donuts. I can still remember the first time I tried these one-of-a-kind treats. I was on a school field trip and my teacher brought some on the hay ride for us all to try. I fell in love after the first bite and every year since I've made it a tradition to get (a whole lot of) apple cider donuts. When you open your pack, the sweet smell overwhelms you and the first bite is warm, soft, and melts in your mouth. Heavenly.
2.) The Shenandoah Cake - Albemarle Baking Company
To make the Shenandoah Cake, Albemarle Baking Company takes everything about fall in Charlottesville and bakes it into one delectable concoction. The base is a vanilla cake surrounded by an almond cake. My favorite part is the caramel mousse with caramelized walnuts and pears that coats the cake giving it its sweet, seasonal taste. They top this cake with champagne mousse, made with the local winemaker Thibaut and Janisson's champagne. To get the full fall vibe, eat this cake with a beautiful view of Charlottesville's vibrant foliage.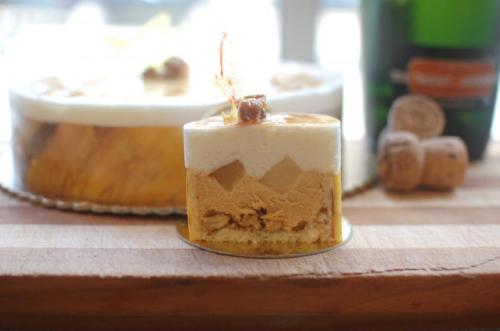 (The Shenandoah Cake - Photo Credit: www.charlottesville.scoutology.com)
3.) Brown Butter Pumpkin Pie - The Pie Chest
I've been a fan of pumpkin pie ever since I was a little girl. My grandma would make one every Thanksgiving and it would always be the first thing on my plate. I hesitantly and cautiously say that The Pie Chest might just give my grandma a run for her money. I've never tasted a pie quite as creamy and smooth as the Brown Butter Pumpkin Pie. After your first bite, you instantaneously recognize the sweet pumpkin taste, and trust me, you won't be able to put your fork down. I recommend accepting the fluffy mountain of whipped cream on top that they'll offer. Their pies are fresh, seasonal, and they're all made from scratch. YUM.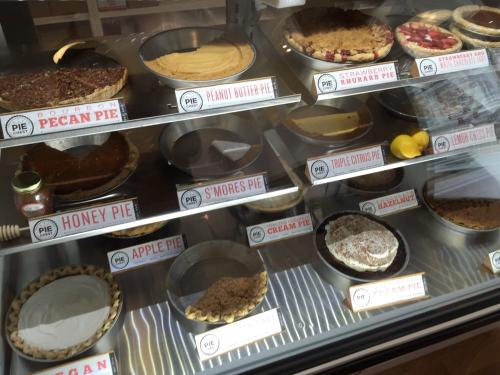 (Brown Butter Pumpkin Pie - Photo Credit: www.yelp.com)
4.) Candied Sweet Potato Cupcake - Pearl's Bake Shoppe
With Pearl's incredibly large variety of cupcakes and other baked goods, it's always hard for me to decide what to order. That is, unless it's fall, because Pearl's makes an extraordinarily delicious candied sweet potato cupcake! If you're the type of person that doesn't eat sweet potatoes unless they're covered in marshmallows, have no fear. This sweet potato cupcake is filled with marshmallow fluff AND coated with marshmallow and vanilla frosting. The candied pecan is this cupcake's version of a cherry on top and it gives the cupcake yet another unique quality that makes it an essential treat to try this fall season!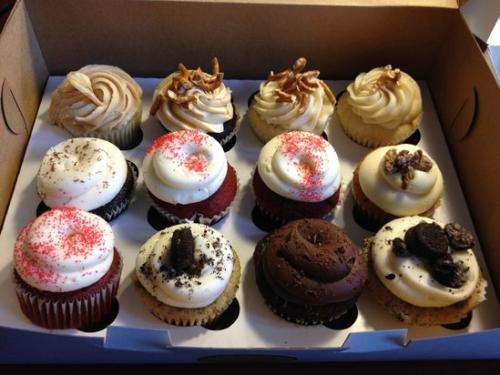 (Candied Sweet Potato Cupcake (to the right, in the middle row) - Photo Credit: www.tripadvisor.com)
5.) Spiced Pumpkin Ice Cream - Chaps Ice Cream
This 50's themed diner brings the classic fall flavor of pumpkin spice to life with their homemade ice cream. There is nothing like the pair of pumpkin with a warm, homemade waffle cone like the ones at Chaps. They do a magnificent job bringing out the sweetness of the pumpkin flavor in this ice cream, which inspired me to place it as the only cold fall treat on this list. If you find yourself taking a stroll along the beautiful downtown mall this autumn, pop in to Chaps and experience this seasonal fall flavor for yourself!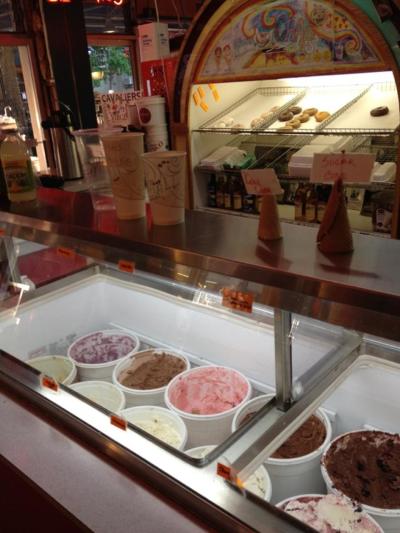 (Pumpkin Spice Ice Cream - Photo Credit: www.charlottesville.scoutology.com)
Because fall in Charlottesville is so extraordinary, bakeries and ice cream shops can't help but be inspired to bring about seasonal flavors. I hope you've found a dessert or two (or five) that you can't wait to try, because believe me, you are truly in for a treat. Even better news - this list just scratches the surface of the fall treats that our region has to offer, so get out and do some "research" of your own! If you have a favorite Charlottesville area fall treat, please comment below! Happy eating!