With one week of October behind us, it's time to take a look at our fall foliage update for the week in Charlottesville & Albemarle County!
Fall color continues to creep its way into the picture, albeit a little more slowly due to a recent round of warm weather. As we post this update, temperatures in Charlottesville are actually in the 80s, which is temporarily slowing the advancement of color. However, some yellows, reds and oranges can still be found, especially as you make your way into the more mountainous parts of Albemarle County. We still look to be on track to see peak color around the third or fourth week of October – of course dependent on upcoming weather conditions, which do look to be a bit on the warmer side, especially at night. The long-term forecast calls for crisp, cool nights in the 40s by the middle of the month, which should be ideal for spurring the color change along.
In the nearby Shenandoah National Park (which can be accessed from downtown Charlottesville in a mere half hour), colors are also starting to become a bit more prevalent, though not near peak at this time. You can follow webcams placed throughout the park to get a glimpse in real time of how the colors are progressing. Still plenty of green, but noticeable pops of yellow and orange sprinkled throughout, especially at the highest elevations of the park.
We are in full fall swing here in Charlottesville & Albemarle County and with the temperatures at near-perfect levels and low humidity, it's an ideal time to visit our orchards, hike on our trails, or even explore our two rivers – the Rivanna and the James. It's the perfect time to grab a bite to eat on one of our patios, either on the historic pedestrian Downtown Mall or at one of our farm-to-table restaurants located in Albemarle County.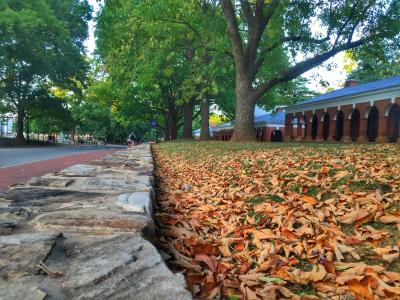 Look for another update this same time next Wednesday. We look forward welcoming you to Charlottesville & Albemarle County soon!