Reaching New Heights
Broaden your horizons and take your experiences to new heights In Charlottesville & Albemarle County!
Where to Wander:

Leave your fear of heights at the door and explore Charlottesville & Albemarle County from up above in a hot air balloon! Soar high above the ground and have a front row seat to breathtaking views of the Blue Ridge Mountains and noticeable landmarks below, like Monticello and the Rotunda at the University of Virginia, both of which have been designated as UNESCO World Heritage sites.
After your adrenaline rush up in the air, it's time to hit the road and bring your knowledge of wine to new heights. As luck would have it, you can sip wine and learn more about the history of Charlottesville wine from Gabriele Rausse, who is known as the Father of Virginia Wine! Sip some vino in the tasting room and then purchase a bottle as a memento of your trip.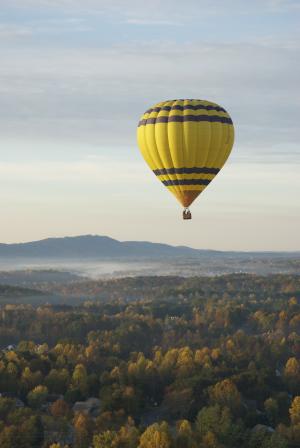 Where to Eat & Drink:

Take your taste buds to new heights with a yummy brunch at the Oakhurst Inn, sure to give you the energy you need for an adventurous day.
End the day with an elegant dinner at The Clifton, a boutique inn located just miles from downtown Charlottesville. But don't stop there. End the day on a high note and enjoy a rooftop cocktail at the newly opened Quirk Hotel's expansive rooftop bar.

Where to Stay: Enjoy a restful night at the perfectly appointed Oakhurst Inn located near the Grounds of the University of Virginia. If you prefer to stay in the heart of the city, The Omni is located directly on the historic pedestrian Downtown Mall, and a short walk from a plethora of patio dining and shopping. Be sure to check out other resources we've put together, such as Things to Do and our list of Hotels. You'll find no shortage of trails, scenic drives and natural landmarks here in our part of Virginia, but there's plenty else to do besides. Reference some of our other itineraries if you'd like to learn more about what our area has to offer.