It's hard to believe, but summer is quickly drawing to a close, which means that fall fun and festivities are just right around the corner! September is a beautiful month in the Charlottesville area, plus it's packed with a wide variety of festivals and events, perfect for visitors and locals alike. Here are ten of the top reasons to plan a visit to Charlottesville & Albemarle County this September!
1.) Charlottesville Women's Four Miler – September 2, 2017
Kick off the month on a healthy, inspirational note by taking part in the Charlottesville Women's Four Miler! This event is Virginia's largest all-woman race and attracts thousands of runners to the area each and every year, all with the goal of supporting and raising awareness of the importance of breast cancer care and research. It's a perfect reason to grab your trusty running shoes, log a few miles for a terrific cause, all while soaking up the breathtaking views that Albemarle County has to offer. For more information about the Charlottesville Women's Four Miler, click here.
2.) CiderFest – September 3, 2017
Cider lovers, rejoice! CiderFest once again returns to Castle Hill on September 3, from 11 a.m. – 6 p.m. in beautiful Albemarle County! Not only are the views from Castle Hill incredible and breathtaking, but you can sample ciders from six cideries, enjoy a selection of food trucks, and listen to music from a few bands! Not a bad way to spend a Sunday afternoon on the 3-day Labor Day weekend! Be sure to click here for more information about CiderFest 2017!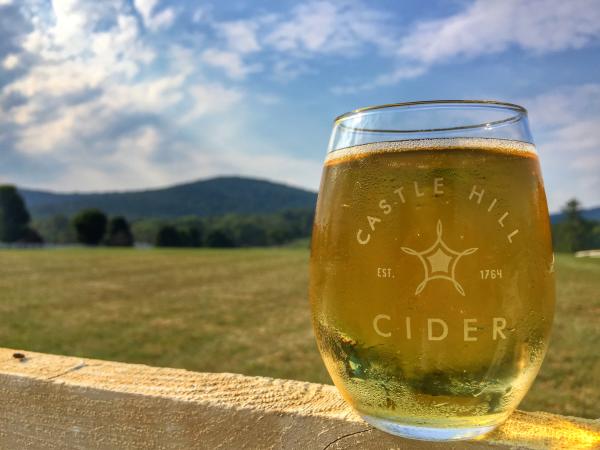 (CiderFest at Castle Hill Cidery - Photo Credit: Brantley Ussery)
3. Heritage Harvest Festival – September 9, 2017
Thomas Jefferson was definitely a man of many talents – one of which was gardening! In fact, locals like to refer to Thomas Jefferson as not only one of our nation's Founding Fathers, but also our Founding Foodie! Learn more about Jefferson's exceptional green thumb on September 9 at the 11th annual Heritage Harvest Festival, which takes places at his home of Monticello. This fun, affordable, family-friendly festival includes hands-on workshops, garden tours, fruit and vegetable tastings, and plenty of activities perfect for kids of all ages. To learn more about the Heritage Harvest Festival, click here.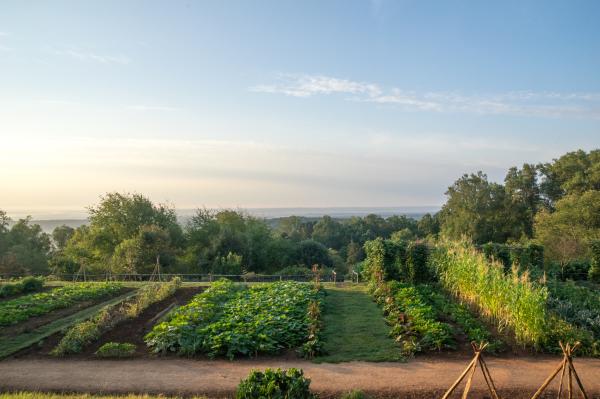 (Heritage Harvest Festival at Monticello - Photo Credit: Broken Banjo Photography)
4.) Cville Pride Festival – September 16, 2017
The 6th annual Cville Pride Festival is a free, family-friendly event, which offers up the chance to celebrate and experience the diversity and vibrancy of the local LGBTQ community! This festival takes place on September 16 from 11 a.m. – 7 p.m. at the Sprint Pavilion on the east end of the Downtown Mall. Attendees can expect awesome bands with plenty of live music, a hip-hop showcase, singer-songwriters, breakdancers, plus a children's area complete with a giant moon bounce, games, face-painting, balloons, and much more. There will also a beer and wine garden, food trucks, and more than 50 vendors representing area businesses and organizations, plus plenty of pride merchandise! For more information about the Cville Pride Festival and Pride Week events, click here!
5.) Festival of Squash – September 20 – 24, 2017
The sport, not the vegetable! The Festival of Squash is set to take place at the Boar's Head Sports Club from September 20-24 and has become a major fixture on the U.S. Squash calendar! This event features an astonishing four tournaments which run simultaneously at one of the world's top venues for this game. Top-ranked pros will compete in the PSA Harrow Charlottesville Open, while hundreds of amateurs will compete in the U.S. Squash-sanctioned skill level championships! So come on out and play, watch, or just enjoy all that this fun event has to offer!
6.) Tomtoberfest – September 22-23, 2017
The Tom Tom Founders Festival doesn't just limit its celebrations to the month of April. Come to Emancipation Park September 22-23 for this massive fall block party that celebrates local founders with concerts, food trucks, entrepreneurs, and art! Plus, on Friday night, there will be a tech mixer where you can mix and mingle with 100+ of the area's most innovative companies and members from the community. This fall block party is one event not to be missed! Click here for more information and details about this year's Tomtoberfest!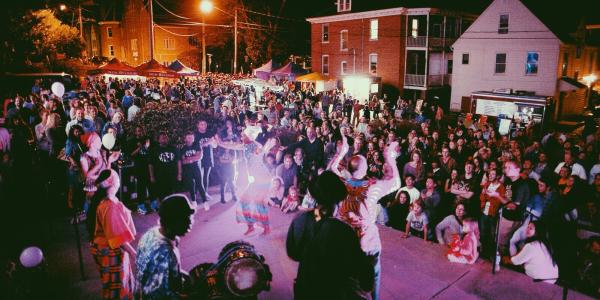 (Tomtoberfest in Downtown Charlottesville)
7.) Foxfield Family Races – September 24, 2017
The ever-popular Foxfield Family Races are once again set to take place this year! Explore the beautiful grounds and enjoy fun for the entire family including pony races, Jack Russell Terrier races, plus the traditional horse races. This family-friendly event is a terrific way to spend the first weekend of fall and food options are available on site. For more details about the Foxfield Family Races, click here!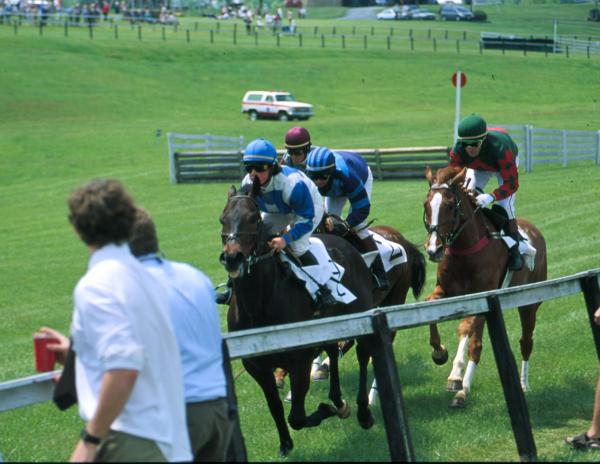 (Foxfield Races in Albemarle County)
8.) Virginia Spirits Month – All Month!
It's no secret that the Charlottesville area is home to an incredible variety of wineries, breweries, and cideries, but did you know that a few distilleries have popped up in recent years? This makes the Charlottesville area the perfect place to enjoy Virginia Spirits Month, which takes place through the entire month of September! From Vitae Spirits to Ragged Branch Distillery in Charlottesville and Albemarle County, to other regional distilleries, there are a wide range of options from which to choose. Just be sure to enjoy Virginia Spirits Month safely and responsibly!
9.) Carter Mountain Sunset Concert Series – Thursdays in September
The Thursday Evening Sunset Concert Series continues to run strong in September at Carter Mountain Orchard! This sunset series will take place each Thursday evening through the end of September, giving visitors and locals a few more opportunities to enjoy live music, food, beverages, and those delicious apple cider donuts! To learn more about the remaining concerts left in the 2017 series, click here!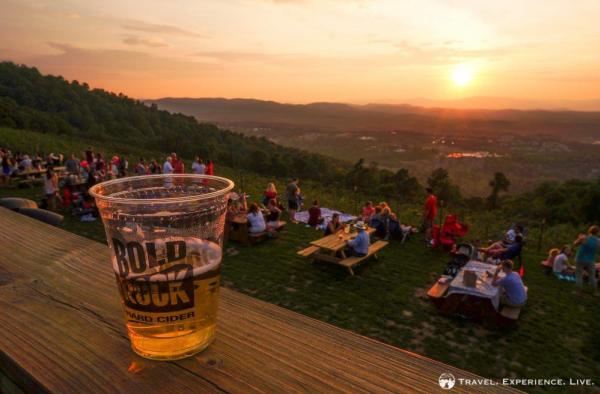 (Thursday Evening Sunset Concert Series - Photo Credit: Travel. Experience. Live.)
10.) UVA Football Games – September 2, 9, 16
Hoo is ready for some football? On several Saturdays in September, the University of Virginia Cavaliers will host home football games, including match ups with William & Mary on September 2, Indiana on September 9, and UConn on September 16! It's a perfect reason to come to the Charlottesville area, enjoy some tailgating with friends and family, and then go cheer on the team! For more information about the upcoming 2017 football season, click here!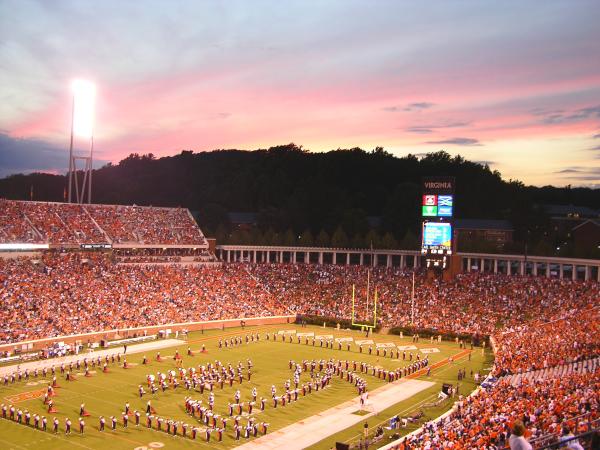 (University of Virginia Football Game at Scott Stadium)
This list only begins to scratch the surface of the many fun, exciting things to check out in the Charlottesville area during the month of September! Continue clicking around on our website for more ideas regarding things to do, attractions, and places to stay. Enjoy your trip and we look forward to welcoming you this September!