In a few short weeks the 24th annual Virginia Festival of the Book will take place throughout Charlottesville and Albemarle County, with programs occurring between March 21-25, 2018. Each year, the Virginia Festival of the Book brings together writers and readers to promote and celebrate books, reading, literacy, and literary culture. This year, the Festival schedule offers more than 150 free programs, representing all genres and for every level of reader. Here are six reasons that you should check out the 2018 Virginia Festival of the Book!
1.) Discussions on important current issues
Major Festival programs have established a reputation for offering deeply engaging discussions on important current issues. Many programs this year highlight issues surrounding race, social justice, immigration, gender, and LGBTQ representation. Browse the Festival schedule by topic here.
2.) In Pursuit of Truth: An Evening with the National Book Awards
On Saturday, March 24, from 8:00-9:30 p.m. at the Paramount Theater, 2017 National Book Awards finalists Erica Armstrong Dunbar (Never Caught) and David Grann (Killers of the Flower Moon) join 2017 National Book Awards longlisted author Kevin Young (Bunk) in a discussion of the stories and facts their books bring to light, the hidden impacts of racism and social inequality in America, and ultimately, the pursuit of truth in their award-winning nonfiction. National Book Foundation executive director Lisa Lucas moderates. A timely discussion, this program grapples with systemic and structural racism in America's past and is a great pick for anyone interested in social justice, history, early American culture, award-winning nonfiction, and a good story told well. Learn more here.
3.) Writing the American Story: Diverse Voices in Distinguished Books
2017 Anisfield-Wolf Book Award recipients Peter Ho Davies (The Fortunes), Tyehimba Jess (Olio), and Margot Lee Shetterly (Hidden Figures), accompanied in conversation with Award jury member Rita Dove, will share their writing and insights about race and culture, with a particular focus on the August 2017 events that took place in Charlottesville. This is the official closing program of the Festival, and takes place on Sunday, March 25, from 3:00-4:30 p.m. at the Jefferson School African American Heritage Center. Learn more here.
4.) Free programs for kids
The Festival offers youth programming for all ages, from picture books to award-winning young adult literature. Check out the full list of Storyfest programs here and don't miss the annual Storytime Marathon, from 2:00-3:30 p.m., where a selection of beloved children's authors and illustrators take turns reading from their books, interspersed with short activities for children ages 3-6. Parents are welcome to join in as well, and drop-ins are encouraged at this informal program.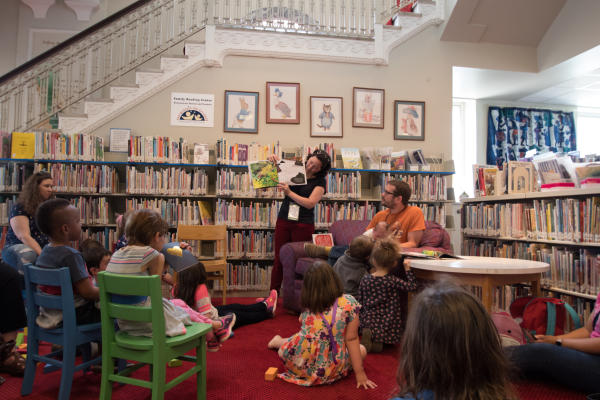 (Storytime Marathon - Photo Credit: Peter Hedlund)
5.) Celebrate your love of books with other readers
The Festival is the largest community-based book event in the Mid-Atlantic region and has attracted audiences of more than 20,000 for each of the past thirteen years, with attendees coming from more than thirty states. Take time to talk with the other people you see at Festival programs. Who can predict what will come from the shared love of a book?
6.) Signed books from your current (and soon-to-be) favorite authors
Buy books and get them signed by the author—trust us, you'll cherish these for years to come. Books are available for sale by local booksellers at most events.
We encourage you to browse the Festival's website for a complete list of programs and speakers, as well as travel and lodging information at VaBook.org. While you're here for the Festival, be sure to continue browsing www.visitcharlottesville.org for more suggestions on places to go, restaurants to try, and lodging and accommodation options. We hope you enjoy your time in Charlottesville & Albemarle County during this fun, family-friendly festival!