(Photo Credit: Roy Van Doorn)
The month of March means plenty of exciting things in Charlottesville & Albemarle County! Not only do we slowly start to shake away the chill of winter (though this past winter season didn't really seem to bring us much of a chill at all), but we also begin to spring to life in terms of events, festivals, and activities that are fun for people of all ages. Here are six great reasons why you should start planning your March visit to the Charlottesville area right now!
1.) Warmer Weather
Even though this past winter never really got that cold, it's always nice when the first few days of warmth arrive! March is definitely a transition month for weather in the Charlottesville area, but once we get past the middle of the month, snow chances begin to dwindle dramatically and the longer days generally promote warmer, more inviting temperatures. Flowers and trees begin to bloom and the many outdoor attractions in Charlottesville & Albemarle County start coming back to life. So put the heavy winter jacket away and get ready to enjoy some spring temperatures, as you explore all the Charlottesville area has to offer!
2.) New Breweries
The Charlottesville area has put itself on the map as a craft beverage destination and is now home to two new breweries! Brasserie Saison has recently opened its doors on the historic pedestrian Downtown Mall and is serving up craft beers accompanied by some truly yummy eats. A bit closer to the University of Virginia on West Main Street, Hardywood Pilot Brewery & Taproom is now welcoming craft beer lovers through its doors. Serving up delicious, bubbly brews, homemade soft pretzels, and nitro coffee, this trendy and modern space is sure to be a hit among visitors and locals alike!
3.) The Charlottesville 10-Miler - March 18, 2017
Dubbed the "area's oldest footrace," the Charlottesville 10-Miler has been bringing runners to the region for more than 40 years, along a scenic, but hilly course that meanders and weaves its way through the city. Runners will enjoy the spirit and energy that this race exudes and can't help but feel enthused when seeing all of the crowds along the route cheering on all of the athletes. Plus, it's a great way to get a tour of the city, all on foot! You'll start on Grounds at the University of Virginia, eventually make your way to the Downtown Mall, then explore the beautiful and historic North Downtown residential neighborhood, before winding your way back to the University of Virginia, where you will cross the finish line and be awarded your much-deserved medal! Don't even think about bringing the ear buds, because you'll want to be sure you can hear the cheers from spectators and the live music positioned throughout the course. For more information about the Charlottesville 10-Miler, click here!
4.) Festival of the Book - March 22 - 26, 2017
Book lovers will not want to miss the Virginia Festival of the Book - a five-day celebration of books, reading, literacy, and literary culture. Produced by the Virginia Foundation for the Humanities, this festival is the largest community-based book event in the Mid-Atlantic region and has attracted audiences of more than 20,000 for each of the past thirteen years! This festival has presented a captivating list of authors, ranging from international best sellers, to topical specialists, and even debut authors. The programs offered range from traditional author readings and book signings to children's programs and hands-on workshops. All programs are open to the public and most of the festival events are free! For more information about the Virginia Festival of the Book, click here!
5.) Concerts and Musical Performances
This March, Charlottesville will host many amazing concerts and performances. On the 15th, Amos Lee will excite fans with his signature "folksy, bluesy sound" at the historic Paramount Theater. Florida Georgia Line will take the stage of the John Paul Jones Arena on March 24th and on the very next day, Stevie Nicks will put on a show that's sure to thrill at this same venue! And let's not forget the continuous excitement at the Jefferson Theater! All month long, performances by talents such as Neko Case and Corey Smith will wow audiences. For more information about these shows and other upcoming performances, visit our calendar of events!
6.) Good Deals on Hotels
Great news for your wallet! Once it's time to wrap things up for the day and turn in for the night, the Charlottesville area still has plenty of awesome hotel deals to take advantage of during the month of March. Many hotels (and attractions, for that matter) still offer the lower winter rates for at least part of the month, before things start to ramp up during April and May. Look around online and be sure to visit our website for any special packages or deals being offered on lodging and attractions!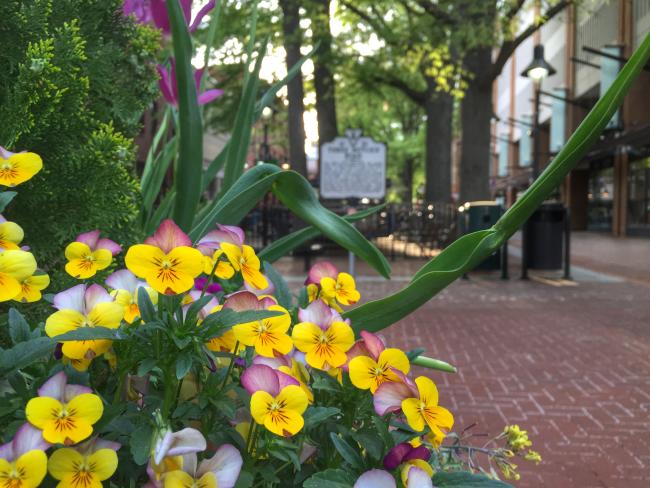 (Flowers on the historic pedestrian Downtown Mall)
As you can see, the Charlottesville area is teeming with activities and things to do this March! Don't forget about the ever-popular historic attractions like Thomas Jefferson's Monticello, James Monroe's Highland, this historic pedestrian Downtown Mall, Michie Tavern, and the area's 30+ wineries, breweries, and cideries! No matter your interest, there's something for you to do here in Charlottesville & Albemarle County in March. We can't wait to see you!