January 20, 2017 is an historic day for the nation, as the 45th President of the United States of America will officially be sworn in to take office. Hundreds of thousands, if not even a million (or more) people are expected to attend this event and the festivities surrounding it in our nation's capital of Washington, D.C. But after all of the hustle and bustle dies down, there's a great getaway idea located no more than just two hours (by car) to the southwest. Once this historic event has wrapped up, the Charlottesville & Albemarle County area makes for the perfect place to escape, unwind, and enjoy some great food and craft beverages, all while soaking in some breathtaking views of the beautiful Blue Ridge Mountains. Here are the top 6 reasons to plan this trip to Charlottesville & Albemarle County if you're visiting Washington, D.C. for Inauguration Day!
1.) Escape the Crowds
While you'll be surrounded by one million or more of your closest friends in Washington, D.C. for Inauguration Day festivities, Charlottesville & Albemarle County offers less congestion, fewer crowds, and lots of wide open spaces! With a population of approximately 50,000, the city of Charlottesville features plenty of small town charm, while still serving up amenities and nightlife you might expect in a much larger city. If you want city life, we have it. If you want something a little more laid back, a short and scenic drive will have you in landscapes made of rolling hills, vineyards, farms, and big, beautiful mountains in the distance. Regardless of what you choose, a trip to the Charlottesville area is sure to be a breath of fresh air!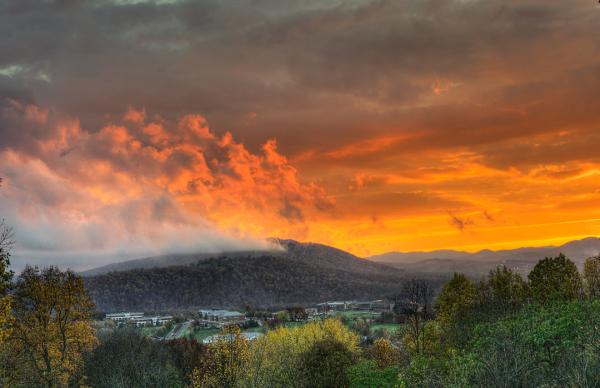 (Breathtaking Charlottesville Sunset - Photo Credit: James Marshall)
2.) The Historic Attractions
If you're in Washington, D.C. for Inauguration Day, odds are, you enjoy history. If that's the case, you're definitely in luck in the Charlottesville area, as there are historic sites galore, all within a very short driving distance. In fact, you can be at the homes of three former Presidents in less than 30 minutes from Downtown Charlottesville! You can visit the homes of Thomas Jefferson, James Monroe, and James Madison, all of whom settled down in this area at some point in their lives. Then there's the University of Virginia, founded and designed by Thomas Jefferson himself. Not only is this prestigious University a UNESCO World Heritage Site, but so is his former home of Monticello! Where else can you go and visit two UNESCO World Heritage Sites while staying in the same city? Not many other places! Plus you'll find more hints of history all around the city, like in Court Square and the historic pedestrian Downtown Mall (more to come on that later...)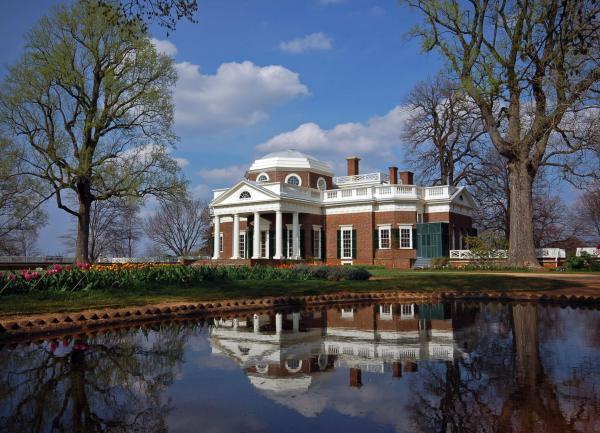 (Monticello in Spring - Photo Credit: Roy VanDoorn)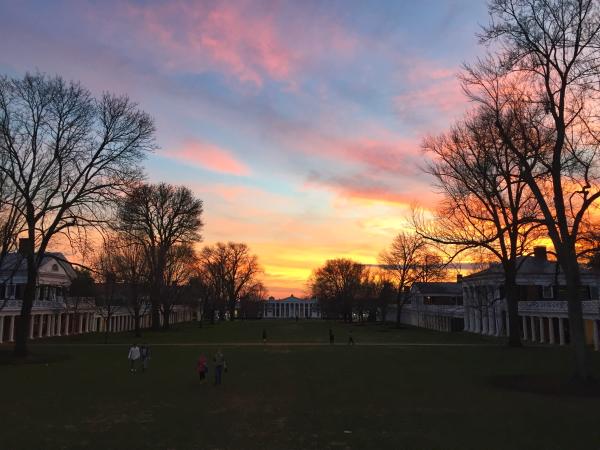 (University of Virginia Sunset - Photo Credit: Brantley Ussery)
3.) The Food & Drink
While you may think a small city nestled in the mountains of Virginia may not have much to offer when it comes to fine dining and craft beverage options, think again! The Charlottesville area consistently finds itself at the top of the list when it comes to food, wine, craft beer, and cider - so much so that the region was dubbed "Locavore Capital of the World" in addition to recently being named one of the top wine destinations in the world! Thomas Jefferson, who has been affectionately dubbed as the area's "Founding Foodie," had a great admiration for good food and drink. This love affair continued through the ages and Charlottesville now finds itself at the epicenter of the farm-to-table movement, while simultaneously serving as a mecca for craft beverage lovers across the country. With more than 30 wineries, craft breweries, and cideries, there's a beverage for everyone that is sure to please. Plus, many of these craft beverage locations have large roaring fireplaces, just perfect for a cold wintry day!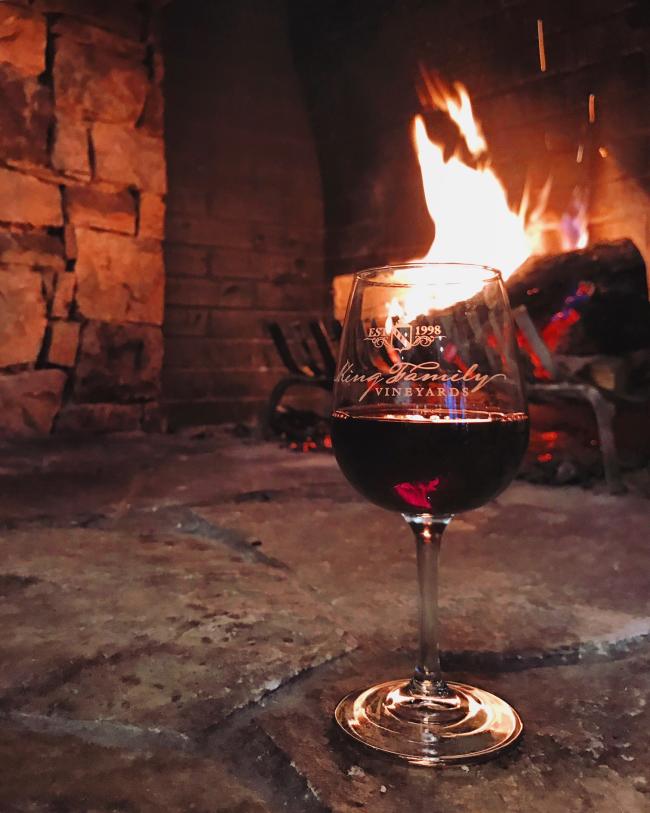 (Wine and a Roaring Fire at King Family Vineyards - Photo Credit: Anna Quillon)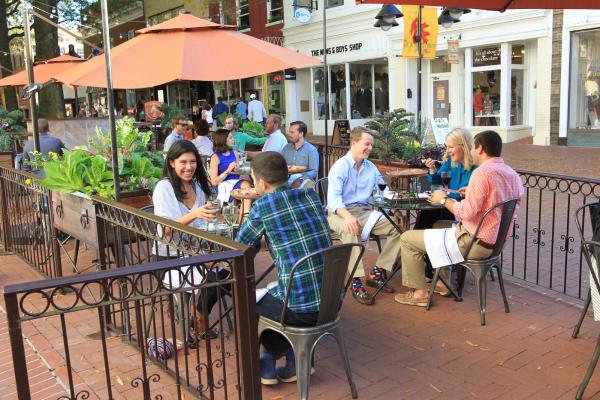 (Al Fresco Dining at Red Pump Kitchen on the Downtown Mall)
4.) The Historic Pedestrian Downtown Mall
Located at the heart of the city of Charlottesville, you will find one of the region's top attractions - an eight-block long historic pedestrian Downtown Mall paved with brick. In fact, Charlottesville's Downtown Mall is one of the longest pedestrian malls in the country and has served as a model for other cities looking to revitalize their downtown spaces. There are no cars allowed on this thriving artery - only foot traffic! And you'll see plenty of it, especially on a nice, sunny day! Restaurants and shops are plentiful on this tree-lined wonderland, with many restaurants and coffee shops offering outdoor patio space, so you can enjoy some people watching while you sip and dine. Perhaps you'll even be serenaded by street musicians who are often found playing melodious tunes on their instruments of choice. You'll also be able to find some wonderfully unique gift ideas for the special someone in your life, with some vendors even selling their goods directly from tables located outside on the mall. Not only will you find some great food, gifts, and more, but you'll also get in your exercise as you stroll up and down this historic street.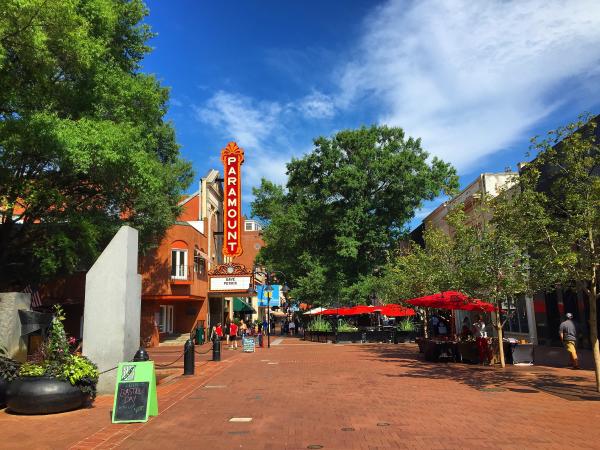 (Historic Pedestrian Downtown Mall in Summer - Photo Credit: Brantley Ussery)
5.) The Outdoors
The Charlottesville area is surrounded by some of the most amazing natural beauty on the entire East Coast. Nestled against the breathtaking Blue Ridge Mountains, there are tremendous views everywhere you look. Even in the winter, there are lots of great outdoor activities that are available - many of them dependent upon the weather. Even though it's the middle of winter, outdoor enthusiasts will be pleased to know that there are endless options for things to do, such as hiking, cycling, walking on miles of trails, skiing, or even taking in a round of golf! Of course, you can also just soak in the views while sitting in a heated patio space at one of the dozens of wineries, breweries, or cideries. Just don't forget your camera!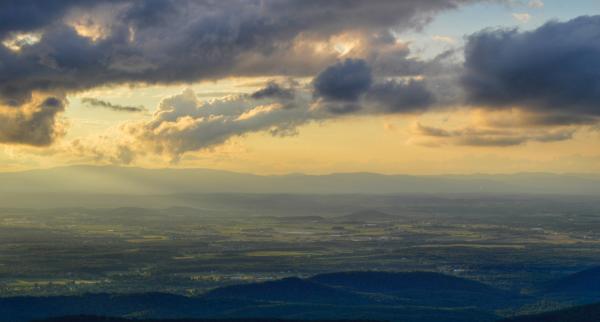 (Blue Ridge Mountains at Sunset - Photo Credit: Brantley Ussery)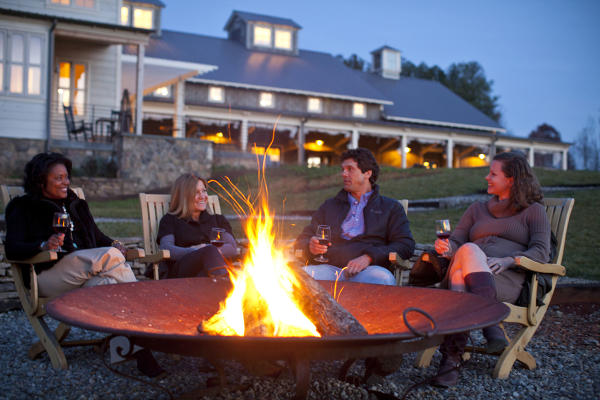 (Sipping Wine by the Fire Pit at Pippin Hill Farm & Vineyards - Photo Credit: Justin Ide)
6.) The Bargains
January does tend to be a bit of a slower time in the Charlottesville area with regards to visitors coming in, which is great news for you, because you could score some pretty awesome deals! Many area hotels, inns, and B&Bs offer discounted rates during this time of year to entice visitors to come spend a few days! Similarly, many area attractions will also offer up great discounts as an incentive to draw in more visitors. So not only can you enjoy some great deals, but you can do so at a time of year when the crowds are smaller!
This list just begins to scratch the surface of why Charlottesville & Albemarle County makes a terrific vacation after you've attended Inauguration Day in Washington, D.C. Not only is it an easy and scenic drive, but once you arrive, there are limitless things to do and see. To get even more ideas, please be sure to check out our website, www.visitcharlottesville.org, for places to stay, restaurants, attractions, historic sites, and so much more. We can't wait to see you and hope that you'll choose to extend your stay by traveling south to spend some time in Charlottesville & Albemarle County!