It may be hard to believe, but the summer months will very shortly be drawing to a close. In about six weeks, the long, warm days will gradually be replaced by crisp, cool nights, which will serve as a precursor to the vibrant fall foliage that is eagerly awaited each and every year. But August in the Charlottesville area is still chock full of fun summer opportunities and events, sure to delight the entire family, all the way up until the moment those school bells start to ring. Check out these nine reasons to visit Charlottesville & Albemarle County this August and end the summer season with a bang!
1.) Heritage Theatre Festival (Ends August 5th)
The Heritage Theatre Festival is in its 43rd season and has been going strong all summer long! If you haven't checked it out this summer, you're not too late, but there isn't much time left! Through August 5th, there are still some opportunities to take part in the fun. Get your tickets for the Tony Award-winning musical Company, which runs through August 4. Or perhaps you would enjoy the special performance of Barry Lubin as "Grandma," which takes place August 4th & 5th. Plus, on Friday, there will even be food trucks available, so bring your appetite and arrive hungry! More information about this year's Heritage Theatre Festival can be found here.
2.) Charlottesville Opera (Ends August 5th)
The Charlottesville Opera is another popular summer event in the area, but this year, it's sporting a brand new name. Known previously as the Ash Lawn Opera, this event is now in its 40th season of dazzling people with the melodic and dramatic tones of some of America's most beloved operas and musicals. There's still time to catch a showing of Rodgers and Hammerstein's classic Oklahoma!, at the historic Paramount Theater on Charlottesville's Downtown Mall! For more information about performance times and details about the Charlottesville Opera, click here.
3.) Albemarle County Fair (August 3rd - 5th)
Nothing says summer like a good old fashioned county fair - and one of the best around takes place right here in Albemarle County at James Monroe's Highland! This fun-filled fair turns the spotlight on the local community and highlights the deep human, natural, and agricultural resources of Central Virginia. People of all ages can enjoy the livestock, agriculture, craft exhibits, live music, games, food, and fun, all located on the grounds of a former presidential home - how cool! Click here for more information about the Albemarle County Fair!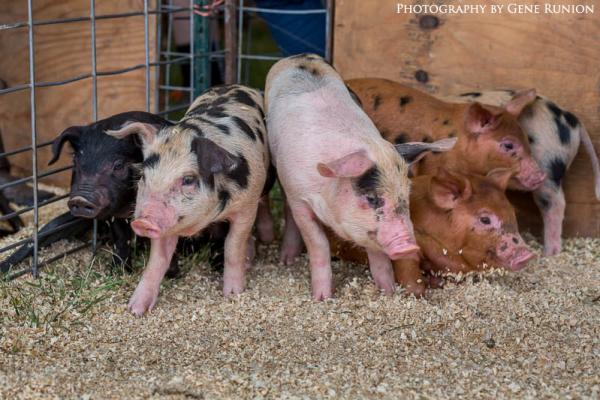 (Albemarle County Fair - Photo Credit - Gene Runion)
4.) Virginia Craft Beer Month (All month long!)
August is Virginia Craft Beer Month and the Charlottesville area definitely knows how to celebrate this carbonated concoction. Several local breweries will be hosting special events throughout the month, with everything culminating in the Virginia Craft Brewers Fest, which will take place at IX Art Park on August 19th. This festival is truly a craft beer lover's dream, featuring more than 100 craft breweries from all across Virginia! The festival will be hosted by Three Notch'd Brewing Company and is the only sanctioned event of the Virginia Craft Brewers Guild. This is a family-friendly festival and there are designated driver ticket options available. For more information about the Virginia Craft Brewers Fest, click here! Also, don't forget to visit our calendar of events for more ways to celebrate Virginia Craft Beer Month in Charlottesville & Albemarle County!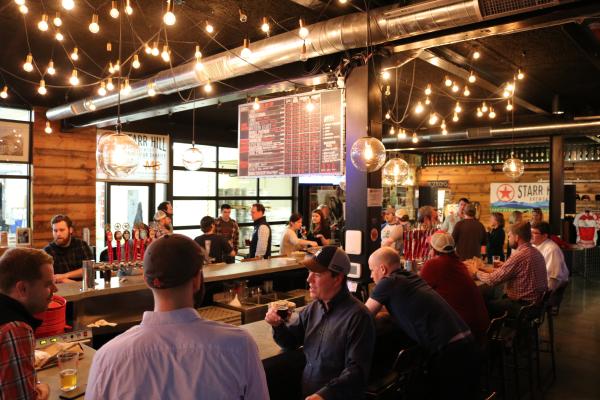 (Starr Hill Brewery Tasting Room - Photo Credit - Starr Hill Brewery)
5.) Historic Homes (All month long!)
Whether you've been to some of the area's historic homes once, twice, or a dozen times, there's always something new and exciting to explore! Plus, the region's three presidential homes routinely offer fun and exciting events, designed to allow people to interact with history in new and unique ways. Thomas Jefferson's Monticello will be offering a family-friendly cooking class on August 3rd, where people will be able to pick fruits and vegetables from the garden and then cook with them! Additionally, there is a summer fruit tasting event set to take place on August 5th. More information about events at Monticello can be found here! In addition to being home to the Albemarle County Fair, visitors and locals can enjoy an evening concert series called Tuesday Tunes at James Monroe's Highland. This concert series runs through the summer and the next scheduled concert in this series takes place on August 15th. For more information about events taking place at Highland through the rest of the summer and beyond, click here. Last, but certainly not least, James Madison's Montpelier (a short and scenic 30-minute drive from downtown Charlottesville) will be hosting excavation expeditions and historic landscape tours throughout the month - plus, kids can visit for FREE until September 1st! For more information about events taking place at Montpelier, click here!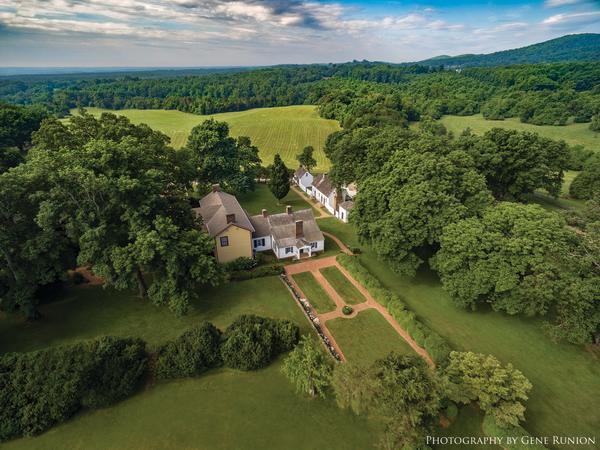 (James Monroe's Highland - Photo Credit - Gene Runion)
6.) Concerts & Live Music!
Charlottesville & Albemarle County is a major hot spot all year long for live music, but especially so in the summer months! The month of August won't disappoint music lovers with awesome shows coming to the Sprint Pavilion, the Jefferson Theater, the Paramount Theater, John Paul Jones Arena, and Live Arts! Some of the performers coming to the area in August include Lyle Lovett and His Large Band, Delta Rae, and Future featuring Lil Yachty. For more information about upcoming shows and performances, check out our calendar of events!


(Sprint Pavilion Concert - Photo Credit - Jack Looney)
7.) Golfing Galore!
If you're looking to work on your drives, chips, or putting game, the Charlottesville area definitely has you covered! With around half a dozen golf courses located in the city and county, there are plenty of different options for sneaking in the perfect round of golf. From the Meadowcreek Golf Course located in Charlottesville, to Birdwood at the Boar's Head Inn, to Old Trail Golf Club located in Crozet, not only will the courses challenge you, but you'll also be treated to some of the best mountain views around. So make a call, get your tee time on the books, and start shooting for that elusive hole-in-one! For more information about Charlottesville area golf courses, click here!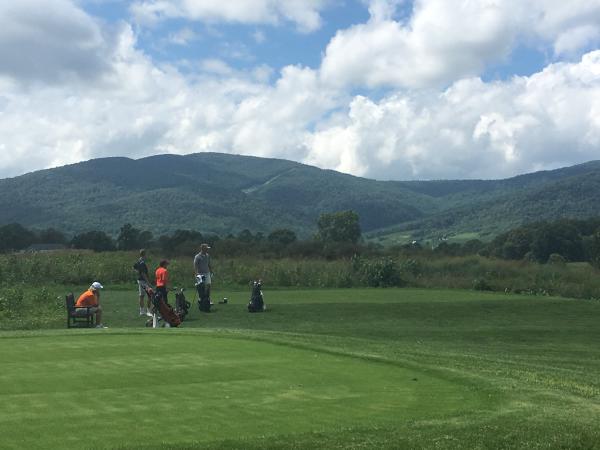 (Old Trail Golf Club in Albemarle County)
8.) Exploring The University of Virginia
Did you know that the Charlottesville area is home to not one, but two UNESCO World Heritage Sites? Thomas Jefferson's Monticello is one, but so is the University of Virginia, which Jefferson also founded! Summer is the perfect time to explore the gorgeous grounds, visit the recently renovated and iconic Rotunda, take a stroll on The Lawn at Jefferson's historic Academical Village, or even stop by the room where Edgar Allan Poe lived when he was a student! For more information about the University of Virginia and any special summer events taking place, click here!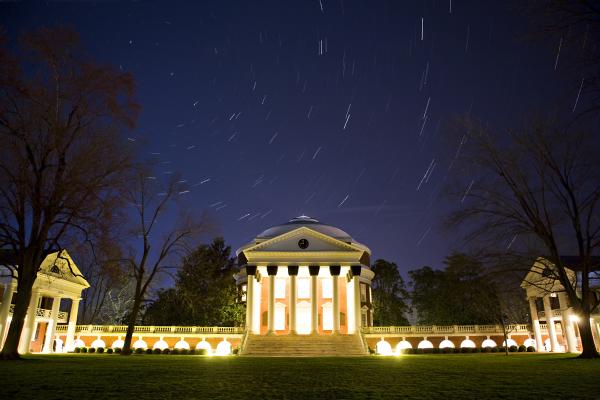 (University of Virginia - Rotunda)
9.) Peach Picking at an Orchard!
Last, but certainly not least, what says summer more than a ripe, juicy peach, picked straight from the tree? That's exactly what you'll find at several area orchards including Carter Mountain Orchard near Charlottesville and Chiles Family Orchard in Crozet. Pick your own perfect peaches, drink some delicious cider, try a donut (or two, or three...), and soak up the amazing views. Plus Carter Mountain Orchard has a Thursday evening sunset concert series which continues through the month of August, so bring a blanket, listen to some great live music and watch a brilliant sunset with the Blue Ridge Mountains as a backdrop. Believe it or not, there are even a few apples starting to come in, which is a sign that fall is surely not too far away! For more information about Charlottesville area orchards, click here.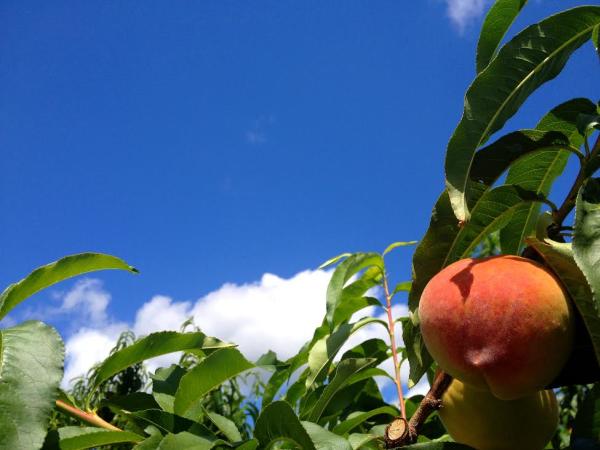 (Chiles Family Orchard - Photo Credit - Brantley Ussery)
In many ways, August is seen as summer's last hoorah, so that's all the more reason to plan your trip to Charlottesville & Albemarle County right now! While you're here, be sure to check out one of our visitor centers and talk to one of our knowledgeable travel specialists for hidden gems that the Charlottesville area has to offer! Enjoy your trip and we look forward to seeing you this August!