Hey everyone, remember a few weeks ago when we traveled to Spain, Italy and France? Well it's time again to pack up your stuff and follow me on a worldwide culinary trip without even leaving Charlottesville and Albemarle County! This week we'll be hitting Mexico and South America, India, Turkey and South Africa. Warning: although you will not experience jet lag from reading this post, you might drool a little.
Stop 4: Mexico and South America
If you're looking for a hip, new place to eat in Charlottesville and love authentic Mexican food and drinks, try The Bebedero located in the Glass building near the downtown mall. With live music at dinner on both weeknights and weekends and a nearly 3 page-long drink menu, The Bebedero is an excellent place to celebrate any occasion.
Chefs Cesar Perez and Yuliana Perez speak of family recipes of their respective hometowns in Veracruz and Puebla: "We want to bring Mexican cuisine to Charlottesville that reminds us of home. The flavors from our grandmothers' and mothers' kitchens."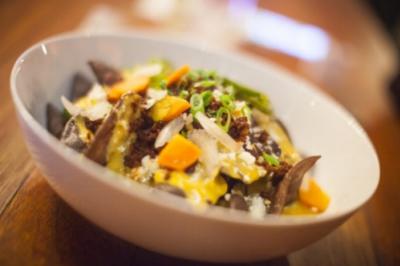 (Photo credit: The Bebedero)
However, if you don't have enough time for a full-sit down dinner and are looking for something more casual, I recommend going to Al Carbon Chicken located along Route 29. Their menu is incredibly extensive, including but not limited to charcoal rotisserie chicken (or Pollo Al Carbon), "Cemitas" or Mexican sandwiches, flautas, fried yucca, tamales, plantains, guacamole and 6 different types of salsas. I typically order the "El Nino," which includes a quarter chicken (I mean, the place is called Al Carbon Chicken for a reason, get the chicken!), one side, and two salsas. I highly recommend the fried yucca with the chipotle crema salsa.
Here is an inspiring note from owners Myriam and Claudio:
"Just as coal is brought forth from the depths of the earth, so too we bring the memories and dreams that our ancestors have given us & ignited our passion to share this with you & your family. This "indigenous" cuisine has evolved through diverse traditions & customs... We are inspired not only by the simplicity of our South American "green" Rotisserie & Grill but also by the simple approach that our ancestors brought to cuisine." If that doesn't scream authenticity to you, I don't know what does.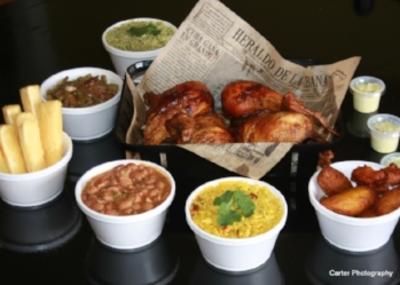 (Al Carbon Chicken - Photo credit: Carter Photography)
Stop 5: India
Maharaja is my all-time favorite Indian restaurant- and not just in Charlottesville. I don't know if it's because they have an all-you-can-eat lunch buffet offered seven days a week for about $10, or if it's because I go there so often with my brother that they now know our order by heart. What I do know is they make a mean Chicken Korma and their portions are so generous, you can take half of it home and eat it again for lunch the next day.
I remember my first time at Maharaja like it was yesterday- mainly because the entire day up to the moment when I had my first bite, I was whining about how I "didn't like Indian food" (despite the fact I had never really tried it). I've always been an adventurous eater, but for some reason, I wasn't keen on the idea of curry. I had eaten curried chicken in the past and assumed that's all there was to Indian food. However, after an order of Garlic Naan and spicy Chicken Korma over basmati rice, my life has never been the same. I am completely and utterly obsessed with Indian food and I owe it all to Maharaja.

(Maharaja - Photo credit: Yelp)
Stop 6: South Africa
Although I have yet to make the trek to South Africa, I've heard phenomenal reviews of the food, the culture, and the sights from my friends who have studied and taken trips there. Take the time to eat at the Shebeen Pub & Braai for South African inspired cuisine. According to the owner, Walter Theo Xavier Slawski, the Shebeen Pub & Braai is his "culinary interpretation of an enchanted south African childhood" in Zimbabwe.
"Welcome to our little piece of Africa here in the heart of downtown Charlottesville!"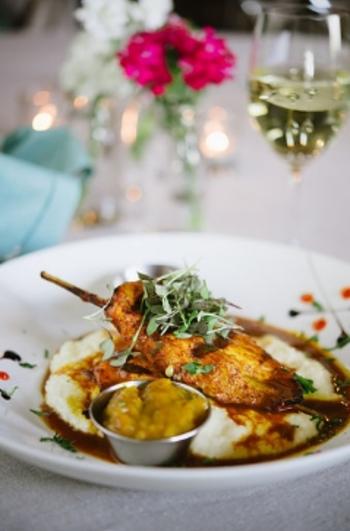 (Photo credit: The Shebeen Pub & Braai)
Last Stop: Turkey
Unfortunately it's time to wrap up our journey and take our final bite at Sultan Kebab in the new Treehouse building located Downtown. Although it is the last stop, it is certainly not least. I've always dreamed about traveling to Istanbul to see all of the beautiful and historic palaces, mosques and churches such as the Aya Sofya, but in the meantime, I like to think I've experienced a little bit of Turkish culture eating here at Sultan Kebab. From their large kebab platters and sandwiches, filled with tender meat, rice, salad, and pita, to their savory stuffed grape leaves and creamy baba ghanoush, Sultan Kebab never fails to leave their customers happy and full. If you aren't too stuffed after your meal, I deem it necessary that you order the classic Turkish baklava for dessert.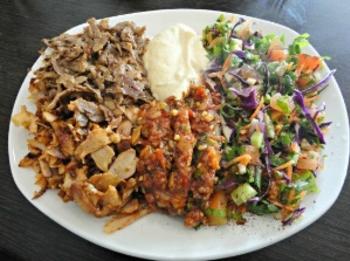 (Sultan Kebab - Photo credit: Trip Advisor)
I know, I know, you're sad to hear that this 2-part post is coming to an end. However, you shouldn't worry because going forward you can say that you've been all around the world and you didn't even have to leave your desk! Seriously though, leave your passport at home and treat yourself to an around-the-world culinary staycation and try some of the many exciting and exotic restaurants we are so fortunate to have right here in Charlottesville and Albemarle County. Your taste buds and tummy will thank you wholeheartedly! Where is your favorite place to grab a bite in Charlottesville and Albemarle County? Tell us in the comments section!