I scream, you scream, we all scream for ice cream! Say that 3 times fast.
As we all know, or should know, July is National Ice Cream month. Yes people- it's real, it's happening, and it's here. I probably would have written this blog post earlier had I not been so distracted already engorging myself with copious amounts of chocolate chip cookie dough ice cream and banana sundaes. I just thought that now was finally the right time to write my first ~cool~ blog post (get it, 'cause ice cream is cool ha ha). So let's get to it then, here are some of my favorite places to go for ice cream in Charlottesville and Albemarle County:
KIRT'S HOMEMADE ICE CREAM
If you love ice cream and like supporting local, family owned small businesses, head over to Kirt's Homemade Ice Cream. It's located down 29 in Albemarle Square and trust me, the trip over is certainly worth it. With friendly staff, delicious homemade ice cream and toppings, you can't go wrong at Kirt's to celebrate this *cool* holiday season.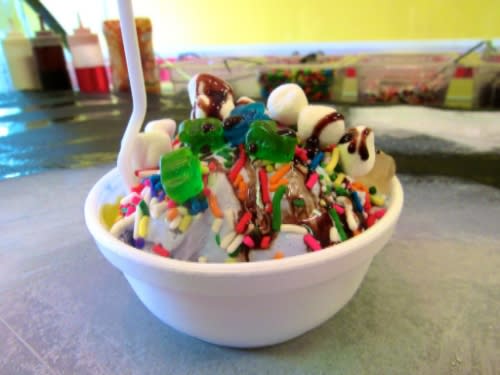 KIRT'S HOMEMADE ICE CREAM
This was their "Purple Cotton Candy" flavor, with sprinkles, gummy bears, marshmallows and chocolate sauce mixed in. My favorite ice cream flavor as a kid was "cotton candy gummy bear" that they had at this ice cream store in my hometown, so I got pretty inspired when ordering this concoction. Don't worry-if you're not keen to cotton candy flavored ice cream, they have other delicious flavors like classic vanilla and chocolate, cake batter, mint, etc. 
SPLENDORA'S GELATO CAFÉ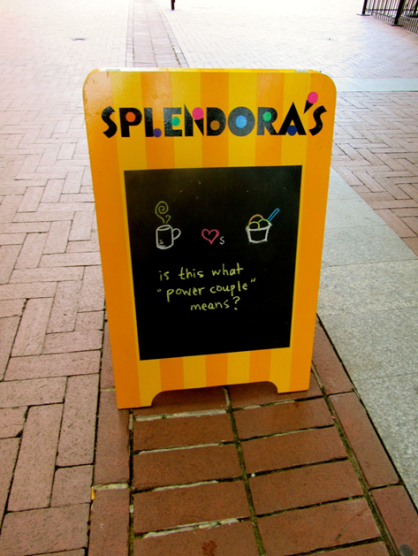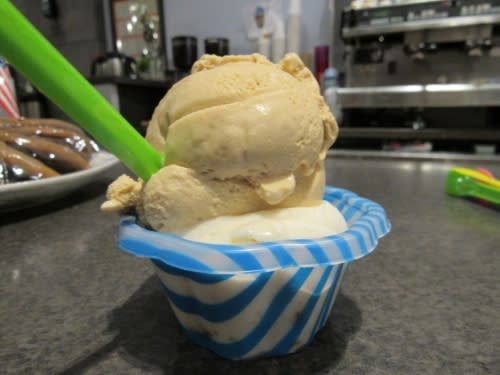 SPLENDORA'S GELATO
When I was in high school, I worked at a Mediterranean café and one of my favorite parts about working there was "taste testing" our new gelato flavors every week. It was really important that I was fully knowledgeable of all our flavors so that I could describe them to customers coming in. I mean, they also could sample them themselves... but that's beside the point. When I moved to Charlottesville, I was beyond excited to find Splendora's on the Downtown Mall. My personal favorite flavor combo is sea salt caramel and goat cheese honey fig, but your options truly are endless. In addition to your typical chocolate and vanilla flavors, Splendora's offers a plethora of different fruit sorbets and exotic flavors like olive oil and peach pie.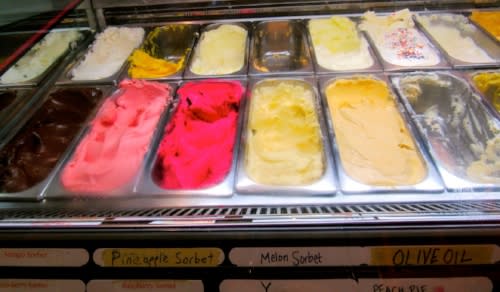 SPLENDORA'S GELATO
KILWINS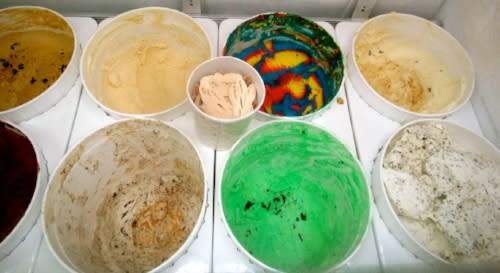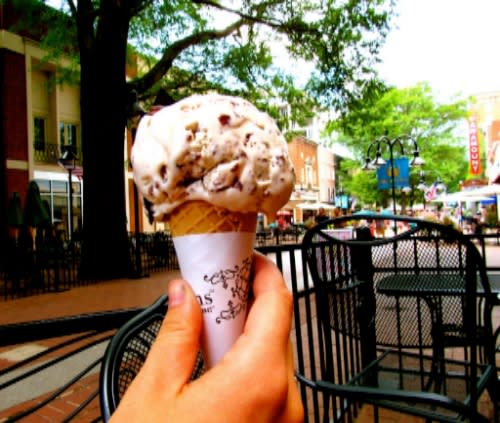 So, one of the best parts about the Downtown Mall is that there's not just one good place to get ice cream, but many great places. If you aren't feeling gelato, kick it next door at Kilwin's and grab yourself a cone. Along with their crazy ice cream flavors like the colorful "superman" and the delicious toasted coconut, Kilwins also offers a wide selection of other desserts like caramel candy covered apples and handmade fudge (they literally make it in front of you).
CHANDLER'S ICE CREAM
I'm always on the lookout for food trucks and "hole-in-the-wall" type places because I've always found that they have the some of the best food for amazing prices. Check out Chandler's Ice Cream, located right smack in a Tractor Supply parking lot and order one of their famous sundaes like Bob's Banana Boat or Oreo Crunch. You can never go wrong with creamy soft serve ice cream smothered in hot fudge, crushed Oreos and whipped cream.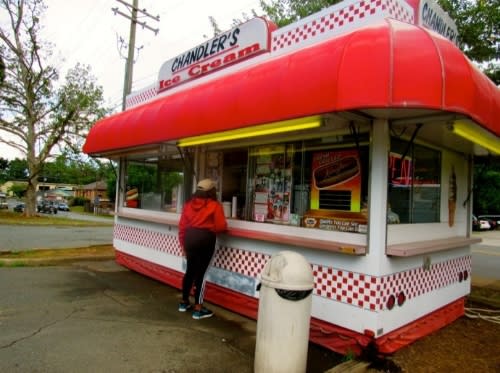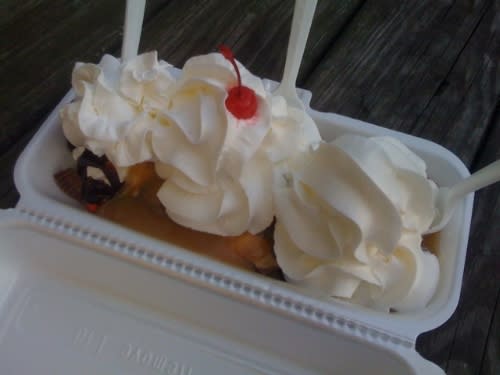 (PHOTO CREDIT: MAS TO MILLERS)
As you can see, especially in this hot summer season, ice cream in Charlottesville is abundant. Along with the places I've recommended above, you can also find a good scoop at Ben & Jerry's located in Barracks Road shopping center, Kohr Bros' down 29 or Pantops, and Chaps Ice Cream on the Downtown Mall, among many others. I hope you've enjoyed the holiday this month thus far, and I encourage you to celebrate (at least) once more this week!