Rain, wind and snow make the following establishments—selected for their atmosphere, intimacy and unique features—that much more inviting.
The dining areas here are intimate and romantic. And no, it's not a hotel. The menu consists of locally-inspired seasonal American cuisine. We hear glowing reviews about the meals visitors have enjoyed there—the testimonials featured on the About page of their website are spot on.
They have a fireplace! And you can sit next to it! I don't think you can roast marshmallows over it, but it's warm and it's there. South Street is a touch too big to be cozy, but the tables are nicely spread out, which allows for a little more conversational privacy. Great place to bring the whole family—cousins, in-laws and all. The food is reasonably priced and the beer comes in flights.
Lampo's interior is wonky and fancy and quaint. You can see wood fired pizza baking in the stove near the back of the restaurant as soon as you walk through the door. Lampo's just a few blocks from the corner and serves a variety of Italian dishes. The pizza is delectable and thin. You cut it with a special pair of scissors. Can't go wrong here.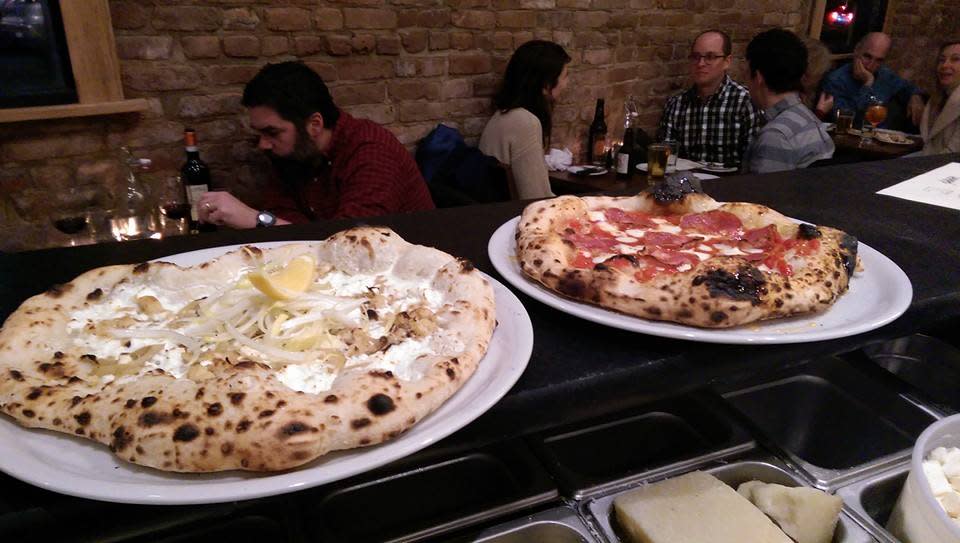 It may be a chain, but it's locally owned and a downtown fixture. Fondue is always good. The atmosphere is cozy, dark and cheerful. If it's not too freezing, Melting Pot is but a block away from the mall—come see the holiday decorations.
A bona fide Charlottesville institution, Court Square Tavern is frequented by locals. Before craft beer got so popular and trendy, this was the place to try great rare beer. Its menu is simple and solid—they know what they're good at, and they cook it well.
More suggestions on the way!