On a bright Sunday morning, a duo of Cville Niche staff - Linnea White and myself - set out on a wine tour hosted by Monticello Wine Tour & Coach Co. to see what the buzz is all about.
We tasted some wonderful wine, enjoyed a beautiful day, and, perhaps best of all, networked with new local-lovin' Cville collaborators.
We met up with the rest of our small group - locals Eze Amos and Kristina Nell - and our guide, Justin Stone, at Milli Joe.  
We all ordered coffee and started to get acquainted. Linnea and I learned that Eze and Kristina are both geographers, and they told us about some mapping projects they're working on. The four of us, with some input from our guide, Justin, started talking about creating maps for Cville Niche.
After we finished coffees and introductions, the five of us piled into a sleek black van and headed out to White Hall.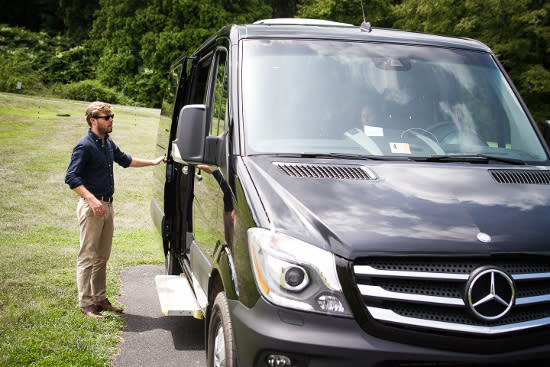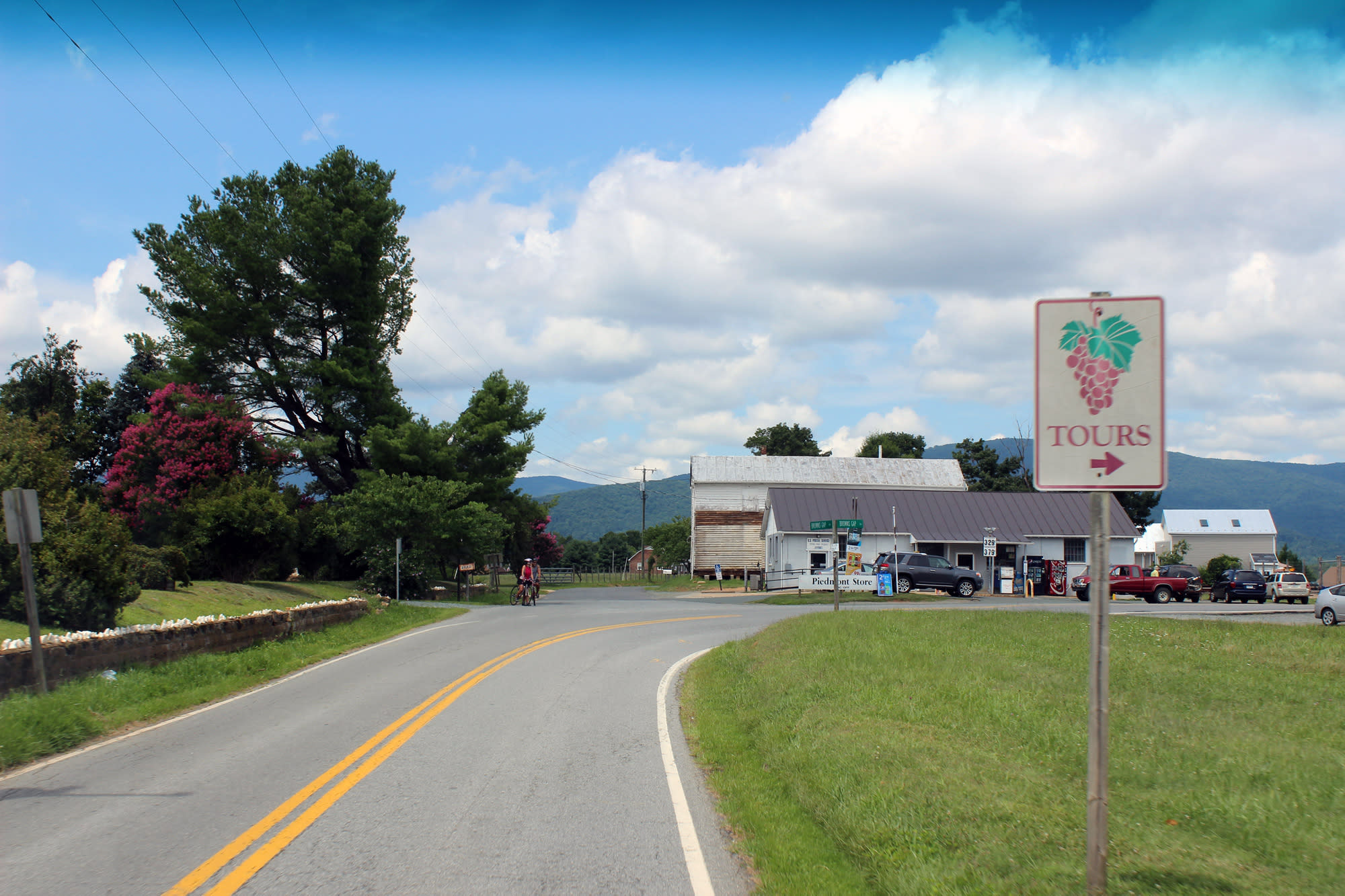 Justin had left Virginia wine trivia sheets on our seats, a game the MWTCC uses to get the conversation going among the groups. My sober guess to question number two: "Wine necklace? Wine jewels." All bets were now off.
On our scenic drive up Garth Road, Justin filled us in on the history of wine in Virginia. We learned that Viognier is emerging as the region's signature grape varietal. It was one of the first grapes planted here, and it has always done well. Red blends and dry Rosés are also emerging as Virginia hallmark wines. People have been tending vines in Virginia since the British colonized the state, but Justin reminded us that the modern Virginia wine industry began in the late 1970s, with Barbousville Vineyards.
"You have already tripled my knowledge about wine," Kristina told Justin, before we'd even had a sip.
Justin steered the coach and simultaneously spewed wine knowledge around the windy valley roads and up the hill towards Grace Estate, where we stopped to admire the landscape before stepping into the tasting room. It was a perfect Virginia day: green hills, blue mountains, puffy cumulus clouds in a blue sky.
And we were about to drink wine.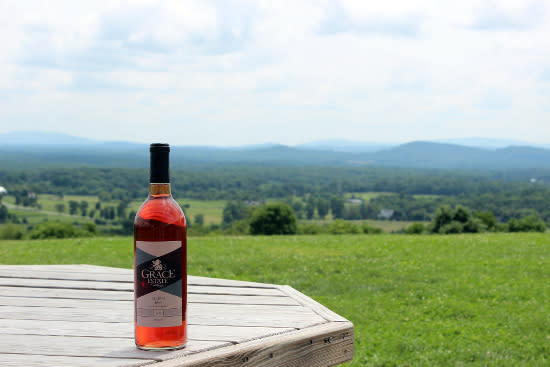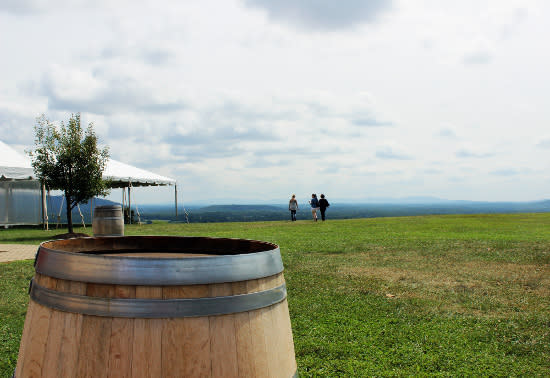 The Grace Estate tasting room was quiet. Everyone else in Cville must have been at brunch. Justin shared that it's a good idea to go wine tasting on a Sunday-it's less popular than Saturday, so customers have a better chance of talking to the staff during the tasting and thus better chances of really learning about the wine.
Our group was friendly and cordial when we left Milli Joe, but by the end of the Grace Estate tasting, we were giggling together over the "hint of hay" description on a bottle of white (the 2012 Le Gras Cuve) and the episode of Parks and Recreation where April Ludgate crashes a fancy blind tasting for sommeliers with strange reviews.
As we left Grace Estate, Justin slowed the coach down so that Eze could take some photos. Eze told us he's working on a project about motion photography and abstraction. The tint of the windows, he said, is a perfect filter for the bright August sun. Later, he showed us some of the blurred shots of blue sky, green vines and white fence.
By the time we arrived at the second winery, we were... well, quite chatty.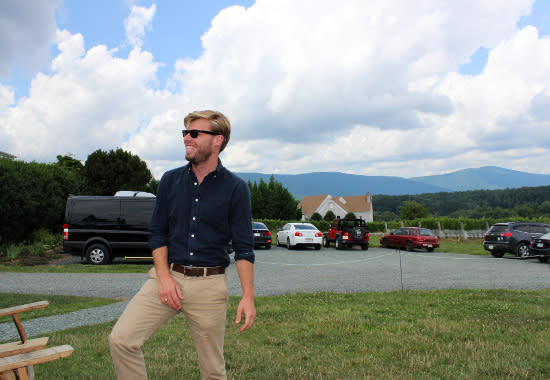 At Stinson Vineyards, we tasted the Sauvingon Blanc and took a peek at the big grey concrete egg used to age that particular wine. Our pourer told us that this is a very old way of making wine; the Romans, apparently, aged their wine in concrete. "Oooohh!," we all whispered, and snapped photos of the grey egg with our cameras and phones.
We all enjoyed Stinson's Sugar Hollow White-"it's just sweet enough," we say-and chose to sip a few glasses out on the porch. Linnea and I settled into Adirondack chairs with notches for wine glasses carved out of the right arm, and shared a baguette and a hunk of sharp cheddar cheese. Eze, Kristina, and Justin claimed a picnic table under an umbrella.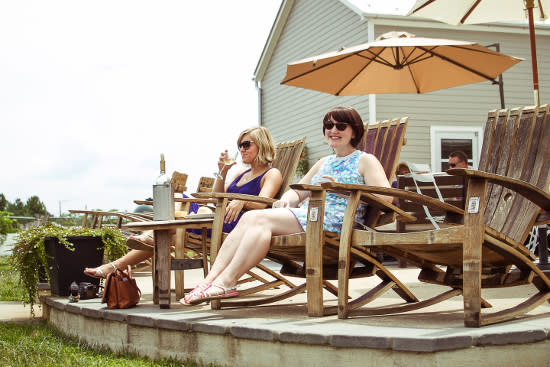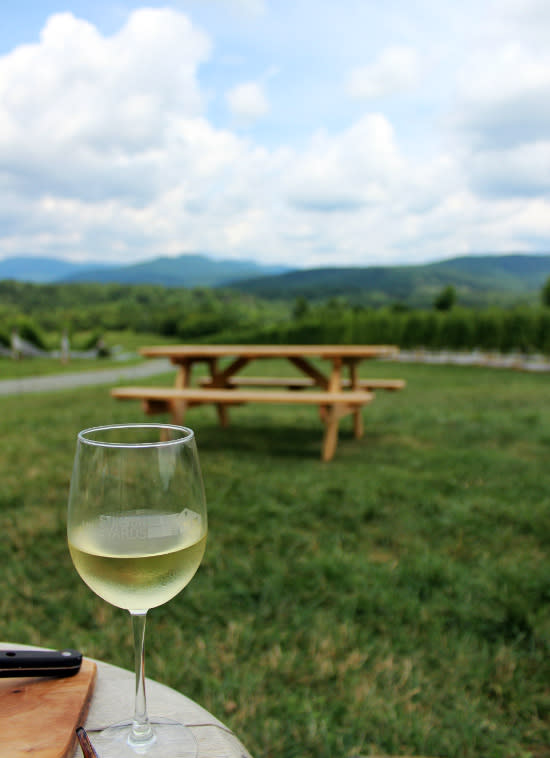 The five of us sat on the deck, enjoying the view of the vines, and talked about food, photography, and Adirondack chairs. I was recently hit in the face with a reclining Adirondack chair (I was moving one in my own yard, and the seat moved out of its groove and cracked me in the eye socket), and I felt comfortable, or buzzed, enough to share that story with them. It got about as many laughs as "wine jewels" (so that's five laughs, one from each of us).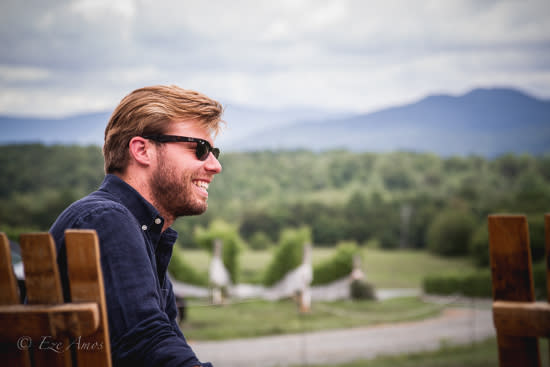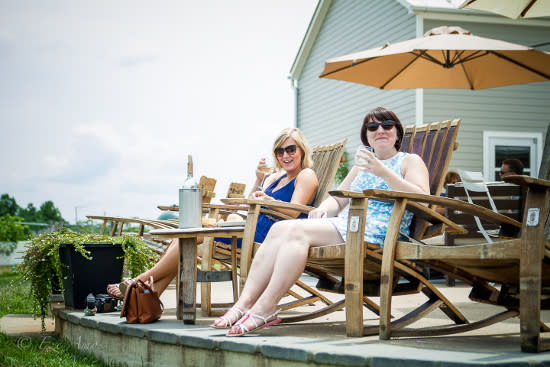 By the time we reached Mountfair Vineyards, our third and last winery, the pourer barely got a word in-the four of us were laughing, talking about Scotland, and sharing drink recommendations (Linnea likes to add fruit to white wine in the summer).
While tasting the Mooloowooloo, Mountfair's signature wine, we were told that we'd get a free bottle if we could say "Mooloowooloo" ten times fast. We failed, but not without valiant effort. Here, I started taking fewer notes (my handwriting was on the decline anyway), and I had red wine teeth.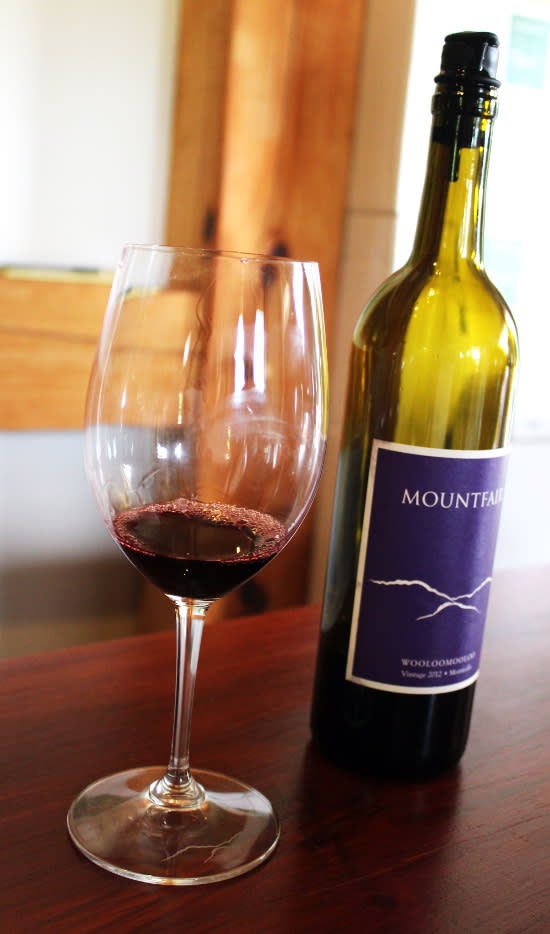 When we rolled back into the Milli Joe parking lot before four o'clock, Eze and Kristina headed home to their daughter, and Linnea and I decided that our baguette and cheese chunk snack hadn't been quite enough, so we walked to Chap's for some ice cream.
Before parting, though, we all joked that the Monticello Wine Tour should make a promo video that begins like an episode of The Real World, with "10 strangers meeting on a bus..."
We plan on working on those mapping Cville ideas, too, and Eze has already collaborated with us here at the Niche-some of his photos appear in this post.
To book a relaxing, informative, and delicious tour of your own, check out the Monticello Wine Tour and Coach Co.!
- Words by Erin O'Hare, Photography by Linnea White and Eze Amos