The first day of fall—Tuesday, September 22nd—is right around the corner. Though peak fall color won't arrive till mid to late October, the boldest leaves have already begun to change from green to yellow. From the heights of the Blue Ridge Mountains to the banks of the Rivanna River, fall is undoubtedly the most magnificent time of year here. Shades of orange and deep reds will begin to settle into the leaves in a week or two. The air has already begun to cool. Great lovers of fall will visit and never want to leave—this happens every year. Casual admirers will realize that fall might just be their favorite season after all, or else that fall is their favorite season if and only if they're in Charlottesville or Albemarle County. Whether you're here for a week, a weekend, just passing through, or moving here forever, we look forward to welcoming you to the heart of Virginia.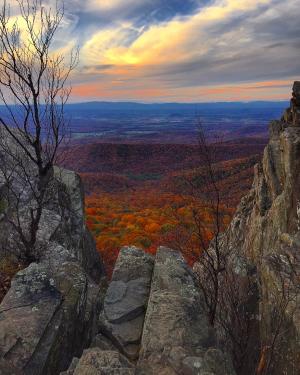 It takes just 25 minutes to drive from downtown Charlottesville to the Blue Ridge Parkway and Shenandoah National Park. These two famous routes intersect near the western edge of Albemarle County. To learn more about the best hikes in our area, click here.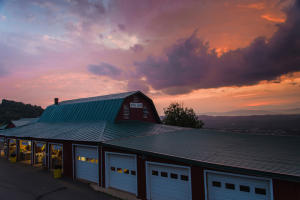 Pick apples at Carter Mountain Orchard with your loved ones. Apple season is already upon us! As soon as you're ready, so is the orchard.
As you might imagine, the procedure for picking is a bit different this year. You will need to purchase tickets in advance of your visit. Be sure to try their apple cider donuts, named the Best Apple Cider Donuts in the South by Southern Living!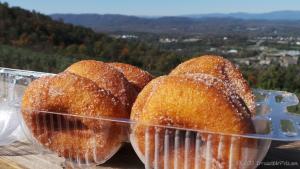 Many of you will be learning or working remotely this fall. Whether a weekend trip to our part of Virginia is a tradition for your family or one you would like to start, it has never been easier to enjoy quality time together here. The presidential homes in Albemarle County—Thomas Jefferson's Monticello and James Monroe's Highland—are renowned learning centers. Both estates have done a remarkable job of adapting their offerings to ensure your safety. Tours at Monticello are now far more spaced out than the have been before, and you can take pictures inside the residence. This has never been allowed before.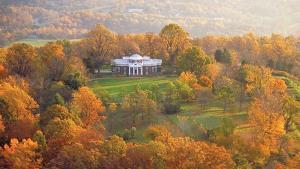 Our wine region—the Monticello AVA—is the crown jewel of east coast viticulture. It's also the birthplace of American wine!
Wine with a view is our specialty. The Blue Ridge Mountains, decorated in their fall colors, make for quite the backdrop.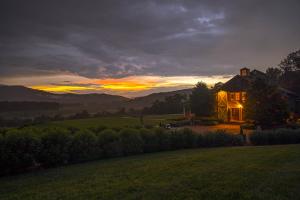 Especially at sunset.
The Monticello Wine Trail features 35 wineries, and we recommend that you visit all of them.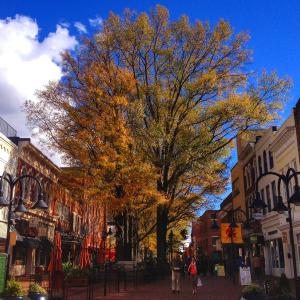 While you're here be sure to visit the Downtown Mall. This eight-block stretch of downtown Charlottesville is pedestrian-only and home to many of the best restaurants in town. Most of these restaurants offer plenty of outdoor patio seating. Check in advance for reservation and safety protocols!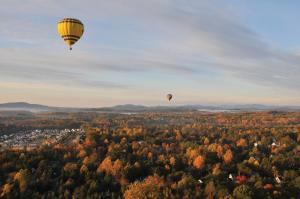 The ultimate perspective on this year's fall color will certainly be from above.
It's not uncommon to see a few hot air balloons overhead at dawn. That's also a great time to go up for a float, by the way—at dawn.
Try Blue Ridge Ballooning, Boar's Head Ballooning, or Monticello Country Ballooning!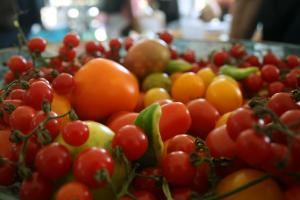 Monticello's 14th Annual Heritage Harvest Festival will be virtual this year, but the programming will be as dynamic and engaging as ever. Expect a series of farm, food and garden classes, and a host of streamed conversations. Normally held at Monticello, the Heritage Harvest Festival is a major annual event which features experts in subjects like beekeeping, hands-on cooking, winter gardening classes and more. Though we'll miss the immersive levels of sensory engagement typical of an in-person Heritage Harvest Festival this year, we can't wait to hear virtually from this year's presenters.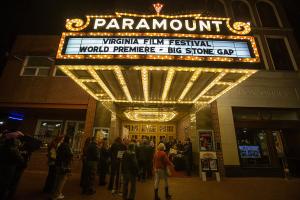 The Virginia Film Festival will also be held virtually this fall. All access passes go on sale September 22nd! The first program in this year's lineup, "The Good Lord Bird," has already been announced. Expect further announcements on October 6th and 8th. The festival itself will take place October 21st-25th.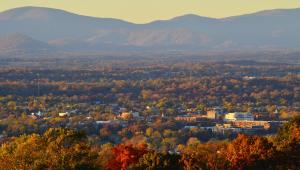 We look forward to welcoming you to our part of Virginia this fall! Should you need a place to stay while you're here, consider one of the many fine hotels in our area. Our hotels will continue to prioritize the health and safety of guests and employees, and have done an excellent job of reopening safely. Be sure to preview the restaurants, cafes, bakeries and breweries before you visit, too. Stay safe out there, and join us when you can.