It's hard to believe, but we are already halfway into the month of October – and the foliage in Charlottesville & Albemarle County is really beginning to reflect that!
While we have been enjoying delightfully mild afternoons, there's no denying that fall is in the air once the sun goes down. The overnights have been cool and crisp – perfect for getting the leaves to transition to their beautiful hues of oranges, yellows and reds. In the city of Charlottesville fall colors continue to steadily take over, but we still aren't quite at peak. Though you'll still find some breathtaking colors peppered throughout the city, peak is probably about 10 days out. In Albemarle County, it's a similar story, with color not yet at peak, but certainly becoming more widespread.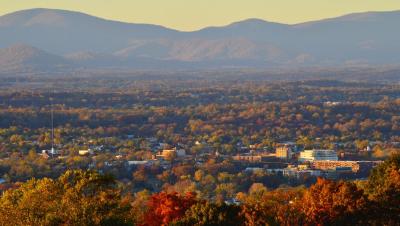 In the nearby Shenandoah National Park (which can be accessed from downtown Charlottesville in a mere half hour), things have changed quite a bit in the past week! Colors are now much more widespread with yellows and oranges being the primary colors. You can follow webcams placed throughout the park to get a glimpse in real time of how the colors are progressing. It's looking like both Shenandoah National Park and the Blue Ridge Parkway are on track to reach a peak sometime next week, especially if the current weather trends continue with cool (if not even cold) nights ahead.
Mid-October is the absolute perfect time in Charlottesville & Albemarle County to go for a hike, enjoy our rivers, head to one of our orchards or enjoy a wonderful meal at one of many renowned restaurants on the patio. Browse our website for other ideas and start planning the most perfect Charlottesville & Albemarle County experience ever.
Look for another fall foliage update next week. We look forward welcoming you to Charlottesville & Albemarle County soon!