Fall has certainly made its presence felt in Charlottesville & Albemarle County this week! The past few mornings have featured the crisp, cool temperatures that most folks long for after a hot and humid summer. However, now that we're approaching the midpoint of the month of October, many people are scratching their heads and asking, "Where are the fall colors?" The answer to that question: they're coming soon! Mother Nature is just taking her time this year!
Each and every year is different when it comes to fall foliage. Just because things may have been a bit more colorful last year at this time, doesn't mean that this year will be any less dazzling and brilliant. Nuances in weather, particularly with regards to rainfall (or lack thereof) and temperature are critical to starting the process that causes the leaves to transform into brilliant hues of orange, red, and yellow. So if you're planning a trip to Charlottesville & Albemarle County in the next few days, here's what you can expect with regards to fall foliage.
In the city of Charlottesville, we're still mostly green. Until recently the weather has been quite warm, especially at night, so the cool temperatures haven't had time to start working their magic yet. Peak colors in the city will likely arrive toward the end of October and possibly even linger into early November since we are off to a bit of a late start.
For the majority of Albemarle County, it's a similar story - mostly green. The surrounding hillsides are starting to show a very small amount of color, but again, green is the predominant hue. As you go up in elevation to the Blue Ridge Parkway, Skyline Drive, and Shenandoah National Park, some colors are starting to show, but the coverage isn't very widespread or pronounced...yet. But as we know, good things come to those who wait and we are sure to be delighted with an amazing burst of colors in the days and weeks ahead! Click here for a more detailed check of the color and its progression in Shenandoah National Park!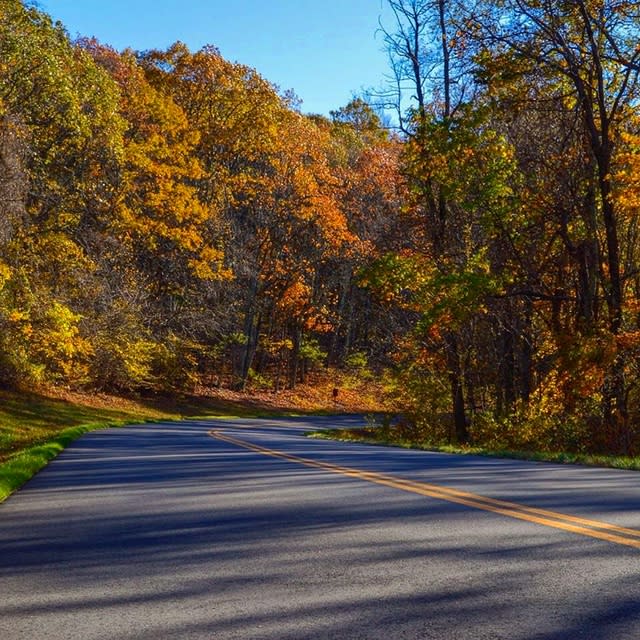 (Photo Credit: Brantley Ussery - Blue Ridge Parkway in Autumn 2014)
Stay tuned for more updates in the weeks to come as fall slowly but surely begins to unveil its annual showing of fantastic fall foliage in Charlottesville & Albemarle County. It's sure to be another stunning season, so be sure to visit us and see it in person!