October continues to roll along and even though our recent temperatures might not make you think of fall, the leaves certainly will. Color has been coming along nicely over the last week and some areas are nearing or approaching their peak color.
Fall foliage is exploding around Charlottesville & Albemarle County, with the primary colors continuing to be yellows and oranges. Over the last week, we have experienced some cool fall nights, helping to spur the color-changing process along, even though most of this week, high temperatures have been flirting with the 80-degree mark. Nevertheless, there's no denying fall is in full swing here in Charlottesville & Albemarle County and peak color is likely occurring or will occur within the next week or so. If you're looking to get some truly stunning fall foliage photos, then this is the time to take a road trip and visit us!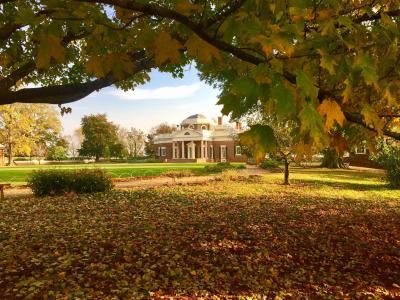 In the nearby Shenandoah National Park (which can be accessed from downtown Charlottesville in a mere half hour), colors continue to advance down the mountains to lower elevations. The highest of elevations in Shenandoah National Park are seeing the leaves begin to drop, but the colors are now becoming more widespread in lower elevations for visitors to enjoy! You can follow webcams placed throughout the park to get a glimpse, in real time, of how the colors are progressing.
Late-October is a beautiful time in Charlottesville & Albemarle County to go for a hike, enjoy our rivers, head to one of our orchards or enjoy a wonderful meal at one of our renowned restaurants on the patio. The weather generally stays mild well into November, so all these things can continue to be enjoyed for weeks to come. Browse our website for other ideas and start planning the perfect Charlottesville & Albemarle County experience ever.
Look for another fall foliage update next week. We look forward to welcoming you to Charlottesville & Albemarle County soon!